One of Dublin's main maternity hospitals has said all eligible staff will have received their first doze of the Pfizer Biontech vaccine by this evening.
The Coombe Women and Infants University Hospital began vaccinating staff on Wednesday when it received its first delivery.
The master of the hospital, Professor Michael O'Connell, said the vaccine was thawed when it was arrived and could be kept in a fridge for five days.
The clock began ticking.
Staff had been trained in the days leading up to the delivery and they were ready to go straight to work.
Boxes of the vaccine were brought to a dispensary set up in a building at the back of the hospital, where over the past three days medical staff worked meticulously taking six doses from each vial (the maximum approved) to be mixed with sodium chloride
Each dose checked once and checked twice.
Professor O'Connell said once the vaccine is made up it has to be used within two hours.
He said up to 50 people were being vaccinated an hour, with five or six vaccinators working in rotation.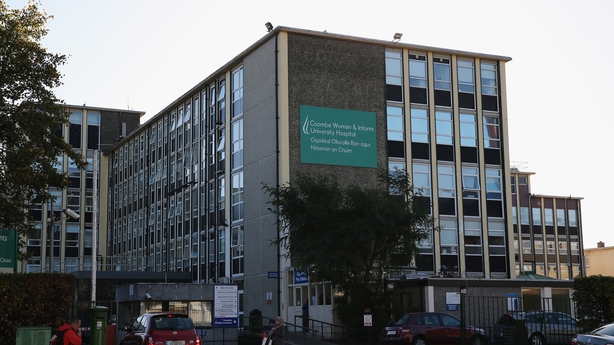 Supplies ran out on Thursday afternoon but a second delivery arrived this morning and preparations began again to prepare the vaccines.
Among those administering the injections was former master of the Coombe and Consultant Obstetrician Professor Christopher Fitzpatrick.
He had taken a break from his normal duties to help vaccinate his colleagues.
Hospital healthcare workers who wanted the vaccine had starting registering online and received text messages with appointments.
While most of the relevant information was supplied online, Prof Fitzpatrick, like the other vaccinators, had a checklist confirming information.
Once the injection is ready to be administered another colleague checks the dose and then it is good to go.
We need your consent to load this rte-player contentWe use rte-player to manage extra content that can set cookies on your device and collect data about your activity. Please review their details and accept them to load the content.Manage Preferences
After getting the injection, the healthcare workers went to a recovery room for 15 minutes in case they have a reaction to the vaccine.
Professor O'Connell said there have been none so far.
Community midwife Neassa O'Malley said receiving the vaccine today was a relief for herself and her family, giving them "a peace of mind".
She said she never had any hesitation about taking it, saying it was so important for the women attending the maternity hospital and the newborn babies.
On the day Ireland secured 3.3 million additional doses of the Pfizer/BioNTech vaccine, one Dublin maternity hospital has confirmed all eligible staff had received their first dose of the jab. The Coombe Hospital began vaccinating staff on Wednesday. | https://t.co/u6WlF3PJKF pic.twitter.com/UTS0HkOI09

— RTÉ News (@rtenews) January 8, 2021
Professor O'Connell said a small number of staff has expressed concerned, but he said that was normal with any new vaccine.
He said two members of staff asked for extra information and having it read it decided to have to vaccine.
By this evening, all eligible staff will have received it.
Those who have Covid-19 or are isolating as close contacts were not able to get it.
The remaining vaccines were offered to GPs in the Dublin 8 area. Around 50 local GPs will receive it this evening.