The World Health Organization's Special Envoy on Covid-19 has said the "the ferocity and the rapidity of the (current) surge has surprised us somewhat".
Dr David Nabarro said it will be some weeks before it is known whether Covid-19 vaccines are slowing the rate of the pandemic.
Speaking on RTÉ's Today with Philip Boucher-Hayes, he said the first priority for vaccination in most countries is to protect people most at risk and the second priority is to use the vaccine for a more general effort to slow the pandemic.
He said: "I believe we should concentrate on the first one for now and recognise that the second priority will take a bit of time to follow on, because the vaccine should give us a very powerful way of saving the lives of a lot of people who would otherwise die."
Dr Nabarro said that "to get a really strong view as to whether or not vaccination is slowing the rate of the pandemic, it will be some weeks before we're able to get answers", but added that he does not think it will take many weeks.
He said he believes the third wave is being driven by a combination of increased movement in the weeks before Christmas as well as a new variant, particularly in the UK, which seems to be more transmissible.
"I do believe the new variant, and it's not the only one in the world right now, I do think the new variant is speeding things up, and is adding to ferocity."
He said in the UK, people who study infectivity are saying that the Covid variant is three quarters more infectious than the more classic version, and that is "a significant jump".
Dr Nabarro also urged countries to think very hard about how they are using their testing and said while the PCR is the absolute standard, he was hopeful that the quick turnaround antigen tests, which are not currently as reliable, will become much more reliable and much more accessible in the coming weeks.
He said it is better to wait a little bit and get arrangements for a vaccination programme right and urged governments to get the plan fully developed, tested and implemented in a way that fits in with the way in which various health services are run.
In relation to dosage intervals, he said the WHO tends to recommend the standards advised by the vaccine manufacturer, but that may change if they get different kinds of information.
Vaccination programme 'off to planned start'
The chair of the National Immunisation Advisory Committee has said the vaccination programme is off to a planned start and the first week was deliberately slow in order to make sure that everything went smoothly and allow for training.
The Chair of the National Immunisation Advisory Committee has said the Covid-19 vaccination programme is off to a 'planned' start, but it has been ramped up quickly and looks to be going forward at an 'accelerated pace' | @TodayWithClaire | Read more: https://t.co/C7J4U5s50P pic.twitter.com/aNgl1kXrLY

— RTÉ News (@rtenews) January 5, 2021
Professor Karina Butler said the roll out has now ramped up very quickly and looks like it will move forward more quickly than anticipated.
Speaking on the same programme, she said that as Ireland has different workforce and other constraints compared to other countries and it is not necessarily helpful to compare Ireland to others.
The focus should be on doing it right, she said, reaching out to everyone as safely as possible to get the priority groups first and then everyone else vaccinated.
Prof Butler said that as of yet there is no evidence that the current vaccines block transmission, but they do block the disease and so must be targeted at those who are most vulnerable.
She also said there was a slight change to the vaccine rollout following reports of some possibly severe allergic reactions to it and every effort was made to ensure the vaccines were given in the best settings and that vaccinators were trained in the management of allergic reactions.
She said Ireland will continue to follow the advice of administering the Pfizer/BioNTech vaccine doses three weeks apart.
📻 Professor Karina Butler, Chair of the National Immunisation Advisory Committee, on #TodayCB ⬇️ https://t.co/3EalZtpbRf

— Today with Claire Byrne (@TodaywithClaire) January 5, 2021
BioNTech warns against delaying second vaccine dose
German firm BioNTech has warned that there is no data backing the "safety and efficacy" of delaying the second shot of its Covid-19 vaccine beyond three weeks, as some countries push back the jab to give more people their first dose.
BioNTech, which developed the vaccine with US giant Pfizer, said its clinical data showing 95% efficacy was based on a two-dose schedule separated by 21 days.
"The safety and efficacy of the vaccine has not been evaluated on different dosing schedules," it said.
"Although data... demonstrated that there is a partial protection from the vaccine as early as 12 days after the first dose, there is no data to demonstrate that protection after the first dose is sustained after 21 days."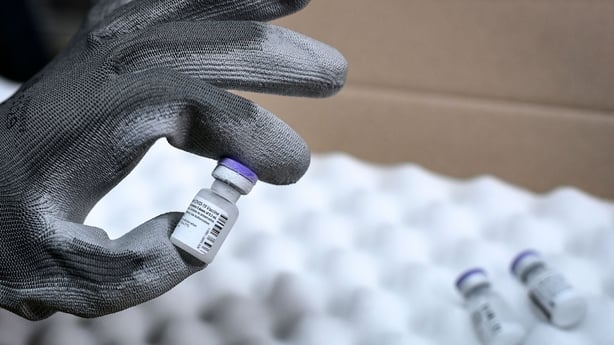 Faced with limited supplies of the vaccines, Denmark said yesterday it would space out the jabs by up to six weeks, while Britain has said it would wait up to 12 weeks before giving the second jab.
Germany too is mulling pushing back the second shot to beyond 21 days.
Proponents say that practice would allow more of the population to get their first jab.
"While decisions on alternative dosing regimens reside with health authorities, we believe a second dose is required to provide the maximum protection against the disease," BioNTech said.
BioNTech said it remains committed to continuing "dialogue with regulators, health authorities and governments" on "any public health decisions".
Additional reporting AFP