The number of people with Covid-19 in hospital is close to the peak of the first wave and the Health Service Executive expects this number will be surpassed by the end of the week.
HSE Chief Operations Officer Anne O'Connor said: "It is the rate of the pace of growth that is of concern."
Latest figures from the HSE show the number of patients being treated in hospital for Covid-19 has increased from 776 yesterday evening to 817 today.
Of the 76 patients in ICU, 38 are on ventilators.
Since the pandemic began, the highest number of hospitalisations with Covid-19 was 881, recorded in mid April last year.
And at the peak that same month, there were 155 patients in ICU.
The hospitals currently with the most cases are Beaumont, Cork University Hospital, University Hospital Limerick and St Vincent's Hospital.
The HSE said that 37 adult ICU beds are currently available in the public health system and there are a total of 280 ICU adult beds open and staffed.
Ms O'Connor said staffing is a "huge concern" and that there are currently 3,000 HSE staff unavailable for work due to Covid-19, with 750 people unavailable to work in nursing homes.
Speaking on RTÉ's News at One, she also said that by the end of this week 3,000 people in 23 long-term care facilities will have been vaccinated.
Ms O'Connor said the vaccine roll-out will be ramped up next week, which will see vaccinations taking place at 160 facilities, with about 18,000 people receiving the vaccine.
---
---
HSE Chief Executive Paul Reid said on Twitter that the health service is "under real threat now".
Our Health Sevice is under real threat now. We're heading to the peak of hospitlaisations as in the 1st Wave. Primary & GP services are under relentless strain. Swabbing centres have positivity rates from 40 to 55%. Please reduce transmission, stay home and #StaySafe @HSELive

— Paul Reid (@paulreiddublin) January 5, 2021
There are 54 confirmed cases of Covid-19 at University hospital Limerick, up from 47 yesterday, and an additional 33 suspected cases of the virus.
There are eight patients with Covid-19 in the hospital's intensive care unit.
The UL Hospitals Group received a batch of Covid-19 vaccines yesterday and plans on administering 300 doses per day to all healthcare workers in the group, as well as to the HSE Mid-West Community healthcare organisation and in other healthcare settings.
The group said a network of peer vaccinators has been trained to administer the vaccines to staff.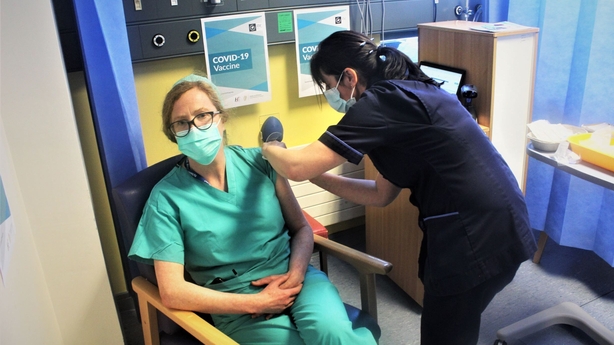 This will be initially to those directly involved in patient care, including nursing, medical, healthcare assistants, allied health professionals and support staff.
There are 47 confirmed cases of Covid-19 being treated at Galway University hospital with five suspected cases and four patients in ICU.
The Saolta University Health Care Group has begun a vaccination programme for staff and 540 staff members have so far received the vaccine.
Clinics are continuing this week and beyond to get all staff vaccinated as quickly as possible.
A spokesman for Cork University Hospital said that although the hospital was extremely busy yesterday, there was capacity.
The country's only Level 1 trauma hospital has 20 ICU beds, with a capacity to add 16 more, if required.
CUH is one of ten acute hospitals managed by the HSE South/Southwest Hospital Group.
The spokesman said ICU capacity is managed across the group of ten acute hospitals in Cork, Kerry, Tipperary and Waterford.
The Mater Hospital in Dublin has said that non-urgent care is being curtailed and any patients who will be affected are being contacted in advance.
It said that patients who need urgent and time sensitive surgeries are continuing to receive these and the hospital is also accessing capacity in private hospitals.
"If you are scheduled to have a critical surgery or appointment and have not been contacted by the Mater, please attend your appointment as planned," the hospital said.
The Mater also began its roll-out of the Pfizer BioNTech vaccine today.

Staff at Tallaght University Hospital in Dublin have begun receiving their Covid-19 vaccinations, with plans to deliver the first dose of the vaccine to all staff in the next two weeks.
Arthroplasty Nurse Specialist Louise Power was the first member of staff at the hospital to receive the Pfizer BioNTech vaccine.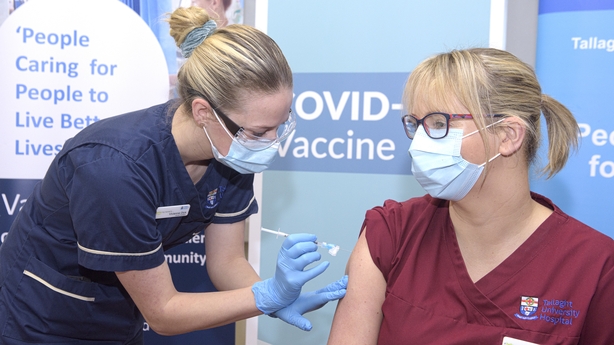 The hospital's CEO said the team in TUH have worked hard to begin the delivery of the vaccination programme.
Lucy Nugent urged the public to support healthcare staff by sticking to the public health guidelines.
Additional reporting Fergal Bowers, Cathy Halloran, Jennie O'Sullivan