A further 60,916 lab-confirmed cases of coronavirus have been reported in the United Kingdom as of 9am this morning, according to the British government.
It is the highest daily total reported so far, bringing the total number of cases in the UK to 2,774,479.
The government has also said 830 people had died within 28 days of testing positive for Covid-19 as of Tuesday, bringing the UK total to 76,305.
Separate figures published by the UK's statistics agencies for deaths where Covid-19 has been mentioned on the death certificate, together with additional data on deaths that have occurred in recent days, show there have now been 92,000 deaths involving Covid-19 in the UK.
According to figures from the Office for National Statistics, an estimated 1.1 million people in private households in England had Covid-19 between 27 December and 2 January - the equivalent of around 2.06% of the population, or one in 50 people.
Hospital admissions of people with Covid-19 have also reached a record high, NHS England figures have shown.
A total of 3,351 admissions in England were reported for 3 January, passing the previous record of 3,145 on 2 January.
British Prime Minister Boris Johnson has said he had "no choice" but to impose a third national lockdown in England, which he announced in a televised address last night.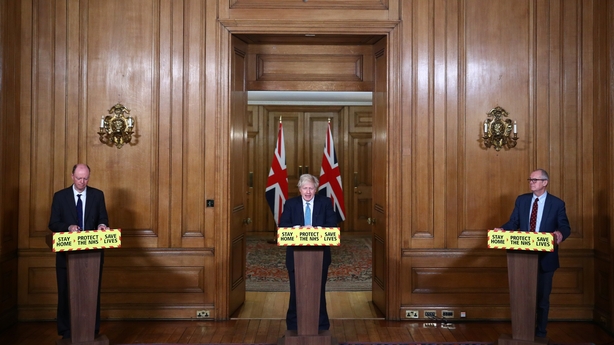 Speaking at a Downing Street press conference this evening, Mr Johnson said over 1.3 million people across the UK have so far been vaccinated, including 23% of all of those over the age of 80.
He said daily updates on the vaccine roll-out will be provided from Monday, and nearly one in four of those over the age of 80 will have "significant Covid immunity" in two to three weeks.
Mr Johnson also said the UK government would be bringing in measures to ensure people arriving into the country will be tested.
Also speaking at this evening's press conference, England's Chief Medical Officer warned that some restrictions may have to be brought back into place next winter to control the virus.
Prof Chris Whitty said the risk level will gradually decrease over time with measures being "lifted by degrees, possibly at different rates in different parts of the country".
"We'll then get, over a time, to a point where people say this level of risk is something society is prepared to tolerate, and lift right down to almost no restrictions at all.
"We might have to bring in a few next winter, for example, because winter will benefit the virus."
---
---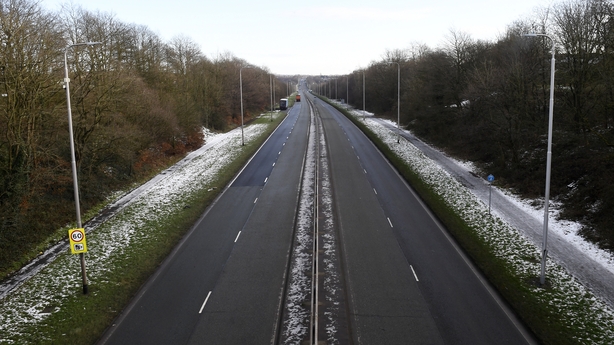 A specialist in infectious diseases has said the new lockdown in England may not be enough to tackle the new coronavirus variant.
Andrew Hayward, professor of infectious diseases epidemiology at University College London, said the threat from the virus is "at least as bad as we were back in March".
Speaking on BBC Radio 4's Today programme, Prof Hayward said: "I think the virus is different and it may be that the lockdown measures we had are not enough, so we need to learn from the new insights and new technologies, we need to learn from the last lockdown and particularly some of the things we saw."
He said that this new lockdown needs to "bear down on the virus in a way that can protect key workers - for example, we could be using the lateral flow (tests) and working with employers to offer regular testing to key workers.
"We have millions of these and key workers will still be out there and we can protect them and reduce rates in key workers through that method, especially if we also make sure we pay for their isolation when they're infected."
The chair of the country's Hospital Consultants and Specialists Association said the risk of the NHS being overwhelmed in the next few weeks is "very, very high".
Dr Claudia Paoloni said if that happens "anyone with any condition may not be able to access the care that they need."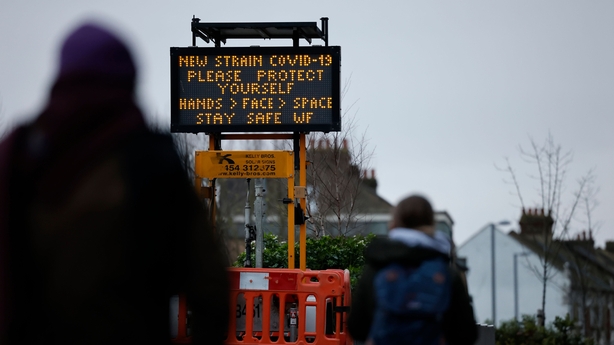 Finance minister Rishi Sunak announced this morning that businesses in the retail, hospitality and leisure sectors are to be given a one-off grant worth up to £9,000, with the measure costing £4 billion across the UK.
"This will help businesses to get through the months ahead –and crucially it will help sustain jobs, so workers can be ready to return when they are able to reopen," Mr Sunak said.
In addition to the grants, the government will provide £594 million of funding to the devolved governments of Scotland, Wales and Northern Ireland, which are also bringing in stricter measures, including school closures.
Meanwhile, Cabinet Office minister Michael Gove said that he could not say precisely when the lockdown, announced as lasting six weeks, would be lifted, warning of "very, very difficult weeks".
The measures will be reviewed from 15 February, he said, but the government cannot "predict with certainty" whether they will be lifted then.
"I think it is right to say that as we enter March we should be able to lift some of these restrictions but not necessarily all," he added.
Mr Gove also said that A Levels and GSCE exams will not go ahead this year andalternative arrangements will be put in place.
He said the UK could impose new restrictions on international travel. Currently quarantine is compulsory for those arriving from some countries but not virus testing.
Mr Gove said he had discussed this with the leaders of the other UK nations, adding: "We will be coming forward very shortly with new proposals."
Britain has been among the worst hit in the world by the outbreak, with some 2.7 million cases and 75,431 deaths.
Additional reporting AFP/Reuters