Riot police broke up a New Year's Eve rave in an abandoned warehouse today near Barcelona in Spain, where 300 people had been partying for over 40 hours. 
The party began on New Year's Eve in the village of Llinars del Valles, with revellers gathering without any regard for safety restrictions aimed at stopping the spread of the virus. 
In a posting on Twitter, the Catalan regional police said they had confiscated the sound system and all the other equipment used at the party and would press charges against all who were involved. 
"We will prosecute the organisers and all the partygoers," police said, indicating the penalty for attending such an event started at €3,000.
"The three organisers of the illegal party in Llinars have been arrested. They will go to court in the next few hours," police said, indicating they could face a penalty of up to €600,000. 
At the scene, a police helicopter flew overhead as hundreds of police entered the warehouse as a large crowd of onlookers gathered nearby, Spain's RNE public radio reported. 
Footage obtained by AFP from inside the warehouse shortly before the raid showed a large group of people dancing in front of a huge skull wearing a Santa hat, all of them in close proximity with no masks, and often smoking. 
When the police arrived, most of them in riot gear, brief scuffles broke out on the dance floor where a young topless woman could be seen trying to calm the situation. 
At least nine police vans could be seen parked inside the building.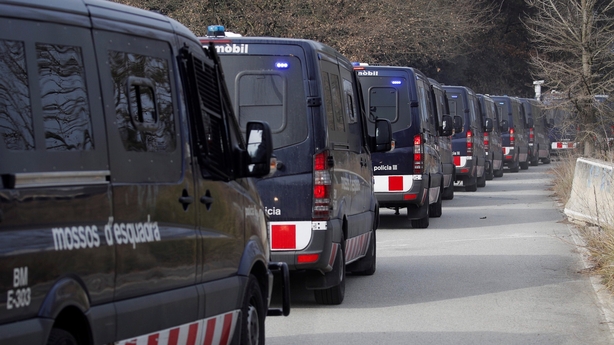 Current Covid-19 restrictions in Catalonia require people to remain home between 10pm and 6am with a maximum of six people allowed to meet up.
Earlier, more than 1,200 revellers were booked for breaking coronavirus restrictions as an illegal rave in northwestern France ended after more than two days of partying that saw clashes with police.
Police had failed to stop the underground event, which drew around 2,500 people from Thursday night to two disused warehouses in Lieuron, south of the city of Rennes in Brittany.
But the prosecutor's office said police had detained two people, neither of whom had any previous convictions, as part of efforts to identify the organisers.
They were also carrying out a search at one address and had so far turned up a sum of money that appeared on first analysis to be part of the proceeds from the event, and drugs, said prosecutor Philippe Astruc.
Police seized the material and also booked more than 1,200 attendees for a variety of offences, he added.
Such mass gatherings are banned across France to prevent the spread of Covid-19, and a nationwide 8am to 6pm overnight curfew has been in force across the country. 
Techno music blared out during the night from the warehouses, which had been transformed into illegal nightclubs for partygoers who had flocked to the site from across France and even from abroad.
The local prefecture said today the music had been switched off and sound systems dismantled after two nights, and the first revellers began leaving the site before dawn.
By 10:15am it was under the control of police, the local prefecture said.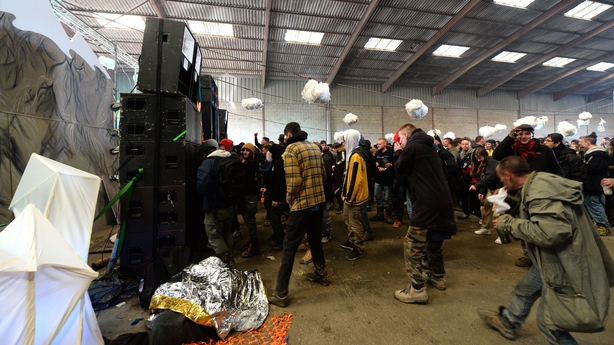 "It's been a year since we could do anything," said 24-year-old partygoer Antoine. The salesman was part of a group of five from Brittany that attended the rave.
With drawn faces but with beers still in their hands, the group said they "had come to celebrate January 31st here because it was a huge party".
"We knew what we were risking... we had to party, for a year everything has been stuck," said one of the group, a 20-year-old waitress.
The French government, facing the threat of a new wave of Covid-19 infections, announced yesterday it was extending its overnight curfew by two hours in 15 regions to help combat the virus, starting it at 6pm instead of 8pm.
The country recorded around 20,000 new cases and 133 deaths yesterday, bringing the total number of fatalities to almost 64,800.