There have been 3,394 new cases of Covid-19 notified to the Department of Health. It was also confirmed that four more people have died with coronavirus.
Up to half of this record number of new infections is believed to be due to a delay in the formal reporting of cases that was flagged several days ago.
The cumulative number of Covid-19 cases here is now 96,926 while the death toll has reached 2,252.
There are 56 people in ICU with the disease, this is a rise of nine since yesterday. There are 607 people in hospital with Covid-19 and there were 71 additional hospitalisations in the past 24 hours.
Chief Medical Officer Dr Tony Holohan said: "The incidence of Covid-19 is as high, if not higher now than it was in March. Every individual needs to act as if they are infectious.
"Hospitalisations are rising to levels close to what we saw in the springtime. Everyone needs to stay at home other than for essential work or care.
"It is really important that vulnerable and older people do not leave their homes unless absolutely essential.
"This includes asking neighbours or family to carry out errands such as grocery shopping, limiting all contacts to only those people you live with or have to visit for essential care reasons."
Dr Holohan added: "We need to rediscover the spirit of solidarity and community we saw in March and April so that we can all do our part in protecting older and vulnerable people.
"People particularly vulnerable to Covid-19 include older persons and people with pre-existing medical conditions including cardiovascular disease, obesity, diabetes, chronic respiratory disease and cancer."
The 14-day incidence rate nationally is now 381.6 per 100,000. Counties with the highest rates of infection include Monaghan (783.6), Donegal (737.5) and Louth (719.3).
Those with the lowest rates are Wicklow (162.2), Tipperary (176.7) and Leitrim (230.9).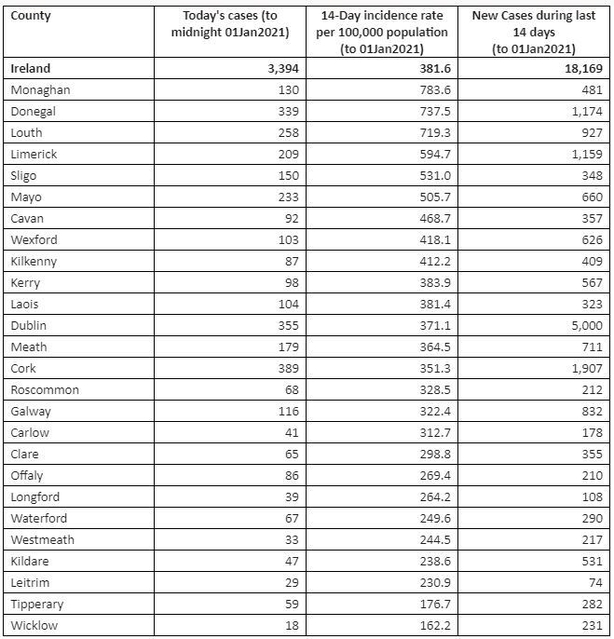 Of the cases notified today 1,619 are men and 1,766 are women while 65% are under 45 years of age.
The cases include 389 in Cork, 355 in Dublin, 339 in Donegal, 258 in Louth, 233 in Mayo and the remaining 1,820 cases are spread across all other counties.
In Northern Ireland, the Department of Health has reported 3,576 cases in the past 48 hours, with a further 26 deaths, including one outside the 48 hour period.
---
---
Its seven day incidence rate has hit a new peak of 576.6 per 100,000 people (south of the border, the seven day rate is 242.4). A fortnight ago, it was 194 per 100,000.
The latest figures come as Minister for Health Stephen Donnelly said the plan is for all those working and living in Ireland's 580 nursing homes to receive their first Covid-19 vaccine dose by the end of this month.
Earlier today, the Chair of the National Public Health Emergency Team (NPHET) Epidemiological Modelling Advisory Group said all the indicators show Ireland is "in a very significant surge".
Speaking on RTÉ's Saturday with Katie Hannon, Professor Philip Nolan said the cases being reported now would be compatible to a reproduction number of 1.8 to 2, though this has not yet been confirmed.
The new cases reported today will include some of the 9,000 delayed cases that were flagged by NPHET yesterday.
Prof Nolan said that up to 6,000 cases a day could be seen at a peak of the surge, adding "we need to prepare for worrying numbers in the days ahead".
He said that he expected cases "in the thousands" for another week or ten days before the new restrictions take effect.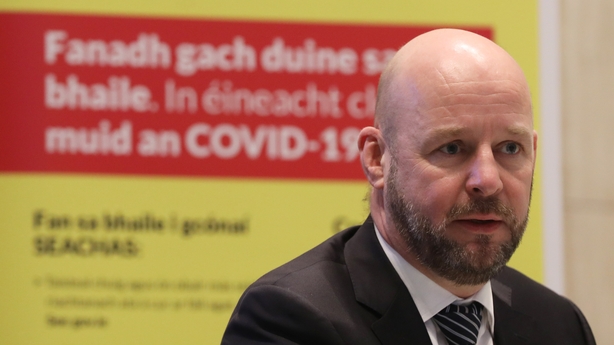 Prof Nolan said it is too early to be definitive about the role of the new variant of the virus, first identified in the UK, but said it is a threat and analysis suggests it is present in 5-17% of cases.
He said the focus needs to be on preventing the variant spreading further, and on avoiding bringing in new variants from abroad and said the South African variant has not been found in Ireland.
Prof Nolan said NPHET is "deeply concerned'"about the protection of the vulnerable in society and urged everyone to stay at home and restrict their movements as much as they did in March and April to "turn the tide" against the virus.
He said exponential growth is notoriously hard to predict accurately, but "whether there are 2,000 or 4,000 cases a day, it is far too many" and more than monitoring systems and the health systems can cope with.
He said the government restriction measures for now are sufficient but need to be watched over the next ten days to see are they having the desired effect and decisions on the closure of construction sites or extension to school closures will need to be kept under review.
The Director of the UCD National Virus Reference Laboratory said on Twitter that further testing this week of SARSCoV2 samples from 23 to 29 December detected the additional cases, bringing to 16 the total number of cases identified.
Further testing this week of #SARSCoV2 samples dating from #December 23rd to 29th has detected 9 additional #UKvariant cases in #Ireland. This brings the total number of cases identified @nvrlucdireland to 16 (of 169 tested to date) 1/2 https://t.co/gBEy0VjXO7

— Cillian De Gascun (@CillianDeGascun) January 1, 2021
As a random, albeit small, selection of cases primarily from the community, these data would suggest that the #SARSCoV2 #UKvariant - at a proportion of <10% - is not responsible for the recent significant & concerning increase in #SARSCoV2 case numbers #Surveillance #StayAtHome

— Cillian De Gascun (@CillianDeGascun) January 1, 2021
Dr Cillian de Gascun said that while the sample set is small, it appears that the variant form of the virus is not responsible for the "recent significant & concerning increase" in case numbers.
Sinn Féin leader Mary Lou McDonald said the surge of Covid infections "represents a grave threat to health and life".
In a post on Twitter this evening, she said: "All public health measures necessary to reduce transmission must be adopted by govt. All of us must take precautions. So #StayHome Wear your mask. Wash your hands. Keep your distance."