Germany expects the European Union to give quick approval to the coronavirus vaccine developed by Oxford University and AstraZeneca that was cleared for use in Britain, its top vaccines official has said.
Klaus Cichutek, head of the Paul Ehrlich Institute, said that, thanks to the rolling EU review of the AstraZeneca vaccine's effectiveness, it would be possible to take a quick decision once a formal application was submitted.
No such application had been received by the European Medicines Agency (EMA) by this morning, Mr Cichutek told reporters, but a debate in its councils would follow as soon as it arrived.
"Once the application is submitted a decision can be taken quickly," Mr Cichutek told a news conference.
German Health Minister Jens Spahn urged "a quick and thorough examination" of the AstraZeneca vaccine by EMA, in addition to the expected EU clearance of a shot from Moderna in early January.
Mr Spahn also said that Germany remains far from a return to normal life amid persistently high coronavirus rates.
He was speaking as the daily Covid-19 death toll crossed 1,000 for the first time.
"The infection and death figures show that we are still very far from normality," he told reporters in Berlin.
"I don't see how, in this situation, we can return to how things were before the lockdown," he added.
A vaccine jointly developed by Pfizer and BioNTechis already being administered under an EU-wide vaccination campaign that began after Christmas.
---
---
Swiss police probe 12 Brits suspected of fleeing ski quarantine
Swiss police have said they are investigating 12 cases in which British tourists ignored quarantine orders aimed at containing new Covid-19 virus variants after hundreds of fellow nationals are believed to have fled the country.
On 21 December, the Swiss government ordered people who arrived from Britain and South Africa since 14 December into a 10-day quarantine, while temporarily halting flights, leading to some being stranded in resorts including Verbier, a popular destination for British skiers.
They were supposed to stay indoors, away from other people.
The canton of Valais, where Verbier is located, sent 220 police to enforce restrictions, including operations in which they checked up on selected quarantined tourists.
"Of the 150 people who were checked at the holiday destinations, 138 guests consistently adhered to the quarantine," Valais police said. "Investigations are currently under way in 12 cases where the tourists had already left the canton."
Far more than a dozen left, however. Hundreds of Britons have fled quarantine in Verbier, with the health minister attributing the exodus to an "impossible situation".
At least seven people in Switzerland have been detected with the mutant virus, five with the British version and two with aversion detected in South Africa.
Two variants were first identified in Britain and South Africa.
The punishment British tourists, some of whom own Swiss vacation property, could face in Valais is unclear, though laws governing "dangerous diseases" could mean quarantine violators are slapped with fines of up to 10,000 Swiss francs (€9,200).
Switzerland is sticking to a "lockdown light," shutting restaurants but leaving ski areas open as it balances health considerations with the economy.
French govt criticised over vaccine rollout
Meanwhile the French government is facing criticism over the slow progress of its drive to vaccinate people against Covid-19, a problem compounded by the high levels of public scepticism about the campaign.
On Sunday France joined several other EU countries in launching vaccinations with the Pfizer-BioNTech jab, focussing its initial efforts on elderly residents of care homes.
But in the first three days of the campaign less than 100 people have been given the jab, - compared to 42,000 so far in Germany - raising questions over the government's cautious approach to vaccinating a largely sceptical population.
France's strategy "is not suited to a situation that is so dangerous," Axel Kahn, a prominent geneticist who leads the National League against Cancer told Europe 1 radio.
Dr Kahn said the government should seek to persuade people who are hesitating to be inoculated with "transparency and enthusiasm".
"We need to protect the French people and those who are vulnerable."
He also called for health workers to be moved to the top of the queue for the jab, over the elderly.
Britain, which began vaccinations with the Pfizer-BioNTech vaccine three weeks ahead of the EU, has already vaccinated hundreds of thousands of people, while over a million have received a jab in the United States.
Philippe Juvin, emergency services chief at Georges Pompidou hospital in Paris, said that there appeared to be no national "vaccine strategy" in France.
"As an individual, I would like to be vaccinated, to set an example, and show people that we don't die from the vaccine, we die from Covid. And when we don't die, we get severe forms which are very disabling," he told CNews TV channel.
A poll on vaccine consent conducted by Ipsos Global Advisor in partnership with the World Economic Forum showed the hurdles faced by the government to achieve mass immunity.
It showed that just 40% of the French want to receive the vaccine.
This puts France well behind other developed nations like Britain on 77% and the United States on 69%.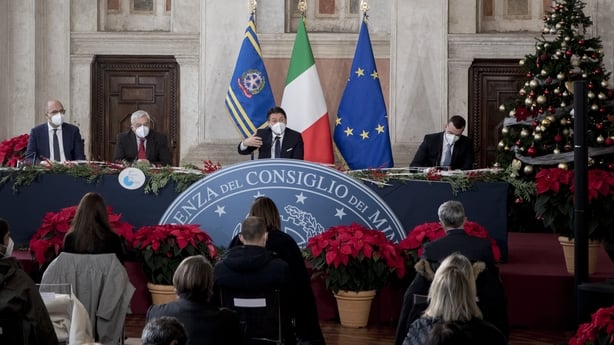 Vaccines will have an impact 'well into spring'
Vaccines will start to have a clear impact on the spread of the coronavirus in Italy "well into spring" when 10-15 million people will have been inoculated, Prime Minister Giuseppe Conte has said.
Italy, the first Western country to be hit hard by the pandemic, has reported more than 73,000 Covid-related deaths since discovering its outbreak late in February, the highest death toll in Europe and the fifth-highest in the world.
Italy kicked off its vaccination drive on Sunday with the first shots produced by Pfizer-BioNTech. The campaign will initially target health workers and the elderly, followed by people with chronic diseases.
"It will be well into spring when we see a first significant impact," Mr Conte told reporters at the prime minister's traditional end-year news conference.
But he ruled out making the shots obligatory, contradicting some government members who had said this could be an option if insufficient numbers of people volunteer.
"I am asking for a collective effort, let's put aside ideology or emotions. Let's vaccinate," Mr Conte said.
Asked why Italy did not follow Germany's example by procuring vaccine supply over and above its EU allotment, Mr Conte said this was forbidden under the terms of the agreement overseen by the European Commission.