Australia's most populous state has reported its lowest one-day rise in new Covid-19 cases in three days, stoking cautious optimism that authorities have contained an outbreak in Sydney's northern beachside suburbs.
New South Wales said 15 people had tested positive for Covid-19 in the past 24 hours, down from the 36 infections detected a day earlier and bringing the total cases in the northern beaches outbreak to 83.
It confirmed it had detected cases of the fast-spreading new coronavirus strain that has forced Britain to reverse plans to ease curbs over Christmas.
NSW Premier Gladys Berejiklian said it was too early to say a larger outbreak had been averted as northeastern suburbs entered the third day of a five-day lockdown.
"I'm pleased with what we've seen overnight, but again, it's volatile," Ms Berejiklian told reporters in Sydney.
The government would provide an update by Wednesday on "what Christmas and the next few days look like" in terms of further containment measures beyond those already imposed on the northeastern suburbs, she added.
However, other states and territories have moved quickly to close borders to all of Sydney's 5 million residents, throwing Christmas travel plans into disarray.
"2020 is not done with us yet," Australian Prime Minister Scott Morrison told reporters in Canberra.
"The events of the past few days, I have no doubt, are incredibly frustrating and disappointing for people all around the country who had plans in place to get together and move in between states."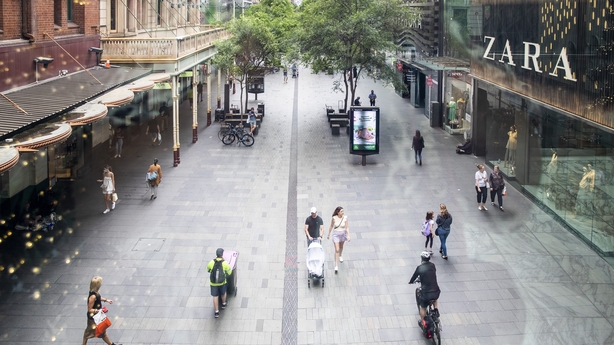 NSW imposed a lockdown on Friday in Sydney's northern beaches area, home to more than 250,000 people, after the cluster of cases emerged, centred on two dining and entertainment venues in the seaside suburb of Avalon.
More than 80 locations including cafes, gyms, casinos and supermarkets across Sydney were identified as having been visited by people with confirmed cases.
Authorities have urged anyone who attended the venues to immediately get tested and self-isolate, while dozens of domestic flights due to leave Sydney were cancelled.
With travel routes upended, Australian states and territories warned their own residents to leave NSW and return quickly if they wanted to avoid mandatory quarantine.
Concrete barriers will once more be erected at the border between NSW and Queensland state, with Australian police and military personnel deployed at many state borders to enforce the new rules, the Queensland state government said.
Politcians warned people to expect long delays across state lines.
Desperate to contain the spread, NSW has opened dozens of new testing sites, some of which are running 24-hours a day.
---
---
Gatherings over four people banned in Seoul
South Korea's capital Seoul and surrounding areas banned gatherings of more than four people over the Christmas and New Year holidays as the country recorded its highest daily death toll from the coronavirus.
The national government has resisted calls to impose a strict national lockdown but the governments of Seoul, Gyeonggi Province and Incheon city ordered unprecedented restrictions on gatherings from 23 December to 3 January.
"We cannot overcome the current crisis without reducing cluster infections that are spreading through private gatherings with families, friends and colleagues," Seoul's acting mayor Seo Jung-hyup said at a briefing.
"This is the last chance to break the spread."
The ban on gatherings applies to all indoor and outdoor functions except funerals and weddings. Currently they ban gatherings of more than nine people.
Combined the two cities and the province account for about half of South Korea's 51 million residents.
Within Seoul, restaurants and similar venues accounted for 41.4% of cluster infections over the past four weeks, followed by 16.9% from offices, 15.5% from places of worship and 12.3% from medical facilities and nursing homes, according to local government data.
As of midnight yesterday there were 24 additional deaths, bringing the country's total to 698, the Korea Disease Control and Prevention Agency said.
Thai PM calls for calm over outbreak
Thailand's prime minister has called for calm and said there were no immediate plans for a wider lockdown after 382 new coronavirus infections were confirmed, the majority linked to the country's worst outbreak yet.
Of the new cases, 360 were migrant workers connected to a seafood centre outbreak in Samut Sakhon, a province near the capital Bangkok, where a lockdown has been imposed and thousands of tests were being conducted to contain and track the spread.
Prime Minister Prayuth Chan-ocha said the government would monitor the situation for a week before taking further action.
"Don't panic just yet. We strongly hope everything will calm down in seven days," he told reporters.
"I don't want to go as far as a lockdown like other countries. This spread is traceable."
Infections linked to the seafood centre rose to 821, most of those asymptomatic. Up to 40,000 people will be tested in and around Samut Sakhon, health officials have said.
Thailand had previously kept the epidemic in check, with just about 4,300 confirmed cases and 60 deaths until this weekend, among the world's lowest numbers, due largely to its so far strict entry and quarantine requirements.