Australia's largest city of Sydney should prepare itself for more Covid-19 cases, New South Wales state Premier Gladys Berejiklian has warned, as authorities take action to contain a new virus cluster in the city's northern coastal suburbs.
About a quarter of a million residents in the affected suburbs of Sydney have been asked to stay at home for three days and people from outside areas urged not to visit as authorities set up more emergency testing centres.
"We're bracing ourselves for more cases today, no doubt about that ... the next 24-48 hours will be critical," Ms Berejiklian told Australian Broadcasting Corp television.
"We're taking this extremely seriously. We want to get on top of it as soon as we can, to give people as normal a Christmas as possible."
Ms Berejiklian said the original source of the virus was an international strain and that genomic experts were trying to find how it reached the local community.
The number of coronavirus cases jumped to 17, authorities said today just hours after reporting two new cases.
New South Wales, of which Sydney is the capital, has been easing social distancing restrictions in recent days due to low or no local cases.
The new cluster has prompted other states to tighten their internal borders.
Australia has reported just over 28,000 Covid-19 cases and 908 deaths since the pandemic began and estimates most active cases in the country are returned overseas travellers in hotel quarantine.
Elsewhere, the Japanese capital of Tokyo said the strain on its medical system from the Covid-19 pandemic was severe, raising its alert level to the highest of four stages as the number of cases spiked to a record daily high of 822.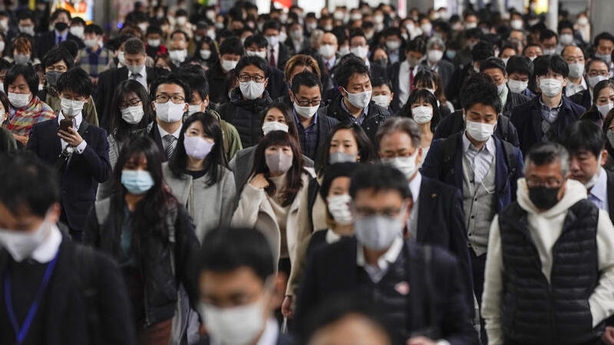 A health official said it had become difficult to balance the care of Covid-19 patients with regular ones as hospital beds filled up, assigning a "red" alert for medical preparedness for the first time.
"Medical service providers have exhausted all spare resources," Masataka Inokuchi, vice chair of the Tokyo Medical Association, told a coronavirus monitoring committee meeting attended by Tokyo Governor Yuriko Koike. "Reducing the number of (Covid-19) patients will be the only way to go."
The metropolitan government said the number of coronavirus cases hit 822 today, surpassing the previous record of 678 reached a day earlier.
A month ago, the city raised its coronavirus alert for new infections - a separate category - to the highest level.
It had kept its alert for medical preparedness at the second-highest level at the time, indicating a need to boost hospital capacity but a notch below critical conditions.
South Korea reports record coronavirus deaths as lockdown fears spark panic buying
South Korea reported a record number of Covid-19 deaths today as the country's biggest wave of infections since the start of the pandemic strained hospital resources and sparked panic buying in anticipation of a harsh new lockdown.
The virus had claimed another 22 lives as of midnight, sharply up from a previous high of 13 deaths in a single day earlier in the week, the Korea Disease Control and Prevention Agency (KDCA) reported.
Deaths were expected to rise after infections had spiked in Seoul and surrounding areas, with another 1,014 cases reported today including a daily record of 423 in the densely populated capital city.
Tighter social distancing rules have failed to reverse the trend and the government has warned it may have to impose harsher restrictions on business activity, though it says that move would only be a last resort.
Many residents of Seoul have started stocking up on food and other essential supplies in anticipation the city will be locked down for the first time to halt the spread of the disease.
The government said it would give people plenty of warning before imposing stricter curbs.
For much of the year South Korea had managed to keep cases low through aggressive tracing and testing.
The new wave emerged from multiple clusters in the capital city of Seoul, which saw a daily record of 423 new cases, as well as in its densely populated suburbs.
Hospitals were at a breaking point with only three critical care beds available as of yesterday in greater Seoul, an area with a population of almost 26 million people.