Government ministers are likely to look at bringing forward the tightening of Covid-19 restrictions to 28, 29 or 30 December.
Sources indicate that restrictions for the hospitality sector and inter-county travel will be considered by ministers at a meeting next Tuesday.
They will also discuss limiting the existing ceiling on household visits.
It is understood that a key concern is that the authorities do not want the hospitality sector entirely open on New Year's Eve.
Earlier, the Taoiseach said the National Public Health Emergency Team had recommended to Government that the period of relaxed Covid-19 restrictions be shortened to the end of the year as virus cases rise.
Speaking on RTÉ's Six One, Micheál Martin said: "The anticipated period of going from tomorrow to the 6th of January would be shortened."
He said the measures being recommended involve the hospitality sector as well as visits between households being reduced from three to two.
The Taoiseach said Government will take the recommendation "very seriously" and will be in a position to make a decision when it meets on Tuesday.
Mr Martin was speaking as 484 new cases of Covid-19 were reported today, as well as three virus-related deaths.
The number of people in hospital is 200, with 31 of the patients in intensive care, up one from yesterday.
Nationally, the 14-day incidence rate of the virus per 100,000 of the population is 94.2.
Chief Medical Officer Dr Tony Holohan has expressed concern about Covid-19 outbreaks in workplaces and as a result of gatherings for Christmas parties and funerals.
Minister for Health Stephen Donnelly, who met Dr Holohan today, said the Chief Medical Officer reported that virus positivity and referrals for tests were up, and GPs were seeing an increase in the number of people presenting with flu-like symptoms.
---
---
The Taoiseach said it is extremely important that people mind themselves by continuing to wear masks and observing physical distancing.
Mr Martin said he had indicated on 19 October that the Government would not be implementing a zero-Covid or herd immunity strategy but that when case numbers increased, there would be intervention to bring them back down again and that when it was safe to reopen the restrictions would be relaxed.
He said the country had endured six weeks of severe Level 5 restrictions, people "had put up with a lot" and the Government had felt that a break was needed for the month of December to ensure that people had a meaningful Christmas.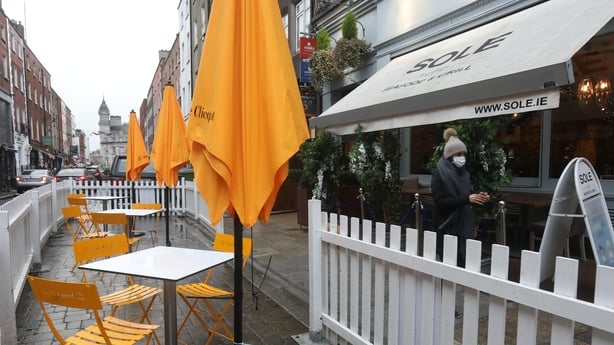 The Government is considering closing the hospitality sector after Christmas due to rising case numbers, according to the Tánaiste.
"The kind of restrictions we would be thinking about imposing at a point between Christmas and New Year's would be restrictions on hospitality - essentially closing hospitality again - and limiting visits to one household visiting another household, but not a total ban on all household visits," Leo Varadkar said.
"But retail and personal services would stay open," he added, also indicating that non-essential retail would stay open.
Speaking on RTÉ's Prime Time, Mr Varadkar said it was prudent for the Government to wait until Tuesday to make a decision on NPHET's recommendations in case the numbers stabilise.
He said this would still give businesses a notice period of seven-to-eight days.
"Unless the numbers stabilise over the next couple of days, we will have to bring forward from the sixth of January the point at which we need to re-impose restrictions," he said.
Mr Varadkar added it was a reasonable expectation that no businesses would be closed by 1 April due to the vaccine, improved treatments and mass testing, but there was no guarantee.
Sinn Féin's health spokesperson David Cullinane said the Covid-19 indicators are concerning and the Government must be guided by public health advice.
"The rise in case numbers, in the 14-day incidence rate and in hospitalisations is concerning. We must do all we can to keep people safe and ensure our hospitals are not stretched beyond capacity. We must be guided by public health advice and ensure we do all we can to reduce case numbers, prevent hospitalisations and keep people safe."
Labour Leader Alan Kelly said the public could not be expected to wait five days to hear from Government about any potential additional restrictions that may come into force before the New Year.
Mr Kelly said: "The Taoiseach and Government need to clear this up as soon as possible. The public and businesses need certainty from Government about any potential additional restrictions on home visits and hospitality.
He said the issue of inter-county travel up until 6 January needs to be confirmed and that Mr Martin should bring forward the Cabinet meeting to tomorrow morning and announce any new restrictions as soon as possible.
"The hospitality industry also need to know whether they will be able to remain open as intended for the New Year. Hotels, restaurants and pubs have taken bookings and many livelihoods depend on the busy Christmas period," Mr Kelly added.
Social Democrats co-leader Róisín Shortall said: "The latest figures are a cause for concern and health advice must be taken on board if we are to avoid a return to full lockdown in January."
Despite hopes that vaccination will begin here before the end of the month, people have been warned against premature complacency as the effects on the general population will not be seen until the middle of 2021.