The Minister for Health has said that if the European Medicines Agency (EMA) authorises the Pfizer-BioNTech vaccine within a few days of its 21 December meeting, it is possible the vaccine could be rolled out at a very low level by the end of the year.
Stephen Donnelly made the comments as the Government announced details of its Covid-19 vaccination plan this afternoon.
He said: "If the EMA meet on 21st December and conclude on the positive on the Pfizer vaccine" it would be likely a few more days, maybe the 23 December, before formal authorisation would be given by the EMA.
Mr Donnelly said it would then take a number of days, potentially up to a week, for initial vaccinations to begin in Ireland.
Minister for Health Stephen Donnelly says Covid-19 vaccine could be rolled out at low level in Ireland before the New Year, depending on EMA approval | https://t.co/DoqdQv4bEC pic.twitter.com/e3U6RtVwGh

— RTÉ News (@rtenews) December 15, 2020
He said it would be at a very low volume but it would be very encouraging if it did happen, "even to see the process of vaccination commence before the end of the year".
The Government said vaccines will be rolled out in three phases: the initial roll out; a mass ramp-up; and open access.
The highest priority groups, those over the age of 65 living in long-term care facilities and frontline healthcare workers in direct patient contact, will receive the vaccine first.
The full vaccination allocation sequencing approved by Government is set out below.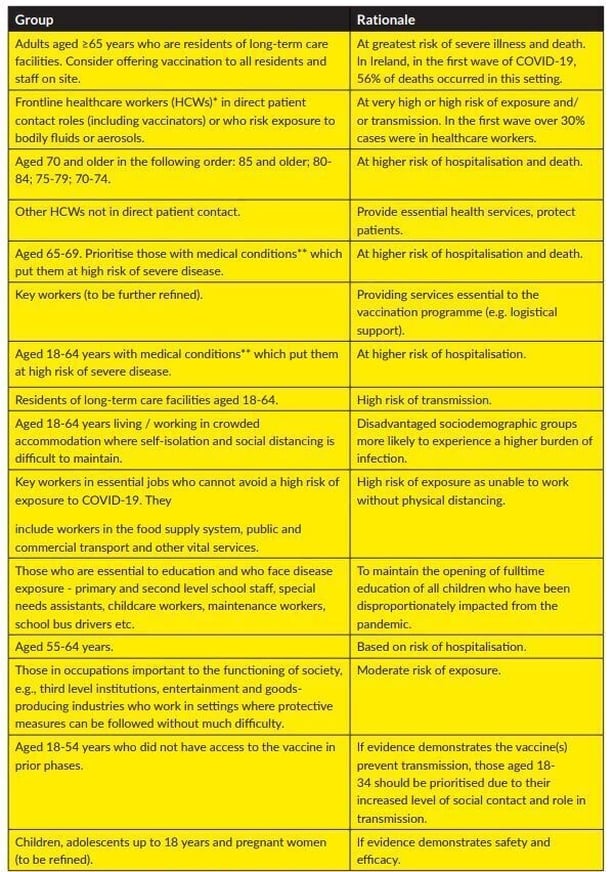 It is understood that the sequencing of population groups may need to be adapted as more evidence on vaccine effectiveness, safety and suitability becomes available for specific population groups.
Mr Donnelly said the current sequencing maximises keeping people alive and keeping people healthy from the virus.
"Today is a really positive day for all of us. After a very difficult year, we are hopeful that Covid-19 vaccines will be approved for use in Ireland in a matter of weeks," Mr Donnelly said.
The plan outlines a vaccination pathway which involves pre-vaccination registration and a request for preliminary information, registration at the vaccination centre, vaccination, resting phase and sign-out, return home, post-vaccination observation and reminder for second dose.
People will be able to get the Covid-19 vaccine at five types of locations after the Cabinet agreed the plan. 
They include hospitals, nursing homes, GP surgeries, pharmacies and mass vaccination centres.
Under the plan, up to 14 million doses of the vaccine could be purchased and it will be available to people free of charge.
GPs and pharmacies will have a greater role to play once a broad section of the population have got the vaccine.
The Chief Executive of the Health Products Regulatory Authority Dr Lorraine Nolan said, all going well on 21 December [the EMA authorisation], it will take two or three days for the European Commission to issue a market authorisation. She said we could potentially have a marketing authorisation on 23 December.
Health Products Regulatory Authority CEO, Dr Lorraine Nolan, says marketing authorisation for the Covid-19 vacccine could potentially be approved on 23 December | https://t.co/uMaxzhf6on pic.twitter.com/TNyjRvBDtv

— RTÉ News (@rtenews) December 15, 2020
Dr Nolan said that is legally binding in all member states. Once it is granted, it means the product can be legally supplied on those markets. She said it will take "a little bit of time" for those stocks to come into Ireland.
Dr Nolan said that the data must clearly show that Covid-19 vaccines are safe, effective and of suitable quality and there will be no lowering of the bar on this.
She said all vaccine applications will be reviewed just as carefully and rigorously as for any other medicine.
On the Moderna Vaccine, she said a recommendation is expected by the EMA on 12 January next.
Asked whether people should be concerned that the last time a vaccine was developed very quickly for the swine flu there were some issues and court cases had been settled in recent weeks in relation to one of the vaccines, Dr Nolan said that this is an entirely different vaccine and was based on an incredibly different vaccine technology.
She said they cannot give an absolute guarantee that this will not be completely risk free - that is simply not possible.
She said that they know this vaccine will have the typical profile of any vaccine and they can expect that there will be effects.
She said that these will be mild and can be dealt with, such as a mild fever etc.
Dr Nolan said the issue of taking the vaccine in pregnancy is one of those areas where they will need further studies.
She said the current advice is that it should not be used in pregnant women until they know more.
The Chief Medical Officer Dr Tony Holohan said the vaccine will not have a positive impact on the trajectory of this virus for a number of months to come and we have to do all that we can to save lives now.
The @CMOIreland has said people will have reasonable questions about #Covid19 vaccines, and people will be faced with misinformation and falsehoods online. He says to counter this, transparency will be a cornerstone of the vaccine rollout. | https://t.co/OIkv6kMxjG pic.twitter.com/9Ux1MWPAex

— RTÉ News (@rtenews) December 15, 2020
He said transparency and trust will be a cornerstone of Ireland's approach to addressing uncertainties about the vaccine. 
He said Ireland has done very well compared to other countries but that the public can not afford to drop its guard now.
Dr Holohan said they will need evidence to see what the use of vaccines has on transmission, and this will come as the year progresses, and then they will be able to make recommendations about what kind of activities might be appropriate for those who are vaccinated and those who are not.
He said in the short term, this is not going to be a licence to suspend the public health measures. He said these are the measures which have protected this country so far, and that we can not give up on them now.
Through its membership of the EU, Ireland has secured access to six prospective vaccine candidates at volumes that are sufficient to vaccinate the whole population, assuming all of the vaccines are authorised.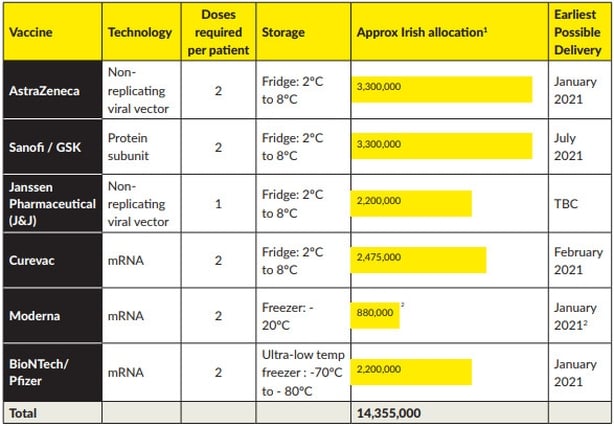 The plan states storage of the vaccines will be centralised and managed by a single logistics provider, "with substantial relevant experience".
As the different types of vaccine require varying temperature storage requirements, the HSE's logistics partner has prepared substantial storage capacity for each temperature range.
The Chairperson of the High-Level Task Force on Covid-19 Vaccination, Professor Brian MacCraith, said that there remains a number of unknowns about the vaccines which are currently undergoing rigorous safety trials.
He said these include approval dates, delivery schedules and in some cases about their specific characteristics and consequently about how the overall programme will have to be implemented.
He said the strategy has been developed by drawing on the advice and expertise of a number of groups including the High-Level Task Force.
Prof MacCraith said he has had conversations with a number of third-level institutions, including Waterford Institute of Technology, University of Limerick and University College Cork, about using the institutions as possible vaccination centre sites.
He said they all expressed great support on the concept of being able to assist in the development of mass vaccination centres.
Asked about how long it will take to move between priority groups, Prof MacCraith said that it depends on the approval dates and the schedule of delivery from the vaccine companies.
He said, as of this moment, they do not have those dates confirmed. But he said as more vaccines get approval, hopefully the numbers will rise significantly.
Asked how the vaccines would get into the country, Prof McCraith said the Pfizer vaccine would be coming from Belgium, and it would be either by air freight or land.
Prof MacCraith said the use of a vaccination certificate is being explored at the moment.
He said there are also discussions taking place at an EU level as there might be a single model across the EU27.
26 nursing homes to be part of first deployment, says Reid
The CEO of the HSE Paul Reid said that it is important that people continue with the public health measures particularly as we head into the peak season of demand for health services.
Regarding the supply chain, Mr Reid said there are three distinctive storage requirements for various vaccines including ultra cold which is minus 70-80C, frozen, and refrigerated (between 2-8C).
Mr Reid said the vaccines will be brought from cold-chain storage to the vaccination hubs under controlled conditions and then to long-term care facilities for the first phase of the roll-out.
He said a partnership between IBM and Salesforce has been selected to manage the IT system.
HSE CEO @paulreiddublin says it is important that people continue with public health measures. He outlines five points relative to the implementation plan of the Covid-19 vaccine | https://t.co/uMaxzhwHfV pic.twitter.com/9W0jBImBY0

— RTÉ News (@rtenews) December 15, 2020
Mr Reid said they have mapped out 26 private nursing homes to be part of the first deployment of the vaccine.
He said the delivery of volumes in the first phase will be smaller and will build up over the following weeks and months.
Mr Donnelly has said he does not believe that a no-deal Brexit would slow down the delivery of vaccines to Ireland.
He said the primary logistics supply chains are in place and, on top of that, there are contingency supply chains in place as well.
Mr Reid said over the past year, they have had a Brexit contingency storage facility in north Dublin and "a significant purchase of consumables, syringes and needles etc" have been procured in advance.
Possible approval of Pfizer/BoiNTech vaccine brought forward to 21 December
Earlier today, the head of the European Commission said that the EU drug regulator's decision to bring forward its possible approval of the Pfizer/BioNTech vaccine to 21 December could allow Europeans to be vaccinated as soon as this year.
"Likely that the first Europeans will be vaccinated before end 2020," Ursula von der Leyen wrote on Twitter after a decision by the European Medicines Agency to hold an extraordinary meeting on the Pfizer vaccine before a previously planned meeting on 29 December.
Meanwhile, the State has an "open ended" indemnity to drug companies which have developed Covid-19 vaccines, the Taoiseach has told the Dáil.
Micheál Martin said the Government is developing a vaccine compensation scheme on foot on an earlier recommendation by Justice Charles Meehan. 
The Taoiseach said the Government had entered into an advance purchase agreement with the EU.
Ireland did not have the option to renegotiate but instead could opt in or opt out of the agreement.
He was responding to questions from Independent TD Catherine Connolly who asked if there was a "blank cheque".
Additional reporting Micheál Lehane