The Netherlands is to go into its strictest lockdown since the coronavirus pandemic began, with schools and non-essential shops to shut for around five weeks over the Christmas period, Prime Minister Mark Rutte has said.
Protesters could be heard whistling and shouting outside Mr Rutte's office as he said in a televised address to the nation that action was necessary to stem a surge in Covid-19 cases.
"The Netherlands will close for five weeks," Mr Rutte said.
"We're not dealing with a simple flu like the people behind us think," he added, referring to the protesters.
People were advised to stay at home and could have only a maximum of two guests a day, Mr Rutte said, adding that the measures would last until 19 January.
All shops in the Netherlands except essential outlets like supermarkets, food stores and pharmacists must shut from tomorrow, while schools will close from Wednesday, he added.
Museums, zoos, cinemas and gyms must also close, Mr Rutte said.
The Netherlands went into an "intelligent lockdown" in March during which schools shut down but shops stayed open, meaning that the new measures are the toughest since the start of the pandemic.
---
---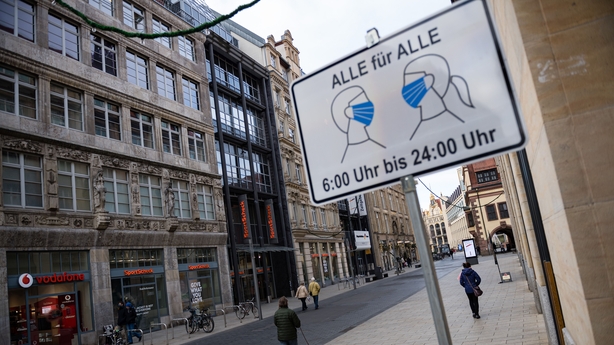 Germany to impose stricter lockdown over 'exponential growth' in Covid-19 cases
Germany will go into stricter lockdown from Wednesday, closing non-essential shops and limiting the size of private gatherings, Chancellor Angela Merkel and regional leaders agreed yesterday.
The tighter restrictive measures, which will be effective until 10 January, were in response to an "exponential growth" in the number of COVID-19 cases in Germany, according to a policy paper.
Most retail stores will be closed starting Wednesday, except for those covering daily or holiday needs, such as supermarkets, pharmacies, banks and Christmas tree shops.
Schools and daycare centers will also be closed.
Companies will be asked to take work-from-home solutions.
Private gatherings will be limited to a maximum of five people from two households, excluding children up to the age of 14.
From December 24 to 26, meetings with another four people who go beyond one's own household but from the closest family circle should be permitted.
There will be a nationwide ban on fireworks sales and public outdoor gatherings on New Year's Eve.
Drinking alcoholic beverages in public places will also be prohibited.
On 5 January, Merkel and the state leaders will consult again to decide on measures for the next stage.
Germany on Sunday added 20,200 new Covid-19 cases over the past 24 hours, bringing the total to 1,320,716, according to data from the Robert Koch Institute (RKI).
The country's new Covid-19 deaths in the same period totaled 321, taking nationwide death toll to 21,787, the data showed.
Poland faces possible third wave
Poland faces a real threat of a third wave of the coronavirus pandemic, Health Minister Adam Niedzielski said, adding he would recommend that current restrictions continue until at least 17 January.
Poland, a country of around 38 million people, has reported a total of 1,140,572 coronavirus cases and 22,960 deaths.
Authorities shut schools, restaurants and sports centres after Poland saw record high numbers of new infections in early November.
"In order to avoid a third wave I will recommend that the restrictions remain at the current level... I will recommend that they are extended until at least Jan 17," Niedzielski told a news conference following a meeting with Prime Minister Mateusz Morawiecki and President Andrzej Duda.
The government is expected to adopt a national coronavirus vaccine plan tomorrow.
Mr Morawiecki said earlier this month his government had bought more than 60 million doses of Covid-19 vaccines from six producers
Additional reporting PA