Four lions at Barcelona Zoo have tested positive for Covid-19, veterinary authorities said, in only the second known case in which large felines have contracted coronavirus.
Three females named Zala, Nima and Run and Kiumbe, a male, were tested after keepers noticed they showed slight symptoms of coronavirus.
Two staff at the zoo also tested positive for coronavirus, the authorities said, after the outbreak was first detected last month.
Authorities are investigating how the lions became infected.
Keepers carried out PCR tests on the lions in the same way as humans are tested as the animals are accustomed to contact with the zoo staff.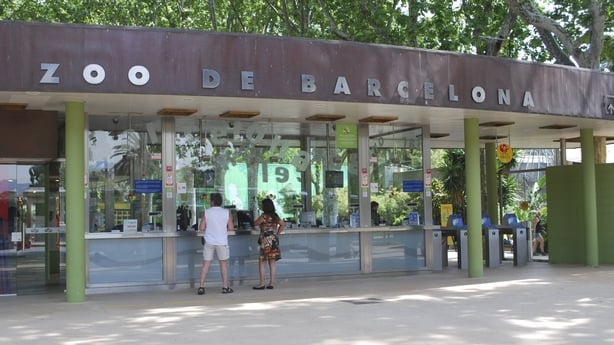 The Veterinary Service of Barcelona contacted colleagues at the Bronx Zoo in New York, where four tigers and three lions tested positive for Covid-19 in April.
It is the only other zoo where large felines are known to have contracted coronavirus. All recovered.
"The Zoo has contacted and collaborated with international experts such as the Veterinary Service of the Bronx Zoo, the only one that has documented cases of Sars-CoV-2 infection in felines," the Barcelona zoo said in a statement.
"The lions were given veterinary care for their mild clinical condition - similar to a very mild flu condition - through anti-inflammatory treatment and close monitoring, and the animals responded well."
The four-year-old male and the females, who are all 16 years old, have had no contact with other animals at the zoo, which is open to visitors.
---
---
Switzerland, Italy to halt all cross-border train service
Switzerland and Italy will halt all cross-border rail service from Thursday because train personnel do not have capacity to carry out COVID-19 safety checks ordered by the Italian government, the Swiss Federal Railways (SBB) said today.
The move, in place indefinitely, affects dozens of daily routes, including long-distance trains between Milan and Frankfurt, Germany, as well as regional trains that connect the two countries, where many workers travel daily across the border from northern Italy to Switzerland.
Switzerland and neighbouring Italy, Germany and France had reduced train service in November, but rising cases during the second wave of infections that prompted the Italian government's new requirements mean train service will be stopped much like it was during the pandemic's first wave.
Italy did not explicitly forbid train travel abroad, but its requirements, including for passengers' temperatures to be measured, exceed the capacity of train personnel, an SBB spokeswoman told Reuters, leading to the decision to shutter the Swiss-Italian routes.
"Swiss Federal Railways trains will travel only to the country's border to Italy," SBB said.
Italy, France and Germany have also introduced new requirements meant to prevent skiers from travelling over the holidays to Switzerland and Austria, where resorts are due to be open for limited, locals-only skiing.
Swedish limit on public gatherings to remain at 8 people
Swedish Prime Minister Stefan Lofven said public gatherings would remain limited to eight people over the upcoming Christmas and New Year's holidays, a limit that should be the norm for also private festivities.
"This year, Christmas cannot be as usual," Mr Lofven told a news conference.
Sweden is experiencing a second wave of the pandemic that has claimed more than 7,000 lives, far more than the rest of the Nordic region combined.