A nurse at Belfast's Royal Victoria Hospital has become the first person on the island of Ireland to receive a Covid-19 vaccine.
Joanna Sloan, 28, was given the vaccine, developed by Pfizer and BioNTech, just after 8am.
The nurse from Dundrum in Co Down, who has a five-year-old daughter, is sister in charge of Covid-19 vaccination for the Belfast Health and Social Care Trust, Northern Ireland's largest.
She is a former emergency department nurse and has been in her job for six years.
Ms Sloan said: "I feel privileged and honoured and a little bit emotional that we have got here - very, very grateful." 
She felt "apprehensive and nervous" beforehand. 
As the vaccine was administered, she said she was thinking: "At last - we are here." 
Ms Sloan added: "Through everything that healthcare workers (went through), either in hospital or (the) community - people themselves losing family members, us losing colleagues - it felt like it was a huge moment and that this was and could possibly be the final hurdle in the fight against Covid." 
The vaccine was approved for use in the UK on 2 December, with the first consignment arriving in Northern Ireland two days later.
Northern Ireland's Department of Health expects to receive 25,000 vaccines in its initial allocation.
We need your consent to load this rte-player contentWe use rte-player to manage extra content that can set cookies on your device and collect data about your activity. Please review their details and accept them to load the content.Manage Preferences
With each recipient requiring two jabs, the plan is to vaccinate 12,500 people before the end of the year, with the service being provided at two hospitals - the Royal Victoria and the Ulster Hospital in Dundonald - and at five leisure centres.
---
Read more: 
Grandmother, 90, first to receive Covid-19 vaccine
Q&A: What do we know about Covid-19 vaccines so far?
Latest coronavirus stories
---
Afterwards, Ms Sloan said of the jab: "It did not feel any different than any other immunisation that I have had, I did not feel any pain."
She said it had been stressful and hard work preparing for the moment. 
"We worked tirelessly to make sure that people are safe." 
Vaccinators will be at the head of the queue to receive the vaccine and mobile units will be used to bring the service to care home residents, who are being prioritised in this first phase of the vaccination programme in Northern Ireland.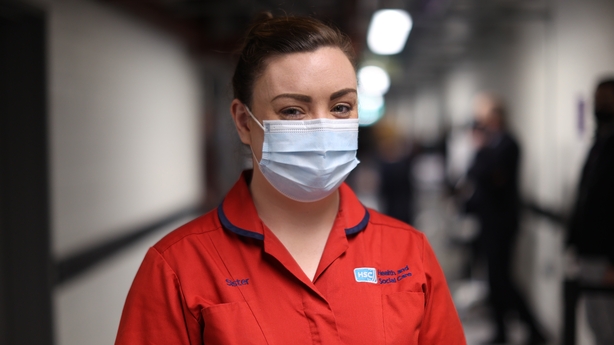 Northern Ireland's First Minister Arlene Foster said the vaccine is not compulsory but she would encourage people to take it.
"I'll certainly be taking the vaccine and I'll be advising my elderly mother to take the vaccine, she is looking forward to it as well so that we can begin down that pathway to normality again," she said.
Asked about the possibility of more restrictions in Northern Ireland before Christmas, she said she does not foresee restrictions coming in before 23 to 27 December.
"However, we do have to watch very carefully what is happening with this disease and this pandemic," Ms Foster said.
"Whilst we're having a very good day today, with V-Day, we do also realise that it will take some time for the vaccination to take hold.
"That's why mass testing is also very important. So it is around testing, vaccination, compliance and personal responsibility.
"People should listen very carefully to the advice they are given so we can all work through this together."
Speaking on BBC's Good Morning Ulster, Stormont's Health Minister Robin Swann said the importance of today should not be underestimated.
He said it is "the day we have long been waiting for" and it should be greeted with optimism, but tempered with caution.
"This is the start of a long road to recovery but we are on the first step," Mr Swann said, adding that the vaccine gives the "opportunity of a return to normal sooner than we ever would have thought."
Earlier, he said the deployment of the vaccine to care homes will proceed in the coming days.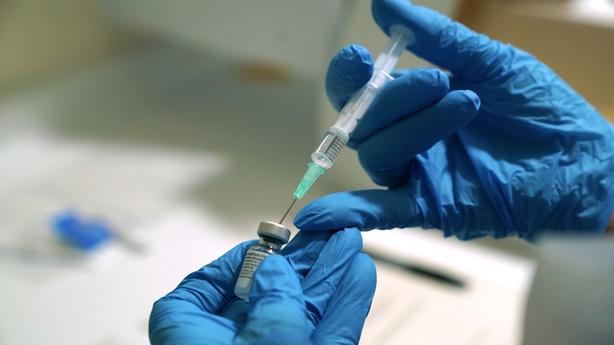 Northern Ireland's chief medical officer, Dr Michael McBride, said today is a remarkable one.
"We can begin to look to the future with a degree of optimism, with this vaccine and other vaccines and more effective treatments," he said.
"Hopefully in the future Covid-19 will become a more manageable disease and we will begin the pathway to a more normal life."
Dr McBride added that he did not think this day would come so soon, ten months after Covid-19 was discovered, as opposed to the more normal ten years taken to develop vaccines.
He recalled the sacrifices and harm caused by the virus as well as the number of lives lost, and warned there will be more challenging months ahead.
Meanwhile, the Department of Health said today that 14 further coronavirus deaths had been recorded in Northern Ireland, 11 occurring during past 24 hours.
It takes the official death toll to 1,073.
There were also 351 new cases of the disease identified from tests on 2,813 individuals.
There are 421 confirmed coronavirus patients in hospital, with 28 in ICU, 20 of whom are on ventilators.