People are being urged by health experts to "make every effort to keep safe" if heading out this weekend.
Chief Medical Officer Dr Tony Holohan warned that the country was entering "an important phase in our collective efforts to suppress the spread of the virus".
The Department of Health yesterday confirmed six further deaths and 265 more cases of Covid-19.
There has now been a total of 2,086 Covid-19 related deaths and 73,491 cases in Ireland.
Twenty-seven people are being treated in intensive care units across the country.
Ireland's 14-day incidence rate per 100,000 of the population is now 78.3.
The department said there would be a higher number of cases announced today as a result of a technical issue, which had prevented laboratories uploading results to the Health Protection Surveillance Centre.
The issue, which has now been resolved, had led to a reduced number of cases being reported in recent days.
It said that there was no impact on the management of cases or the timeliness of contact tracing.
Of the cases announced yesterday, 133 are men and 131 are women, 66% of whom are under 45 years of age.
The median age is 33.
Dublin accounts for 84 of the new cases, 28 were detected in Louth, 27 in Limerick, 19 in Donegal, 15 in Wicklow, 15 in Galway and the remaining 77 cases are spread across 18 other counties. 
There were 232 people being treated for Covid-19 in hospitals. There were 14 additional hospitalisations in the past 24 hours.
Dr Holohan said the recent progress made in stabilising case numbers was fragile.
"We are now entering an important phase in our collective efforts to suppress the spread of the virus.
"We have made significant progress and reduced transmission in our homes and communities, but it will take a consistent individual effort from everyone to keep up that momentum in coming weeks," he said.
Deputy Chief Medical Officer Dr Ronan Glynn said: "If you are heading out this weekend, please make every effort to keep safe.
"Plan ahead, meet outside where possible and keep your contacts to a minimum. Avoid crowded or poorly ventilated spaces and leave if your environment doesn't feel safe."
UL offering students free Covid tests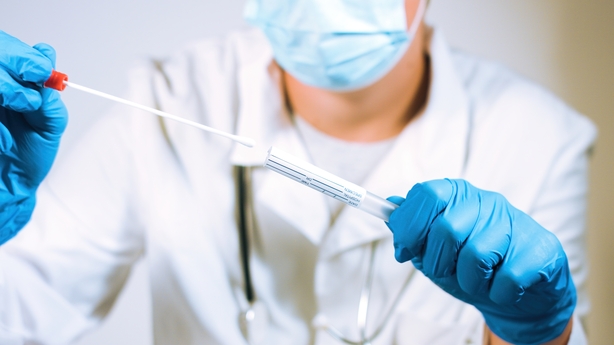 Meanwhile, students at the University of Limerick are being offered free Covid-19 tests before they travel home for the Christmas period.
The tests will be carried out by Public Health Mid-West as part of efforts to detect asymptomatic carriers of the virus.
In Northern Ireland, the first person to receive the Covid-19 vaccine will be given the jab at 8am on Tuesday.
There were a further six coronavirus related deaths in Northern Ireland in the past 24 hours and 449 new cases.
Earlier yesterday, the Minister for Finance Paschal Donohoe said people needed to "exercise discretion and restraint" over the Christmas period to minimise further Covid-19 health risks, which in turn will "profoundly influence what 2021 looks like".
Speaking on RTÉ's Morning Ireland, Mr Donohoe said it was "tremendous" that so many businesses could reopen today, and to see so many go back to work was essential.
He said it was "equally essential" however that when out in restaurants, people need to respect the livelihoods and health of those working there to ensure safety.
"We have to exercise discretion; we have to in truth exercise restraint to ensure that across this period we don't create further health risks for ourselves and for those who are looking after us when you're out having a meal, or you're out with your family," Mr Donohoe said.
"So it's so important that we try to keep the balance right across the Christmas period because in turn it will influence profoundly what 2021 looks like."
Speaking on the reopening of the hospitality sector today, Minister for Finance Paschal Donohoe says: "It's so important that we try to keep the balance right across the Christmas period" pic.twitter.com/nP2vFl1OGs

— RTÉ News (@rtenews) December 4, 2020
Asked about cases of some outlets not reopening due to safety precautions, Mr Donohoe said he could not comment on individual businesses, but he understood the decisions some owners were making were "very tough".
Mr Donohoe said the Covid Restriction Support Scheme (CRSS) payment was "only available to businesses that have to be closed".
He said there was an important equity and use of taxpayers' money issue he had to be aware of.
The minister said the CRSS payment allows for businesses that are required to close due to public health guidance to receive a payment per week of up to €5,000 from revenue depending on their normal turnover.
Mr Donohoe said there will also be an additional payment for businesses that are not able to open up due to restrictions across the last two weeks of this month and the first week of January.
He said this is being done because it continues to be a very difficult period for businesses that cannot reopen.
Mr Donohoe said in general, if a business decides they do not want to reopen, if they still meet certain criteria, they will still be able to access other provisions, such as the rates waiver and the Employment Wage Subsidy Scheme payment.
A decision on the PUP will be made in 2021 "when we are clear with our vaccination programme", says Minister for Finance Paschal Donohoe pic.twitter.com/LpazJg8Hhv

— RTÉ News (@rtenews) December 4, 2020
HSE Chief Clinical Officer Dr Colm Henry has urged people to continue to keep their contacts to a minimum over the coming weeks.
Speaking on RTÉ's News at One, Dr Henry said the HSE is "concerned" at anecdotal evidence suggesting that restaurants are experiencing a high level of bookings for the coming weeks, but he also said it is important to acknowledge "what Ireland has achieved" during Level 5 restrictions, namely he said, that we now have the lowest 14-day incidence rate in Europe.
Dr Henry said that modelling from the National Public Health Emergency Team (NPHET) may need to be "redrafted if we see worst excesses of behaviour".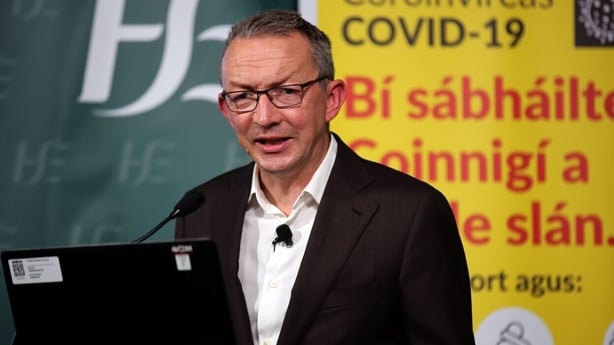 "Our job in the HSE and NPHET will be to monitor the figures and watch for trends, always remembering that there is a lag time between new cases and the resulting impact on hospital services."
But he said the projected number of cases for January does not have to become a reality if everyone plays their part.
"It doesn't have to be that way. The R value is the sum total of millions of small behaviours of each and every person. The more each of us individually contributes, by reducing the number of contacts, by maintaining social distancing by not dropping our guard, we can avoid that spectre happening," said Dr Henry.
He said other healthcare systems in Europe "are not performing well", which is a "reminder of how fragile this success is. It can be thrown away if people don't keep up their guard".
---
---
Meanwhile, the Assistant Deputy General at the Department of the Taoiseach, Liz Canavan, said if people can adhere to the required safety measures, then they can enjoy dining out while staying safe.
Speaking at today's Government press conference, Ms Canavan said the hospitality sector has been working hard to ensure that people can dine out safely, and pointed to the advice which states that seating should be distant, tables should be a maximum of six people, hand sanitiser will be provided, and customers will have a maximum table-time.
Ms Canavan said it is a busy time of year, and urged people to support local shops.
She said anyone feeling unwell should try and stay at home rather than go out shopping.
She urged people to try and keep shopping time to a minimum, and also to wear a face covering.
Speaking about a number of large sporting events due in the next few weeks taking place behind closed doors, Ms Canavan said that people will want to celebrate homecomings if their team is victorious, but that will not be possible this year.
She said it is important to note that the matches themselves can only go ahead due to the efforts of people already adhering to public health advice.
Ms Canavan said gardaí will continue Operation Fanacht in the weeks ahead, with over 100 checkpoints conducted on a daily basis, and patrols at busy locations in the run-up to Christmas.
She said collectively this weekend "we have an opportunity to showcase how well we can do this, but it means everyone has to step up".
She urged people to work together to make the reopening sustainable, and added that if businesses are having difficulty controlling the situation "do the brave thing" and look for help or close your business if congregation is getting to be too much.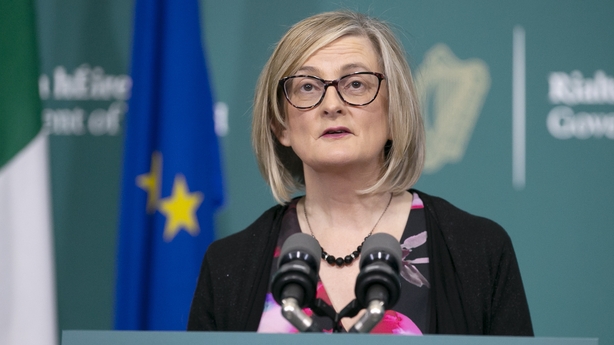 Ms Canavan said that this week over 351,000 people received the Pandemic Unemployment Payment, which is a reduction on last week as many people return to work.
In the seven days to 1 December, 6,800 closed their claim, with 4,500 doing so as they were back to work.
She said there are currently 41,200 employers registered for the Employment Wage Subsidy Scheme (EWSS).
Ms Canavan said to date over €1 billion in subsidies have been paid to 39,000 employers for 420,800 employees under the wage subsidy scheme.
She also said that almost 13,000 businesses have registered for the CRSS payment.
She said in addition to the normal weekly PUP, over 286,000 people a received an arrears payment.
She said this was due to a time-lag to the commencement of some payments previously, and in some cases, application errors.
Ms Canavan said the department is continuing to examine records so that any other arrears payments can be made later this month.