The process behind developing a Covid-19 vaccine was accelerated but "no corners have been cut", a spokesperson for the World Health Organization has said.
Speaking on RTÉ's Morning Ireland, Dr Margaret Harris said the process to develop a Covid-19 vaccine was sped up but there had been no shortcuts.
Dr Harris said the science that was needed was done before the outbreak, and also much of the knowledge came from other viruses, such as SARS.
She said regulators had also been doing their work before the final data and were ready to review it.
Dr Harris has described the development of vaccines for the virus as "much wanted good news" before Christmas.
She does not envisage any major problems regarding the storage of the vaccines and certain temperatures required for some.
"The Ebola vaccine that we have used in conflict zones is one that has to be stored also at -79 and it is not easy but you can do it. You can set up that cold chain and make it work," Dr Harris said.
She predicts the logistics of the vaccine as the main challenge, and said a good surveillance system is critical.
"Not only do you want to make sure they get into people's arms but you want to make sure they are followed up for the second dose and you want to follow everybody to understand whether or not there are any rare side effects and among who that might be occurring.
"So all these things, all that tremendous planning work that has started, everyone has been thinking about this for some time, but now there will be a huge acceleration," she said.
Regarding the possibility of fake vaccine passports and any counterfeit issues, she said they have a team of experts looking at this, adding: "You need to have a good system tracking everything at every level."
She said you will always have people who are worried about receiving a vaccine, so the more information that is out there in the public about the vaccine the better, to help ease that anxiety.
Dr Harris said it was critical that people have the necessary information about the vaccine.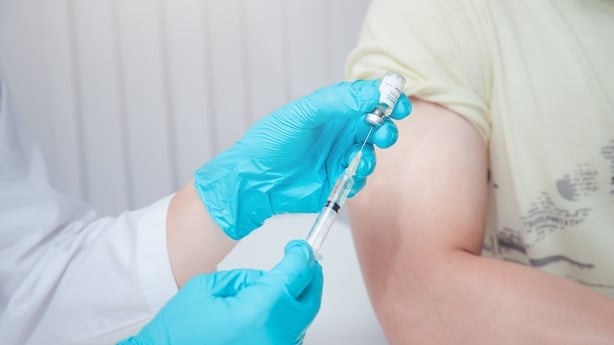 The head of the State's medicines regulator has said the Covid-19 vaccines being assessed at the moment for rollout will have to meet the same safety standards as any other vaccine.
"There will be no compromise. There will be no lowering of the bar for these vaccines," HPRA Chief Executive Dr Lorraine Nolan told RTÉ's News At One.
Dr Nolan said that even after they've been approved for use, Covid-19 vaccines will be closely monitored for any adverse reactions.
"These vaccines will have to meet the exact same standards as any vaccine will have. There will be no compromise, or lowering the bar for these vaccines. So they will have to meet the same standards for safety, and the same standards with regard to effectiveness and quality, and they will be reviewed to that."
Vulnerable people to get vaccinated first - Govt
Tánaiste Leo Varadkar has reaffirmed that the Cabinet will decide all matters related to the rollout of Covid-19 vaccines, and that it is Health Minister Stephen Donnelly who will head up the programme.
He told the Dáil that it was not "rocket science" to know who would be prioritised to receive the vaccine first: Those who need it most.
Mr Varadkar predicted those would be healthcare workers, residents of nursing homes, older people, those with chronic diseases, as well as those in high-risk work environments, like meat factories.
Labour leader Alan Kelly said there were significant questions surrounding data collection and the rollout of the vaccine: "Are we prepared... do we need emergency legislation?"
Mr Kelly added: "We can't have confusion with this... we need to have one person in charge."
The Tánaiste replied, saying that "the government is in control".
Regarding Mr Kelly's question surrounding private companies purchasing vaccines and giving it to their workers, Mr Varadkar said the State would not want its own free-of-charge vaccine programme to be undermined.
However, he felt this was "unlikely" to happen because companies will not have entered into pre-purchase deals with the vaccine producers.
Earlier, Minister for Justice Helen McEntee has said the Government is focused on having "a clear plan" to roll out a vaccine as quickly as possible and ensuring those who are most vulnerable get it first.
Speaking on RTÉ's Today with Claire Byrne she said there are a number of things happening with the vaccine before it will be made available.
She said the taskforce being led by the Department of An Taoiseach will bring their report and recommendation to Cabinet next week.
She said the focus is first and foremost to make sure that those who need protection from the virus get the vaccine first.
"What is very clear in changes and trends is those who are getting the virus, the people who are passing away are our elderly and those with underlying conditions, so we need to make sure they are first and foremost who get the vaccine. And that is our priority."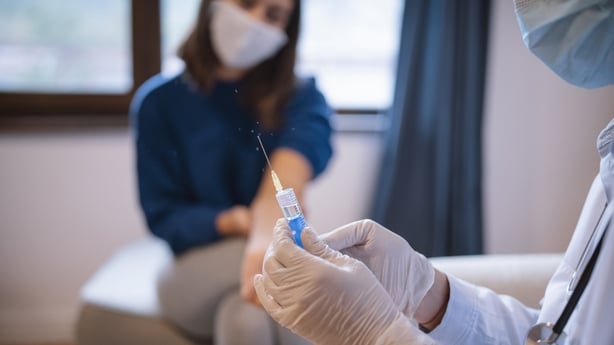 She said the vaccine has "passed all the relevant channels" and it is about engaging and educating people with the roll out. She said she thinks people are being careful and adhering to public health guidelines under Level 3 but she said we need to remember that as we open up society the virus will begin to spread again.
She said it is about "trying to limit that spread".
The Covid-19 adviser to the Irish College of General Practitioners has said that around 60% of the population needs to avail of the Covid-19 vaccine when it becomes available for herd immunity to develop, and while that is a significant challenge, it is "one we can do".
Dr Mary Favier told RTÉ's Morning Ireland that communication about the vaccine will be important, as there are concerns and anxieties, as well as enthusiasm about the expected approval of a vaccine.
She said: "We need to listen to and explore people's anxieties because we need a significant uptake to make it work."
However, Dr Favier, who is a GP in Cork, said that a vaccine is still some way off, so people need to focus on continuing with current health measures "to stay safe until the vaccine arrives".
Dr Favier said it will be important not to rush things and to get this right.
She said the involvement of GPs in vaccine provision has yet to be decided, but GPs are very good at rolling out vaccinations and know their patients, so they are nimble and can respond to challenges.
However, she said that GPs are overworked but will "potentially stand up to the plate" and respond if needed.
She said the phasing in of vaccines will see nursing homes, elderly and frontline workers get it first.
Dr Favier said that GPs will be vital in identifying those with other illnesses and comorbidities who need the vaccine early.