Ireland is moving to Level 3 restrictions from Tuesday, with a number of exceptions coming into place as Christmas draws closer.
Christmas visits
The Government is appealing to the public to reduce in-person contacts, to wash their hands regularly, to keep fresh air circulating in homes, to avoid crowds while shopping and to wear face coverings.
From Friday 18 December, the Government is allowing three households to mix for social and family gatherings in homes, gardens and other outdoor settings.
This means visits to other households will be allowed, but social distancing should still be observed.
People are asked to plan ahead for where they will spend Christmas and limit their contacts over the holiday period and the run-up to the big day.
Any visitor to someone else's home should use sanitiser upon arrival. This means people should avoid hugs, kisses and handshakes when they are reunited with friends and family.
Crockery should not be shared and single-use alternatives are encouraged. Buffet-type spreads of food should be avoided.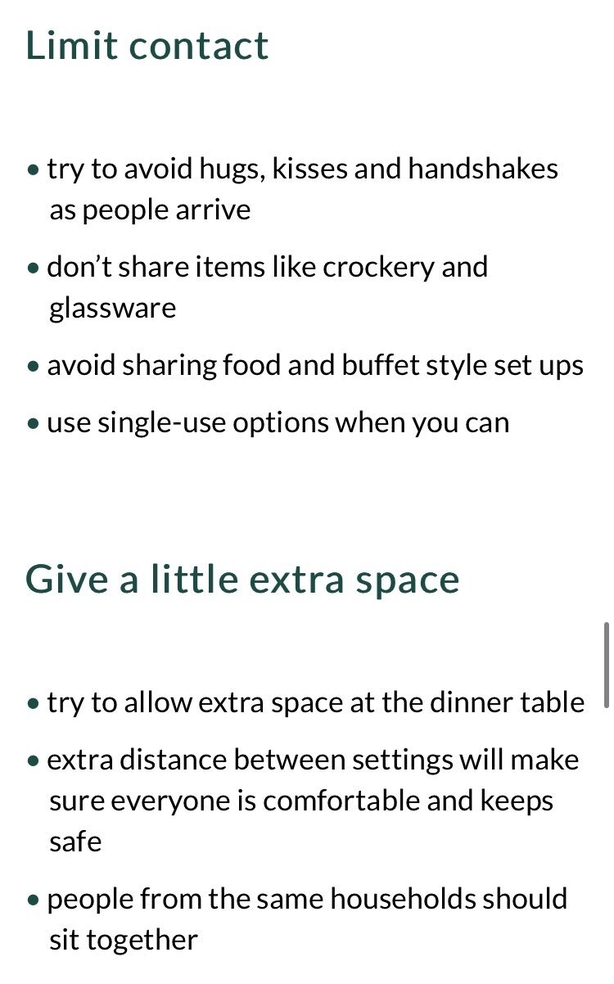 Christmas shopping
From next Tuesday, retail can reopen and up to 50 people can gather at places of worship. 
Online and click-and-collect services are still operating and people are encouraged to support local retailers and businesses.
Shoppers are advised to stay two metres away from each other and to try to shop at off-peak times.
From Tuesday, face masks are recommended in crowded workplaces, places of worship, and busy outdoor areas, such as main shopping streets.
Warm clothing is advised in the event of outdoor queuing, while public transport capacity will be increased to 50%.
Fáilte Ireland has drawn up guidelines to allow Santa visits to take place from next week, while Minister for Foreign Affairs Simon Coveney has assured the children of Ireland that Santa is exempt from Covid-19 restrictions.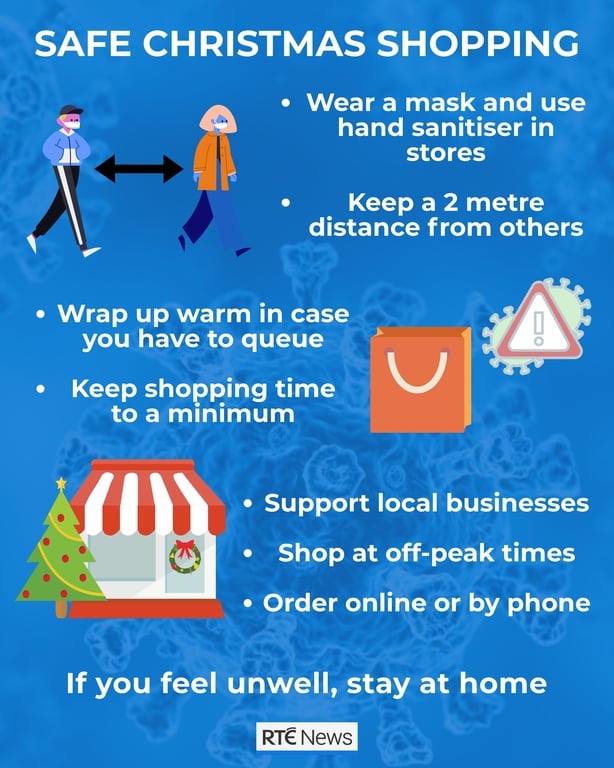 What about gatherings before 18 December?
While household visits will be allowed in the week before Christmas, until then and under the measures coming into effect next week, members of separate households should not mix indoors.
This means you should not visit anyone indoors if they are not a part of your support bubble until 18 December.
However, from next Tuesday, up to six people from a maximum of two households can meet outside while maintaining physical distancing and organised gatherings, such as training events or art events, of up to 15 people can take place in an outdoor setting.
More restrictions will be eased as part of the exceptions in the week before Christmas, but the country will still be considered as being at Level 3.
This easing is designed to allow more people to mix for social gatherings over the festive period.
Travel and work
People must continue to stay within their county apart from work, education and other essential purposes until 18 December. 
These restrictions will ease on that date to allow people to travel around the country for two weeks until 6 January.
People should continue to work from home unless absolutely necessary to attend in person.
In terms of international travel, Tánaiste Leo Varadkar advised people to avoid returning home for Christmas, but all rules regarding movement restrictions should be followed if the travel is necessary for family reasons.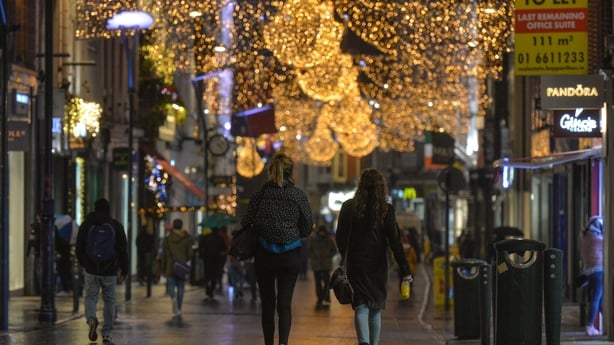 Dining out
From next Tuesday, museums, galleries and cinemas will also be allowed to reopen with protective measures.
From Friday 4 December, restaurants and pubs that serve substantial meals may reopen for indoor dining.
When dining out over Christmas, people continue to be advised to sanitise their hands on entry and exit, provide details for contact tracing and to wear masks when moving around buildings.
There will be a limit of six people per table, but there is no limit to the number of households that they may come from. 
However, wet pubs may only provide delivery and takeaway services while, nightclubs and casinos will remain closed.
Christmas Day
It will be a good idea to wrap up warm this Christmas, as keeping homes ventilated by opening doors and windows where possible is key to the advice around preventing transmission.
For Christmas dinner and any other meals, anyone involved is advised to wear masks when preparing and serving food. The number of people in the kitchen should also be limited.
When it comes to dining arrangements and the seating plan, social groups are advised to allow for extra space at the dinner table to make everyone feel safe and comfortable.
People from the same households should sit together and food should not be shared.