The number of Covid-19 infections in Northern Ireland will increase due to Christmas get-togethers, Chief Medical Officer Dr Michael McBride has said.
Tougher restrictions are being introduced for a fortnight from Friday, but three households will then be allowed to meet over the festive season.
Health Minister Robin Swann said: "This is a time to unite to get the best outcome from these next two weeks.
"Our actions now will have a huge bearing on the kind of Christmas that we all can have."
He said people needed to look after loved ones and minimise spread of infection, adding: "A festive free-for-all would generate a new year crisis."
Seven more Covid-19 related deaths were recorded in Northern Ireland today by the Department of Health.
Another 533 confirmed cases of the virus were reported in the last 24 hours.
Dr McBride said the number of cases had seen a gradual downward trend.
The tally of Covid-19 admissions to hospital was also declining, but hospitals were still under "extreme" pressure, he added.
The reproductive rate of the virus stands at about one.
Dr McBride said: "The next two weeks provide an important opportunity to really get on top of this virus, starting from a low baseline."
He said Christmas get-togethers would have an effect on transmission.
"I have no doubt that we will see increased cases as a consequence but let us work together to keep those numbers as low as possible," Dr McBride said.
---
---
Northern Ireland will benefit from extra cash as part of the UK government's spending review.
Mr Swann said one of his priorities would be funding a vaccination programme.
Dr McBride said: "The vaccinations will cost many tens of millions worth to purchase and to administer."
He added that the cost should be set against the benefit to the vulnerable and population at large being vaccinated.
Those benefits included the return to normal life and what that will mean for the economy and those who have been hardest hit by the pandemic-inspired downturn.
Mr Swann said he would give a presentation to fellow Stormont ministers about what the vaccination programme would look like.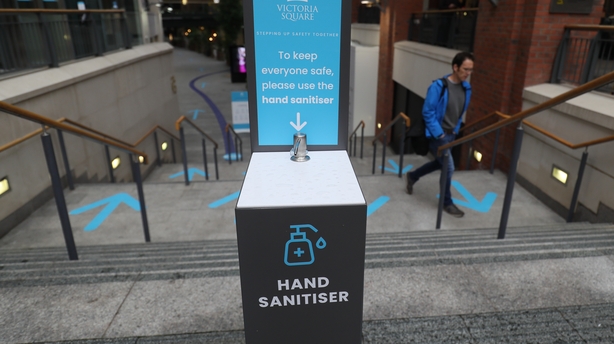 Northern Ireland's hospitality sector is seeking assurances from Stormont that it can reopen on 11 December.
Pubs, restaurants, non-essential retail and close contact services will close for two weeks from this Friday.
Hospitality Ulster chief executive Colin Neill said: "The hospitality sector has suffered immensely this year, and the opportunity to be open and doing what they do best over Christmas would bring both a much-needed morale boost and ease some of the financial pressures."
Dr Tom Black, chairman of the British Medical Association's Northern Ireland Council, urged the "matriarchs of Northern Ireland" to ensure families remember social distancing if they mix over Christmas.
He told the BBC's Good Morning Ulster: "It'll be women that will be deciding this and they know that 18 to 20 people in a room hugging is a bad idea."