The executive director of the European Medicines Agency (EMA) has said it needs to know Covid-19 vaccines are "safe, of high quality and effective" before granting approval, but she is hopeful a positive opinion will be delivered before Christmas.
Speaking on RTÉ's News at One, Emer Cooke said the regulator is working hard on approving the vaccines as soon as possible and while it is awaiting full applications from producers "all going well ... would be hopeful of a positive opinion before Christmas".
She said there is a large amount of complicated data that needs to be analysed to ensure a vaccine is safe, in particular in those vaccines using new messenger RNA technology (mRNA), instructions that direct cells in the body to make proteins to prevent or fight disease.
Ms Cooke said that specific scientific expertise is being used to look at this and that a range of clinical and animal studies, as well as manufacturing studies, are also under way to "ensure that what the public ultimately get can be reproduced and can be trusted".
Several possible vaccines internationally have undergone or are undergoing clinical trials, with candidates from Moderna, AstraZeneca/Oxford University and Pfizer-BioNTech leading the way.
Ms Cooke said the results to date from clinical trials are very positive but "until the EMA has looked at all the raw data to ensure it is 'what it says on the box' it cannot recommend it for the European public".
She said that despite rapid development of Covid-19 vaccines, the safety requirements and standards they must reach are tough "and what is expected from the companies is tough".
She said that a 90% efficacy rate is very good for a vaccine, so the possibility that this could be supported in practice by what is being presented to the EMA is positive.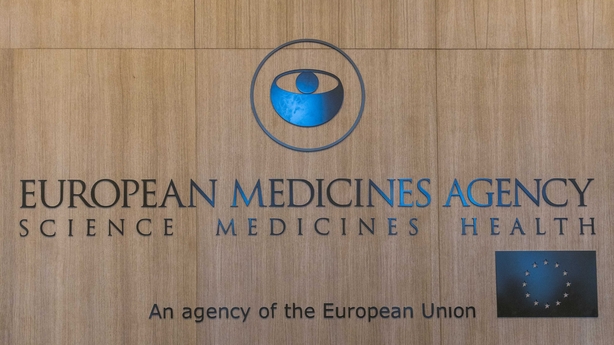 Ms Cooke said that vaccine producers must do various follow-ups with patients in clinical trials and once a product is deployed, additional monitoring systems must be put in place to ensure that on rollout the safety of the vaccine can be maintained.
The companies must also conduct studies in certain populations such as with paediatrics or particular patient groups, but the agency will also commission studies on the safety of vaccines in real life.
She said the EMA is diverting internal resources from its core business to focus on the Covid-19 response, with additional support from the European Commission to fund post-authorisation safety studies, which include monthly updates and independent safety studies.
Ms Cooke said the agency will have additional resources from January to "beef up" its response to the pandemic.
---
---
Once a positive opinion is given for a vaccine a "conditional marketing authorisation" would be granted, she added, which allows vaccines to be used while less immediate follow-on research and data analysis continues.
Ms Cooke said "there is a fundamental requirement that there is a positive benefit-risk ratio for the product" and this is irrespective of whether it is conditional or otherwise.
She said the distribution of the vaccine is out of the control of the EMA and once it is sure vaccines are safe the National Immunisation Advisory Committee will make decisions on how to proceed in relation to Ireland.
Ms Cooke said the "onus is on the EMA to be as transparent as possible" to ensure that people can have trust in the vaccines once approved.
She said there is "so much misinformation that it beholds us to be the source of reliable and trustworthy information".
To this effect, an agency meeting on 11 December will be open to the public, where Ms Cooke said "anyone can voice concerns or ask questions" of the EMA.