The Chief Medical Officer said new research shows that people are feeling less worried about Covid-19 and warned this may cause them to drop their guard.
It follows the reporting of an additional 252 cases of the disease but no further coronavirus-related deaths.
Dr Tony Holohan said the latest study by Amárach showed that the worry level has reduced and is now similar to levels last seen in July.
A third of those surveyed said they thought the worst is yet to come but 28% believed the worst was behind us - which the National Public Health Emergency Team considers "significant" he told a media briefing.
Dr Holohan said: "It's not that we want people to be worried but we do think there is a correlation between people's level of concern and ultimately the behaviours that people exhibit.
"It can lead us to drop our guard from time to time in ways that we may not intend to."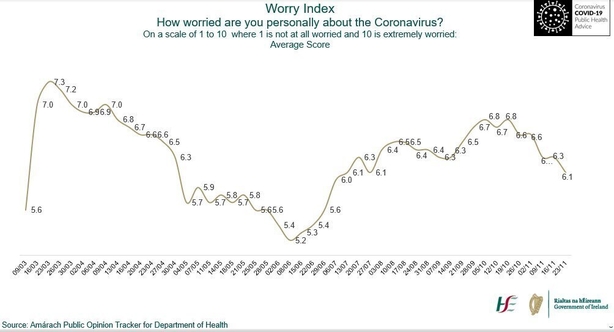 The total number of Covid-19 related deaths in Ireland is now 2,022, following the denotification of one death, according to the Department of Health. The total number of confirmed cases now stands at 70,711.
Of the cases reported today, 65% are under the age of 45. There were 88 cases in Dublin, 26 in Cork, 21 in Kilkenny, 16 in Louth and 16 in Mayo, with the remaining 85 spread across another 20 counties.
As of 2pm today, 289 patients with Covid-19 were in hospital, with 33 in ICU - up two from yesterday.
There were an additional 11 hospitalisations over the past 24 hours.
We need your consent to load this rte-player contentWe use rte-player to manage extra content that can set cookies on your device and collect data about your activity. Please review their details and accept them to load the content.Manage Preferences
At the NPHET briefing this evening, the CMO said Ireland's 14-day incidence rate of Covid-19 is the fourth lowest in Europe and we have seen a reduction of more than 40% in the past two weeks.
Dr Holohan said the rate is now 107 per 100,000 of the population.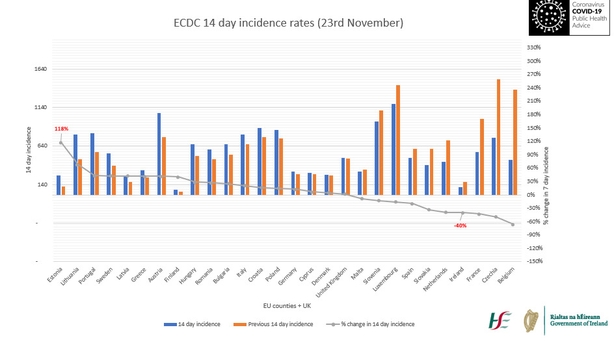 He said that while we have seen a significant reduction in the five-day average number of cases, there is still some further work to do as a country to get the number as low as possible.
The case number can often be lower on a Monday, Dr Holohan said, and we are still dealing with a five-day average of over 300 cases a day.
That is still "a significant number of infections", he said, adding that if things were to start trending upwards again it would "create problems" within a relatively short space of time.
"Ours is both low, and reducing"

.@CMOIreland says Ireland's 14-day incidence rate of Covid-19 is the 4th lowest in Europe, and has seen a reduction of more than 40% in the past two weeks | More: https://t.co/Cxhci0O0PH pic.twitter.com/Gjs9Xfl0sA

— RTÉ News (@rtenews) November 23, 2020
Dr Holohan said it has been a long and difficult year for everybody, and it has been hard to keep to the high standard of behaviour that the population has exhibited over the course of the year.
It is understandable that each of us can individually and collectively let our guard down, he said, adding that when we find ourselves in a situation where things are getting better, we can start to let our guard drop slightly.
He said we must be careful about the extent to which we blame one another, and that we must try to support and encourage each other to behave as responsibly as we can, while accepting that no one will be perfect all of the time.
"It is understandable that each of us can sometimes let our guard drop"

.@CMOIreland says it has been a long and difficult year for everyone, adding that people need to support one another, rather than partake in a blame-orientated response | More: https://t.co/Cxhci0O0PH pic.twitter.com/quTMOTIdxm

— RTÉ News (@rtenews) November 23, 2020
With regards to a vaccine, Dr Holohan said there has been some "encouraging news" and we now have a "substantial degree of hope".
He said he and Deputy Chief Medical Officer Dr Ronan Glynn attended the first meeting of the task force to deal with vaccination, and details of a plan will be finalised in the coming weeks.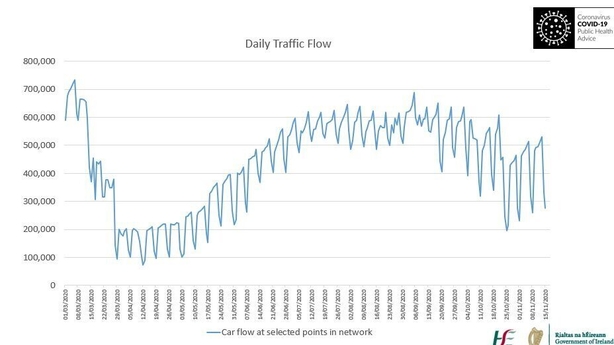 In relation to outbreaks of the virus, Dr Glynn said that at the moment, there are 121 active open outbreaks in workplaces.
He said that in the past seven days, they were notified of 20 new workplace outbreaks, and a further 20 in the previous seven days.
These outbreaks have been of "varying sizes" he said.
Dr Glynn added that a much greater number of outbreaks are usually linked to family homes, while 14 open outbreaks are linked to sporting activity or fitness, although it is not known if they are linked to elite sports.
He said there are 63 open outbreaks in the Traveller community, with nine cases notified last week.
There have been 52 hospitalisations within the Traveller community, he said, and no deaths to date.
Meanwhile, NPHET's meeting has been brought forward from Thursday to Wednesday, and its advice will feed into the exit plan.
Taoiseach Micheál Martin has said an announcement will be made on Thursday or Friday.
The expectation is that the country will move to 'Level 3 plus' next week from midnight on Tuesday, 1 December.
Additional reporting by Helen Donohue and Mary Calpin