A son who lost both of his parents to Covid-19 this week has described losing family to the virus as "devastating" and urged people to be vigilant in protecting each other from the virus.
Owen and Bredge Ward from Strabane in Co Tyrone, died with 12 hours of each other in Altnagelvin Hospital in Co Derry on Monday.
Their son Martin described his parents as "inseparable".
The couple were married for 48 years, having met when they were 17.
They had six children, and nine grandchildren, with a tenth on the way, who they did not get to meet.
They were both aged 68 when they died.
Speaking to RTÉ News Mr Ward said his parents' deaths had come as "a complete shock to everybody, it's just surreal".
Mr Ward worked as a nurse in the intensive care unit in Galway University Hospital during the first wave of Covid-19.
"We did what we needed to do, we looked after people, but you don't think it's going to happen to you," Mr Ward said.
Mr Ward said his parents were very cautious and rarely left their house, however he believes the high levels of the virus in the community in Tyrone and Derry left them vulnerable.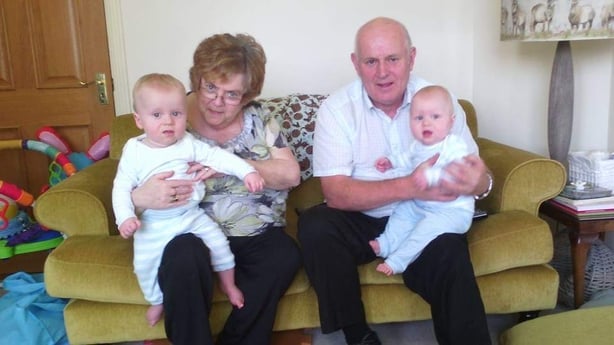 Owen and Bredge Ward were both admitted to Altnagelvin Hospital after contracting the virus.
They each showed signs that their conditions were improving, before they deteriorated again.
Martin Ward was in Galway when he got a call from the hospital at 6.30am on Monday to tell him his mother had died.
As he struggled to process the news, he said he began preparing to travel north for his mother's funeral.
But 15 minutes before he was due to set off, he got another phone call from the hospital to tell him that his father's "condition had collapsed" and "he might not live out the next couple of hours".
"It's nearly like my father just gave up then, because of course it's the nature of the disease, yes, but also, [he and my mother] were inseparable," Mr Ward said.
As a working nurse Mr Ward said he was allowed into Altnagelvin Hospital in Derry to hold his father's hand for the last half hour of his life.
"I watched the monitor as his heart rate when down, his blood pressure went down, his oxygen saturations went down," he said, "[I went] from having two perfectly healthy people, to having two parents that were killed because of Covid. Covid killed them."
Mr Ward is urging people on both sides of the border to take extreme care to protect their loved ones from Covid-19.
"Be very, very careful, bear in mind this can happen to anybody, and it is devastating when it does hit," Mr Ward said.
"My message is just treat everybody... as if they were your family, where you take the utmost precautions to keep them safe."
Earlier today 2,945 candles were lit at Knock Basilica during a special mass to remember those who have died with Covid-19 on the island of Ireland.
Each candle represented a life lost to the virus at the time when the mass was celebrated at noon today.
The number of deaths on the island now stands at 2,956, after one further death in the south and ten more deaths recorded in Northern Ireland today.