There have been eight further coronavirus-related deaths and 330 new cases of the disease notified to the Department of Health.
A total of 2,018 people have died with Covid-19 while the total number of cases is 69,802. This includes the denotification of one previously confirmed case.
The number of people with Covid-19 being treated in intensive care units remains unchanged from yesterday at 33.
Overall there are 283 patients with coronavirus in hospital with 13 additional hospitalisations in the past 24 hours.
Of the cases notified today, 99 are in Dublin, 28 in Cork, 26 in Louth, 25 in Meath, 21 in Donegal and the remaining 131 cases are spread across 20 other counties.
The counties with the highest 14-day incidence rate per 100,000 population include Donegal (266.3), Limerick (217) and Louth (186.2).
Counties with the lowest rates include Wexford (42.1), Galway (66.3) and Wicklow (67.4). The national incidence rate is 113.1.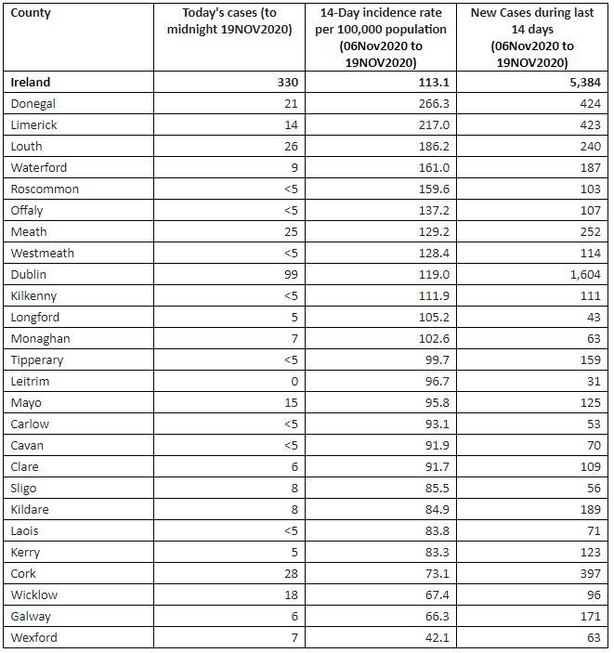 Today's new cases include 171 men and 155 women, and 64% are under 45 years of age.
---
---
Meanwhile Taoiseach Micheál Martin has said there will be an information campaign to inform the public about Covid-19 restrictions during the Christmas period.
In an interview with Virgin Media, he said Ireland was doing "very well" compared to other states in EU.
The Fianna Fáil leader said the "objective of Government is to exit Level 5 at the end of this month".
Mr Martin said he met with leaders of different faiths to discuss the matter. "It will not be a normal Christmas but nonetheless it can still be an enjoyable Christmas and a safe Christmas if we mind ourselves and mind others."
He said the priority was to protect the frontline workers, the vulnerable and those in intensive care units.
"We want to exit Level 5 and not come back to Level 5."
On foreign travel, the Taoiseach said many people decided not to book flights home.
"We are part of EU traffic light system. People need to make judgement calls in terms of the essential nature of their travel."
Earlier, Micheál Martin told RTÉ he had a "constructive" meeting with Garda Commissioner Drew Harris, which was also attended by Minister for Justice Helen McEntee and Minister for Health Stephen Donnelly.
They discussed Level 5 restrictions and the need to observe and monitor "weekend activity". However Mr Martin did not say that any new measures or resources to curtail outdoor drinking would be introduced.
The meeting was scheduled after a proposal to fine people gathering outdoors to drink alcohol was withdrawn by the Government.
Speaking outside Government Buildings this afternoon, the Taoiseach said that it also provided an opportunity to discuss "the precise way we exit Level 5 and deal with the next month leading into Christmas".
Mr Martin said that he believed there would continue to be a "significant garda presence" particularly in areas where there might be issues.
He said that he also took the opportunity to thank the commissioner and the entire garda force who have been "superb throughout the pandemic".
Mr Martin insisted that he believed the country could continue to reduce the spread of Covid-19 over the coming weeks and it was key that people keep watching their own "individual behaviour".
He said that Government would discuss exiting Level 5 next week and he sought Commissioner Harris's thoughts on what might work as we approach Christmas.
Taoiseach @MichealMartinTD speaking after his meeting with Garda Commissioner Drew Harris today, which was also attended by @HMcEntee & @DonnellyStephen

No mention of an extra measures/resources to curb outdoor drinking but he said the meeting was good and insightful @rtenews pic.twitter.com/aCngxYTnEu

— Tommy Meskill (@TommyMeskill) November 20, 2020
Minister for Justice Helen McEntee said the meeting was an opportunity to look at how Level 5 restrictions had gone and to assess how the various measures that had been introduced had worked
Speaking on RTÉ's Six One News, she said gardaí will have a huge role to play in the next stage and there will be meetings next week to decided how best to reignite the message that Level 5 restrictions are still in place.
Earlier Minister for Finance Paschal Donohoe said intense Government discussions on how the country will exit Level 5 restrictions are "necessary" and are under way, describing it as a "decision of magnitude".
But he said people need to look beyond Christmas and be aware the medium-term goal is to get the spread of the disease down to the lowest level possible.
The Deputy First Minister of Northern Ireland has said she believes it is "contradictory" to impose a two-week "circuit-break" from 27 November, after some of the Covid-19 restrictions were lifted today.
The comments from Sinn Féin's Michelle O'Neill follows confirmation that 369 individuals had tested positive for Covid-19 in the past 24 hours in the North with a further 12 deaths reported.
Reid warns of multi-spreader events
The CEO of the Health Service Executive, meanwhile, has said he would avoid "demonising people or incidents" where some are letting their guard down but said there are important messages to be reinforced around Covid-19.
Speaking on RTÉ's Morning Ireland, Paul Reid said: "As we meet people we increase the risk, as we meet without a mask we increase that risk further, and meeting indoors the risk is amplified further again."
He said if people meet and do not create social distancing space, it could end up being a multi-spreader event.
Mr Reid gave the example of eight people attending a meeting without a mask and all eight testing positive this week. "It is about the basics and putting them all together."
He said there is nothing new the HSE can say that is different in their advice and that all those risks together create "high risk environments".
Mr Reid noted that general hospital admissions are down around 7% compared to this time last year.
The current trolley count is down 70% on this day last year, he said, describing it as "very significant".
Mr Reid said the HSE is working closely to support 100 nursing homes, with up to ten on high alert for Covid-19 infections.
Additional reporting George Lee and Tommy Meskill