US president-elect Joe Biden has said he will not order a nationwide shutdown to fight the Covid-19 pandemic despite a surge in cases.
States and cities across the United States have been imposing their own restrictions, including home confinement, the closure of indoor dining and a limit on gatherings as infections soar across the country.
"There's no circumstance which I can see that would require total national shutdown. I think that would be counterproductive," Mr Biden, who takes office on 20 January, told reporters.
He said, however, that rules for when and how businesses and other establishments can open would have to be calibrated based on the threat in the area in question, noting the varying levels of spread throughout the country.
The US has now registered over 251,000 fatalities and over 11.6 million reported cases, according to a running tally by Johns Hopkins University, by far the highest reported national death toll.
The surge in cases has alarmed authorities to the point that the US Centers for Disease Control and Prevention urged Americans not to travel for next week's Thanksgiving holiday.
"It's not a requirement. It's a strong recommendation," Henry Walke, a CDC doctor in charge of the day-to-day management of the agency's pandemic response, told reporters.
Thanksgiving is the busiest US holiday in terms of travel. As it falls on a Thursday many Americans take the Friday off work and make a long weekend of it to go see family in other states.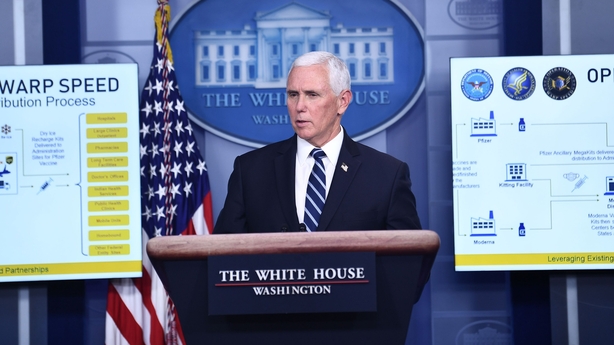 US Vice President Mike Pence, who heads the White House pandemic task force, did not mention mask wearing or Thanksgiving travel during a news briefing.
"America has never been more prepared to combat this virus than we are today," he said.
"This administration and our president does not support another national lockdown. And we do not support closing schools."
Catalonia to ease restrictions
Spain's Catalonia region will allow bars, restaurants, gyms and cinemas to reopen from Monday, gradually easing some of the restrictions put in place to tackle the coronavirus pandemic, although a curfew from 10pm to 6am remains.
Gatherings of up to ten people will be allowed from 21 December, enabling larger groups to celebrate Christmas and New Year together, the regional government said.
At present only gatherings of up to six are allowed.

The curfew may also be eased somewhat during the Christmas period.
Catalonia is the worst-hit Spanish region after Madrid, with close to 300,000 confirmed coronavirus cases and over 7,400 deaths, accounting for one fifth of the national Covid-19 death toll.
"We are on the right path but there's still a long way ahead," acting regional leader Pere Aragones told a news conference.
Catalonia - home to Barcelona - has imposed some of Spain's harshest Covid-19 restrictions. It was the first region to fully close bars and restaurants mid-October, much to the dismay of business owners.
Bars and restaurants will be able to open their outdoor seating but with 2-metre spacing between tables and no more than four people seated together, unless they are from the same family.
Indoors they will only be allowed to run at 30% capacity. They will have to close at 9.30pm.
Theatres, cinemas and musical halls will be allowed a 50% occupancy, the same for outdoor sports facilities, while for indoor gyms it will be capped at 30%.
Those restrictions will be gradually eased or tightened as the health situation evolves.
Optimism in Germany over Covid-19 trends
The number of new Covid-19 infections in Germany is still far too high but there are signs that distancing measures are working so the positive trend of stabilising case numbers should continue, health officials said.
The head of the Robert Koch Institute for infectious diseases (RKI), Lothar Wieler, said he was optimistic the positive trend would continue, though it is unclear how long measures to slow the pandemic will have to remain in place.
The head of RKI's surveillance unit, Ute Rexroth, added there are indications that German restrictions are working after the number of new infections has stabilised.
Confirmed coronavirus cases in Germany increased by 22,609 to 855,916, the biggest increase in six days, RKI data showed today while death toll rose by 251 to 13,370.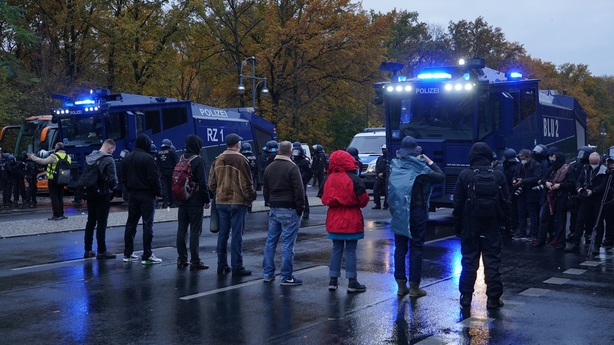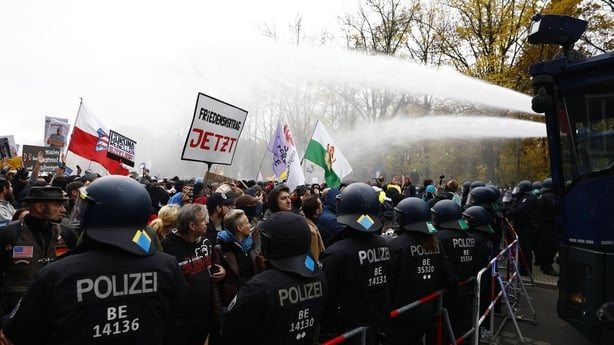 Germany imposed a month-long "lockdown light" on 2 November to rein in a second wave that is sweeping much of Europe. Bars and restaurants are closed, but schools and shops remain open.
Yesterday, German police used water cannon and pepper spray to disperse thousands of protesters angry about coronavirus restrictions.
Nobel scientists urge face masks in Sweden
Sweden should rethink its decision not to recommend the use of face masks to prevent the spread of the coronavirus amid a second wave of infections, said the Royal Academy of Sciences, which awards the Nobel prizes.
Sweden's soft-touch pandemic response has focused mostly on voluntary social distancing and the Public Health Agency has cast doubt on the effectiveness of face masks, which are mandatory in many public places in Europe.
However, a report today by the Royal Academy of Sciences said that face masks could play a role in reducing infection, particularly in enclosed spaces.
"I hope there is now a debate and leaders, irrespective of what the public health authority is saying, will take this to heart," Staffan Normark, who heads the Academy's expert group on Covid-19, said.
Few Swedes wear masks in public, while politicians also generally avoid them when making public appearances - a radical gesture in some countries.
The Public Health Agency has said that face coverings risk giving the wearer a false sense of security, which could undermine social distancing.
With new cases of the virus recently hitting record levels, Sweden introduced its toughest measures so far during the pandemic earlier this week, cutting public gatherings to a maximum of eight people.
More than 6,300 Swedes have died from Covid - a per capita rate several times higher than that of its Nordic neighbours, if somewhat lower than some larger European countries such as Spain.
Japan on 'maximum alert' amid rise in virus cases
Tokyo raised its coronavirus alert to the highest level as its daily tally of new infections rose to a record 534 and its governor called for maximum caution as the year-end party season approaches.
Japan's nationwide tally also hit a new high of 2,363,according to public broadcaster NHK.
More than 2,000 cases were recorded nationwide yesterday, with nearly 500 in Tokyo.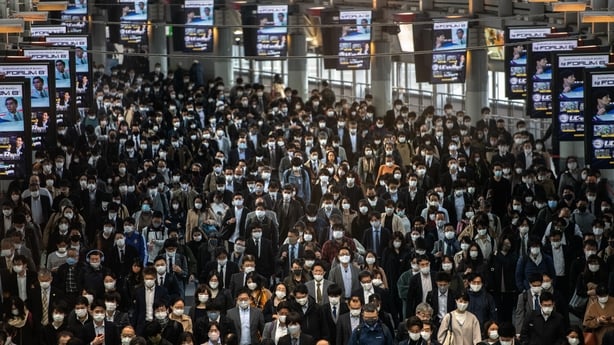 The figures represent a sharp rise in cases for Japan, where testing is often less widespread than in other parts of the world.
"We are now in a situation of maximum alert," Prime Minister Yoshihide Suga told reporters.
"I ask you, the Japanese people, to fully implement principles such as wearing masks," Mr Suga added, urging people to wear them even while talking during meals in restaurants.
---
---
The country has taken a relatively relaxed approach to virus restrictions so far - even a nationwide state of emergency in the spring carried no obligation for businesses to close or for people to stay home.
National broadcaster NHK said Mr Suga had asked expert advisers to meet today and tomorrow to examine the growing number of infections, before the government brings in any new measures.
Mr Suga said he would support regional administrations if they asked businesses to close early, and that restrictions such as limiting groups at restaurants to four people should be considered.
Even though Tokyo has now raised its alert level to the highest tier, the move does not come with automatic restrictions. Local media said the capital was unlikely to request early business closures for now.
"We are in a phase where infections are expanding rapidly, we need to be vigilant," said Norio Ohmagari, director of Japan's Centre for Disease Control and Prevention, speaking at a top-level meeting to discuss the virus situation in the capital.
He warned that traditional end-of-year parties and dry air in winter could both be risk factors for the spread of the disease.
While Japan has ramped up testing, rates are still comparatively low. In metropolitan Tokyo, home to nearly 14 million people, around 5,000-6,000 people are tested a day.
Still, Japan has seen a relatively small outbreak so far, with close to 121,000 recorded infections and just over 1,900 deaths since the virus was first detected in the country in January.
Switzerland warns ICUs 'practically all full'
Europe meanwhile remains the hardest-hit region, accounting for 46% of new global cases and 49% of deaths last week, according to the World Health Organization (WHO).
Its figures additionally showed the only region where cases and deaths declined last week was Southeast Asia.
Worldwide, more than 1.3 million people have died of Covid-19 and over 55 million have been reported infected with the virus since it first surfaced in China late last year, according to a tally from official sources compiled by AFP.
In Switzerland, one of the worst-hit countries in Europe, the Swiss Society for Intensive Care Medicine (SSMI) warned that intensive care units "are practically all full."
More beds have been added, and the Swiss military has been called in to support efforts in several areas.