There have been two Covid-19 related deaths and 362 new cases of the disease notified to the Department of Health in the past 24 hours.
Of the deaths reported today, one occurred in October and one remains under investigation.
There has been a total of 1,965 coronavirus-related deaths in Ireland and a cumulative total of 66,247 cases. This includes the denotification of four previously confirmed cases.
The number of people in ICU is 38, down two compared to 40 yesterday. There are 280 patients with the virus in hospital, with 21 additional hospitalisations in the past 24 hours.
Of the cases notified today, 187 are men,174 are women and 55% are under 45 years of age. The median age of people testing positive is 41 years old.
There were 90 cases in Dublin, 48 in Donegal, 34 in Limerick, 29 in Louth, 24 in Cork and the remaining 137 cases were spread across 21 other counties.
Chief Medical Officer Dr Tony Holohan said: "The profile of the disease is improving and, while this is a positive trend, it does not mean it is time to take a step back from our adherence to public health guidelines.
"I urge everyone to redouble their efforts, try and have fewer close contacts this week than you did last week, continue to social distance and follow the other vitally important public health guidelines."
Dr Holohan added: "I also want to thank those who have self-isolated after receiving a positive Covid-19 test result; or having been identified as a close contact of a confirmed case.
"Self-isolating is a vital measure in our efforts to contain the spread of Covid-19 and it is essential that all those asked to self-isolate continue to do so."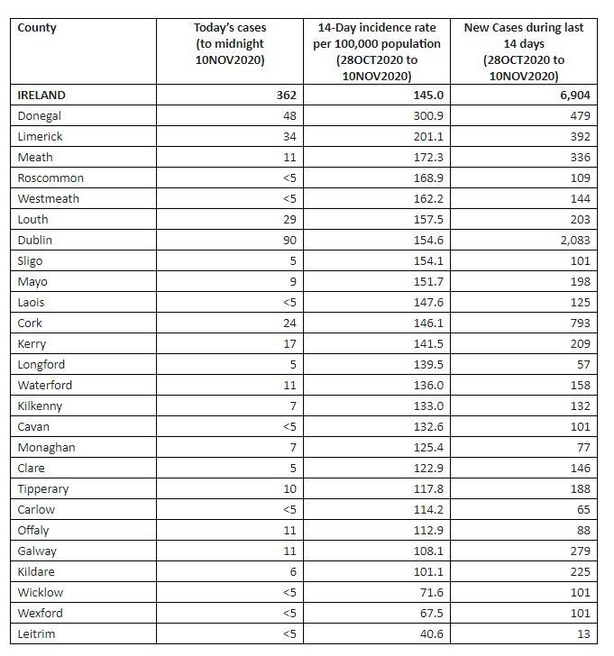 The 14-day incidence rate of Covid-19 per 100,000 population nationally is 145. Counties with the highest incidence rates include Donegal (300.9), Limerick (201.1) and Meath (172.3).
Counties with the lowest rates include Leitrim (40.6), Wexford (67.5) and Wicklow (71.6).
Earlier, Taoiseach Micheál Martin told the Dáil that a high-level taskforce has been created by the Government to oversee the roll-out of Covid-19 vaccines in Ireland once they are approved by the statutory authorities.
---
---
We need your consent to load this rte-player contentWe use rte-player to manage extra content that can set cookies on your device and collect data about your activity. Please review their details and accept them to load the content.Manage Preferences

Mr Martin said that targeting people who are vulnerable to Covid-19 will be the immediate priority, adding that Ireland is due to receive roughly 1% of whatever vaccines are made available through the EU's collective purchase scheme.
He was replying to Labour leader Alan Kelly who said the Government needed a detailed plan "very soon" on how vaccines will eventually be rolled-out by the State.
He argued that the "work programme" of the high-level taskforce would have to be regularly updated and, consequently, the public needed to be informed "on a weekly basis" about developments.
Ireland will get approximately 1% of Covid-19 vaccines procured by the European Union, the Taoiseach has told the Dáil | Further Covid-19 coverage: https://t.co/dZ9bo3KpBe pic.twitter.com/WTIZIthIjr

— RTÉ News (@rtenews) November 11, 2020
The Taoiseach said he "accepted" that regular updates would be necessary, but he declined to commit to a weekly system.
The Fianna Fáil leader added that due to significant issues, such as vaccine manufacture and transport logistics, he said it was important that there was "external expertise" on the taskforce.
Mr Martin also told the Dáil that he hopes the country will return to Level 3 restrictions in early December.
However, he said the Government might also look at certain sectors to see if it could "moderate" Level 3.
FF meeting hears calls for return to Level 2
There were calls at the Fianna Fáil parliamentary party meeting tonight to return the country to Level 2 restrictions in December.
Several TDs called for a review of restrictions around retail, religious worship and sport.
The Taoiseach told the meeting that the public response to the restrictions has been positive and it had lowered the key virus measures.
He said it was important to remain focused for the remainder of the month.
This would allow maximum flexibility when it came to reopening society and the economy in December so that people can have a "reasonable Christmas", he said.
Mr Martin said Government decisions would look at the work of a statistical behaviour team, which is assessing data in the Department of the Taoiseach.
Striking a note of caution on the Seamus Woulfe controversy, the Taoiseach said the primary responsibility of Government and the Oireachtas is to maintain public confidence in both the legislative and the judicial systems and to respect the separation of powers.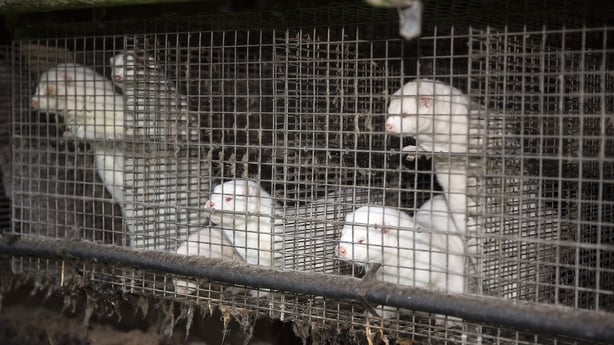 Negative tests at mink farms
It has been confirmed that tests carried out on the three mink farms in Ireland have all returned negative for Covid-19.
Several samples from mink from each farm were take by Department of Agriculture inspectors this week.
It followed reports that a "variant" of the virus had been found in Denmark and five other countries.
All of Ireland's three mink farms are currently under enhanced surveillance as a result of the reports, confirmed by the WHO this week.
Outbreaks in private houses increase
New figures show an increase in the number of outbreaks of Covid-19 in private houses in the last week.
There were 443 new outbreaks reported in private houses, bringing the total in this area to 5,285.
The number of outbreaks in schools increased by 24 in the past week to 179, according to the Health Protection Surveillance Centre.
There were 15 more outbreaks in the workplace, bringing the total to 253.
Four of these outbreaks were in the construction industry and one in the meat, poultry or fish sector.
There were 11 more outbreaks in hospitals, bringing the total to 158.
The overall number of outbreaks last week rose by 572.
It means that since the start of the pandemic in Ireland, there have been a total of 7,266 outbreaks.
The latest figures are for the week to midnight last Saturday 7 November. An outbreak is two or more linked cases.
Additional reporting Fergal Bowers, George Lee, Micheál Lehane, Fran McNulty