The European Commission will approve a contract for the supply of the Covid-19 vaccine being developed by Pfizer and BioNTech tomorrow, its President Ursula von der Leyen said.
The two companies said their experimental vaccine was more than 90% effective, in what could be a major victory in the fight against the coronavirus pandemic.
Protection in patients was achieved seven days after the second of two doses, and 28 days after the first, according to preliminary findings on the Pfizer and BioNTech vaccine.
"Tomorrow we will authorise a contract for up to 300 million doses of the vaccine developed by German company BioNTech and Pfizer," Ms von der Leyen said in a statement.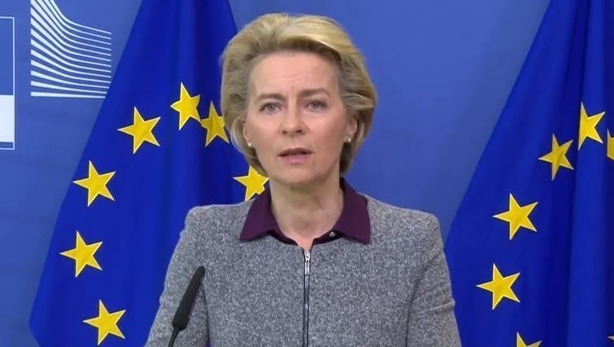 "Once this vaccine becomes available, our plan is to deploy it quickly, everywhere in Europe.
"This will be the fourth contract with a pharmaceutical company to buy vaccines. And more will come. Because we need to have a broad portfolio of vaccines based on different technologies," she said.
A spokesman for the Commission said earlier today that the EU executive would discuss adopting the agreement with the two companies, adding that the decision was not linked to Pfizer's announcement yesterday.
Meanwhlie, the World Health Organization's Special Envoy on Covid-19 said the announcement yesterday of a potential vaccine by Pfizer and BioNTech was great news, but one vaccine may not be enough to combat the virus. 
Speaking on RTÉ's Morning Ireland, Dr David Nabarro said the WHO is watching a number of vaccines that are in Phase 3 trials and is hopeful that some will be licenced next year. 
Phase 3 of vaccine trials is when the drug is given to thousands of people and tested for efficacy and safety.
When it is approved and licenced, a vaccine will enter into Phase 4 ongoing studies.
Dr Nabarro urged people to continue to treat the virus with respect and adjust our lives so it cannot transmit easily, by continuing to social distance, wear face masks and wash our hands.
---
---
Dr Nabarro said yesterday's announcement "is advance warning of something brilliant", but we must be prepared to wait several more weeks, or even months, before a vaccine is ready for use. 
Based on supply projections, Pfizer and BioNTech said they expect to supply up to 50 million vaccine doses globally in 2020, and up to 1.3 billion doses in 2021.
Dr Nabarro said one disadvantage of this particular vaccine is that it has to be kept quite cold, which can make it difficult to roll out, particularly in hot climates. 
Dr Nabarro said it is also not yet known how long the vaccine protection will last in people and that answer will not be known until studies can carried out on those who receive it.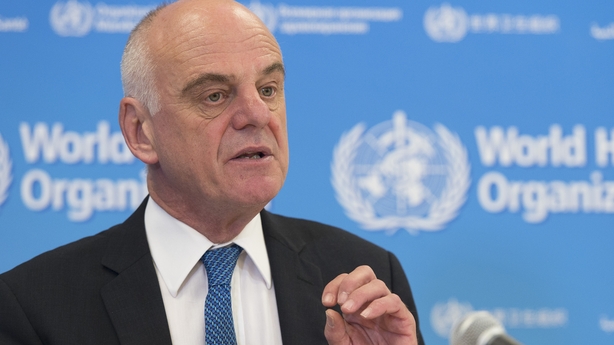 Dr Nabarro said he was hopeful that information will be available for national authorities to decide whether this vaccine, or another vaccine, could be licensed for use next year
He said while there may be some vaccine availability made quickly for those who are particularly exposed, there would not be widespread availability until next year.
Dr Nabarro also said the discovery of coronavirus cases linked to mink farms is of concern but, as of now, he has not heard that a mutation of the virus is necessarily one that will cause trouble when it comes to a vaccine. 
Elsewhere, a specialist in infectious diseases has said the potential vaccine is a hopeful first step but more information is needed.
Speaking on RTÉ's Today with Claire Byrne, Professor Sam McConkey said it needs to be seen if it is a vaccine that prevents against disease or prevents against infection "as you could have one that doesn't prevent ongoing transmission but just keeps people from getting sick with it".
He also said there have been about 20 cases of people with documented recurrent Covid, where scientists have been able to sequence the genetic strain of the virus and show that the second one was different from the first.
In these cases, sometimes it was milder, sometimes it was similar and sometimes it was more severe symptoms, he said.

Advocacy group says Ireland needs new approach to tackling Covid-19 
An independent scientific advocacy group (ISAG) has advised that Ireland should adopt a new approach to dealing with Covid-19.
It said the current policy is "living with the virus" and led to a steady rise in infections from the end of July to mid-October, when severe restrictions were re-introduced across the island.
The group said the hope now is that cases of Covid-19 will fall low enough move back to Level 3 restrictions on 1 December and the Republic will remain at Level 3 until Level 5 lockdown is required again.
ISAG predicts that these cycles of lockdown and release will recur every three to four months, until late 2021 at the earliest.
Instead, it is recommending "the elimination alternative" on the island of Ireland, which means ending community transmission and the experience in Australia and elsewhere indicates that the objective is attainable.
It said the goal would be to reopen, and keep open the economy and society and believes this could be done in three months.
The policy would include travel restrictions, including entry controls at ports and airports, a strong and effective test and trace system and a cooperative approach between the Republic and Northern Ireland.
ISAG has eight members including Professor Anthony Staines of DCU, Professor Ivan Perry of UCC and Dr Tomas Ryan of TCD.