A further 591 cases of Covid-19 have been notified to the Department of Health today, bringing the overall total number of cases here to 64,046.
This figure includes the denotification of 28 previously confirmed cases.
An additional three coronavirus-related deaths were also reported. There has been a total of 1,933 Covid-19 related deaths in Ireland.
The number of people in intensive care units is 38, down three since yesterday.
As of 2pm there were 302 people in hospital with Covid-19. There have been 20 additional hospitalisations in the past 24 hours.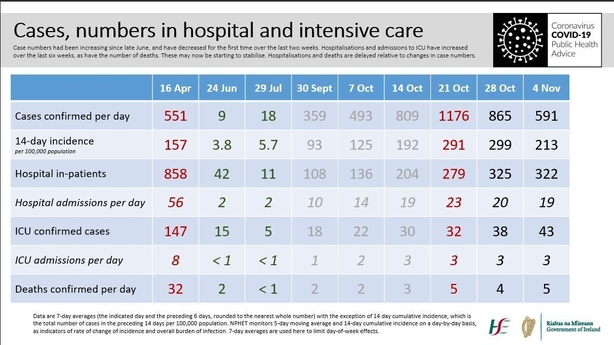 The 14-day incidence rate is estimated to be 202 per 100,000 of the population. That is down from 212 per 100,000 yesterday.
In November so far there have been 10 Covid-related deaths.
Of the cases notified today, 280 are men, 310 are women and 59% are under 45 years of age.
The median age of those cases is 38 years old.
Dublin accounts for 120 of the cases, 75 are in Donegal, 50 in Cork, 46 in Kerry and 44 in Limerick.
The remaining 256 cases are spread across 20 other counties.
The Chief Medical Officer Dr Tony Holohan said a dramatic reduction in incidence rate had been achieved in the 19-24 year old age group.
The rate has dropped from 450 per 100,000 to 150 per 100,000 in two weeks.
"They have also halved their contacts in the past five weeks. We all need to recognise the efforts of our young people and I thank them," he said.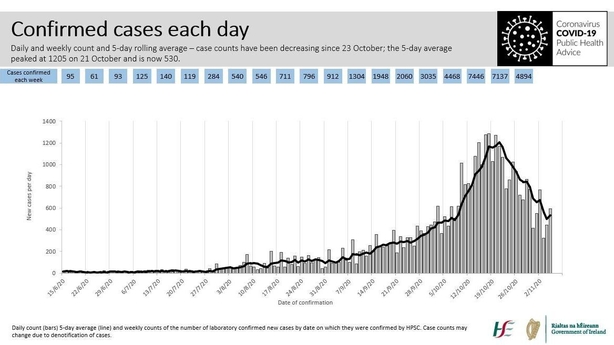 Dr Holohan said sustaining the current levels for the next four weeks "will be a challenge".
He said people are going further with their efforts even though it's very hard and added that many people have "shouldered the burden with this".
He said we are going to need a continued level of high compliance even after 1 December.
Minister for Health Stephen Donnelly was asked on RTÉ's Prime Time if there was any prospect of an earlier exit from the Level 5 restrictions.
He replied: "The view is we stick to the six weeks". He also said contact tracing will be scaled up before the restrictions are relaxed on 1 December.
He said the number of contact tracers is being increased from 240 to 800 and is currently at about 640.
The minister said new testing methods for Covid are being validated and could be ready within a few weeks. If they are close to as good as claimed by the manufacturers then "they could be a game changer".
---
---
We need your consent to load this rte-player contentWe use rte-player to manage extra content that can set cookies on your device and collect data about your activity. Please review their details and accept them to load the content.Manage Preferences
Speaking at a press briefing earlier this evening, Dr Tony Holohan was asked about the reopening of non-essential retail outlets.
He said the recommendations the National Public Health Emergency Team gives to Government would depend on the progress made between now and the end of the month.
The recommendations given to the Government from NPHET around the lifting of restrictions over the Christmas period will depend on the progress made between now and the end of the month, Chief Medical Officer Dr Tony Holohan has said | Read more: https://t.co/8FM0L0xDbJ pic.twitter.com/LXsG67vzJb

— RTÉ News (@rtenews) November 5, 2020
But he added that NPHET was not anticipating changing the advice around non-essential retail as part of the restrictions which are currently in place.
Dr Holohan said they are giving ongoing consideration in relation to December and Christmas.
While not in a position to give advice at the moment, "the lower we get, the better value we will get out of it".
Chair of NPHET's Epidemiological Modelling Advisory Group, Professor Philip Nolan said they estimate that the reproduction number is now between 0.7 and 0.9.
"This is a testament to our collective effort to stop the spread of the virus and it is very good news. We may be doing better now but it is conditional on whether we keep it up.
"If we continue to use this time to drive the infection right down, we will be in a good position in four weeks time," he said.
Prof Nolan said the average daily incidence of Covid-19 has halved in the last two weeks.
The average daily incidence of Covid-19 has halved in the last two weeks, Professor Philip Nolan has said.

He said the average number of people in hospital is down from its peak, but is changing more slowly | Read more: https://t.co/8FM0L0xDbJ pic.twitter.com/tUufLMtOoF

— RTÉ News (@rtenews) November 5, 2020
He said while the while the recent improvements in Covid-19 figures are getting us back to where we were at the start of October, there is still "quite a distance to go" to get to the levels we were at during the summer.
Prof Nolan said the incidence rate in Dublin is reducing, but more slowly than in the rest of the country.
He said at the peak of the outbreak here there were 1,205 cases per day 5-day rolling average, but this has now fallen to 503, adding that we are back to where we were at the start of October but we want to get back to where we were the summer.
Prof Nolan said rapid progress is being made as reflected by the 14-day average which can be slow to move.
He said numbers in intensive care are stabilising and hopefully will begin to fall.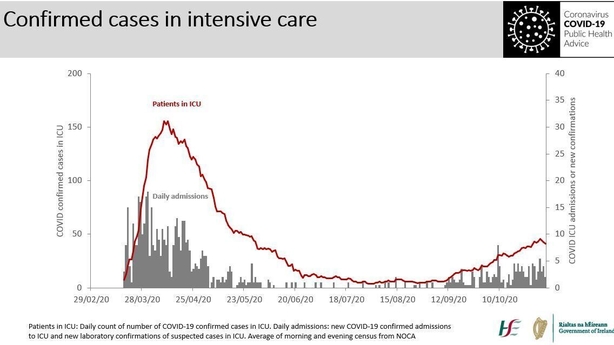 He said in recent weeks the epidemic has stabilised and the incidence rate is falling by 5% per day.
He said the average number of contacts for every person who tests positive for Covid is falling from a high of six to around four when nationwide restrictions were introduced to around 2.5 to three now.
He said the fundamental message was to see this as encouragement to continue and not a signal that the work is done.
Prof Nolan said he strongly suspects the transmission of the virus is where they want it to be but, he said it takes time for the data to catch up.
The National Clinical Advisor and Group Lead, Acute Hospitals, Dr Vida Hamilton said: "While the age demographic of cases vary from the first surge back in March to this one, ICU admissions have affected people from all age groups, with the average length of stay at 17.8 days."
Ireland and Finland are the only EU countries where the 14-day incidence rate has decreased.
Ms Hamilton said the admissions to acute hospitals have reduced already and thanked the public for their efforts.
She said in the second surge of the virus the age profile has decreased but said all age groups required ICU with the highest number between 55 and 65 years of age.

Dr Hamilton said the length of stay in the hospital wards has decreased as they learn more about treating the disease.
She said emergency and elective surgeries decreased but they are back to 80% to 90% of the levels they were pre-Covid.
Ms Hamilton said elective non-surgeries are now being run at two thirds the level from pre-Covid.