Health authorities have urged people not to drop their guard as the number of new cases of Covid-19 has remained below 1,000 for the last seven days.
The Department of Health announced two deaths and 552 new cases last night.
The daily number of new cases of Covid-19 has been lower than 1,000 every day since Sunday 25 October, when 1,025 cases were announced.
The latest figure is just over half that total.
The 14-day incidence rate of the disease has decreased, along with the positivity rate. There has also been a drop in the number of close contacts reported by confirmed cases.
Meanwhile, the latest figures from the Health Service Executive show the number of confirmed cases of Covid-19 in hospitals is at 325 and, of these, 44 patients are in intensive care units.
The hospitals with the largest number of Covid-19 patients are Tallaght University Hospital with 30, Naas General Hospital with 29 and University Hospital Limerick with 25.
In Northern Ireland, a further eight coronavirus-related deaths were recorded in the past 24 hours, taking the death toll to 724, along with a further 493 cases of the virus.
---
---
The HSE has reiterated that it is too early to say recent positive signs are an ongoing trend and GPs have warned people not to let their guard down.
The Irish College of GPs' lead adviser on Covid-19, Dr Nuala O'Connor, emphasised that the best way of stopping the virus from spreading was for people with symptoms to stay at home.
Health authorities remain concerned that the virus may flare up again as happened in Dublin, not long after Level 3 restrictions were introduced and it is not yet clear, what specific measures have led to the drop in cases.
It appears to be due to the introduction of the ban on household visits, as well as Level 3 restrictions, along with moving some border counties to Level 4.
It is also possible that NPHET's advice to Government in early October, that a move to Level 5 was necessary, may have influenced people's behaviour, even though it was not immediately acted on.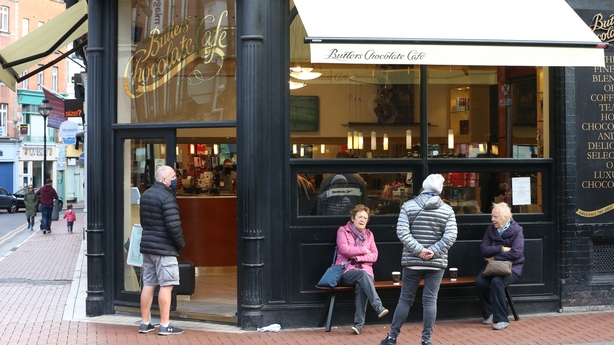 The Director of the National Virus Reference Laboratory said the suspension of testing this weekend due to staffing issues, did not play a part in the lower number of cases.
Dr Cillian de Gascun said there was enough capacity in the system to deal with the 600-700 swabs the NVRL would normally test during the weekend.
The picture is much bleaker across Europe. Ireland is one of only four European countries where the seven- day incidence rate has fallen in the last week in Ireland's case by 36%.
According to the WHO's weekly figures, only Malta, Belgium and Finland also recorded a decrease in the seven-day incidence rate with the rate increasing in the other 24 countries.
NPHET has warned Ireland's progress is fragile.
Some continued signs of encouragement this week. Reducing cases, positivity rates & close contacts. But hospital cases & ICU aren't reducing yet. So please let's keep our guard & resiliance for the coming weeks as we aim to avoid the trend in Eurpope & the UK. @HSELive #COVID19

— Paul Reid (@paulreiddublin) November 1, 2020
As schools reopened this morning after the mid-term break, HSE Chief Executive Paul Reid again reassured parents, teachers and principals that there is a low rate of incidence in schools.
He said additional resources would be provided to schools this week that would enhance the services and support available to them in the coming weeks.
10,444 healthcare workers contracted Covid-19 - INMO
The General Secretary of the Irish Nurses and Midwives Organisation said 10,444 healthcare workers have been infected with Covid-19 since the pandemic began.
Speaking on RTÉ's Today with Claire Byrne, Phil Ní Sheaghdha said the HSE has confirmed that between 500 and 600 healthcare workers are dealing with so-called "long Covid" and are still suffering from cardio, respiratory, neurological effects or chronic fatigue and so cannot return to work.
She said as the sector has a higher proportion of women who work as nurses as midwives, a higher proportion of women than men are being infected with Covid-19 and they are being infected in work.