The Chief Medical Officer Dr Tony Holohan has said real progress is being made against Covid-19, but that infection rates in those over the age of 65 are still rising.
Dr Holohan also said this afternoon that the infection rate in Dublin has not dropped, and urged people to keep up their efforts to try and stem the virus.
Meanwhile, latest figures from the World Health Organization show Ireland is one of only four countries in Europe where the seven-day incidence rate of Covid-19 has decreased compared to last week.
The National Public Health Emergency Team has said Ireland's progress is encouraging but fragile, and effort is needed to make it last.
The weekly figures from the WHO show the seven-day rate here decreased by 36% this week.
Twenty-four other European countries recorded a rise in the corresponding rate.
Ireland is also 20th out of 28 European countries in terms of rate, meaning only eight other countries have a lower seven-day incidence of the virus.
We are making progress on #COVID19 - we are following public health advice. Young people especially. Best country in EU in most recent 7-day rates. But- too early to stop. Rates still rising in >65s and have not dropped in Dublin. We need to keep it up. @HSELive @roinnslainte

— Dr Tony Holohan (@CMOIreland) October 31, 2020
HSE Chief Clinical Officer Dr Colm Henry told last night's briefing at the Department of Health that the deteriorating situation in Europe was being looked at with apprehension here.
He said progress was fragile and Ireland was only ever a few weeks away from healthcare systems being overwhelmed.
However at the moment, all key indicators are starting to look more positive for the country.
There is an overall decline in case numbers, the reproduction number now stands at around one, and confirmed cases now have fewer close contacts.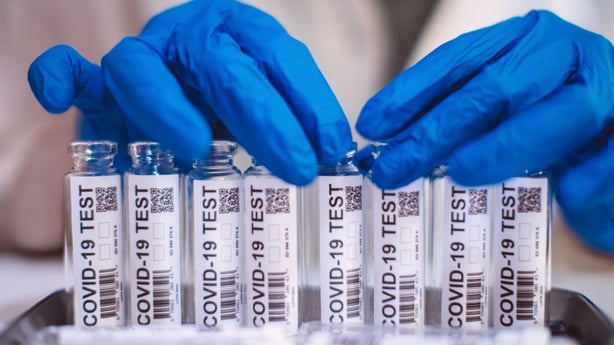 Admissions to hospital and intensive care are also rising more slowly than in previous weeks.
However, there is concern about rising case numbers among older people, with Chair of NPHET's epidemiological modelling group Professor Philip Nolan warning that efforts to suppress the virus must be sustained.
In Northern Ireland, the Department of Health has recorded a further 11 deaths linked to Covid-19 in the past 24 hours.
An additional 649 new cases of the virus have also been confirmed.
---
Read more:
Latest coronavirus stories
---
The former president of the Irish College of General Practicioners, Dr Mary Favier, has said the tide is "at that very delicate point just as it turns" and there are "a lot of very positive indicators". 
Speaking on RTÉ's Saturday with Katie Hannon, she said this is "a credit to the people" who have made an effort to reduce their close contacts.
Dr Favier, who is a Covid-19 advisor to the ICGP, said the most notable changes in behaviour can be seen in young people, who have "almost halved their close contacts" in two weeks. 
"It's a cause for optimism, but it's still very much steady as she goes," she said.
Yesterday evening, six further deaths related to the virus, and 772 new cases were confirmed.
There has been a total of 1,908 coronavirus-related deaths in Ireland, while the total number of cases is 61,059. This includes the denotification of 10 previously confirmed cases.
Minister of State for Skills and Further Education has said it is "refreshing to see the numbers going in the right direction".
Also speaking on RTÉ's Saturday with Katie Hannon, Niall Collins said the response of the population "up and down the country" has been quite good.
People have bought into it, he said, and they "see the merit" in trying to suppress the virus.
He acknowledged that Level 5 is "creating a lot of disruption" but said we "have to stick with it".
On the issue of what does or does not count as an essential item, the minister said the debate over the last number of days has been "reduced to a pair of socks versus a bottle of wine, which I really don't think serves any purpose".
Speaking on the same programme, Sinn Féin's spokesperson on Enterprise, Trade and Employment, Louise O'Reilly, said that is "not going to work" for low income families.
Families with young children will be affected, she said, and there "needs to be some common sense".
With regards to the current Covid-19 situation in Ireland, Ms O'Reill said we need more than a "simple pat on the back".
Case numbers during the summer were "significantly lower" than they are now, she said, and this time should have been used to put in place "effect test and trace" and additional bed and ICU capacity.
Labour TD Aodhán Ó Ríordáin said that if NPHET recommends after its four week review that some restrictions could be eased, he would accept their advice, but it is his instinct that "if things are going well, then we should continue".
He said if we are to "power through" the next number of weeks, the government "needs to show a little bit of wiggle room".