A Government minister commenting that children's socks are "non-essential" has thrown a fresh focus on its list of so-called "essential retail outlets". The list was published to coincide with the introduction of Level 5 restrictions.
It's a lengthy list, and 16 separate essential areas are identified. Food stores, takeaways, newsagents, household repair stores, pharmacies, petrol stations, dry cleaners, banks, hardware and click-and-collect services - the list is long.
The natural consequence of that list is that anything not on it, is not deemed essential. But that created grey areas and soon clothes shops that closed their doors would see supermarkets selling clothes. It was like red rag to a bull, and smaller independent operators complained.
Last Friday, the Government sent a memo to retailers, and for the first time listed what it considered "non-essential retail". The list was not as long, and it outlined clearly the kinds of businesses that would have to close their doors during Level 5:
Garden centres
Bookstores
Furniture stores
Kitchen equipment
Fashion
Shoe shops
Educational supply stores (art materials and books)
Last Sunday, Tánaiste Leo Varadkar called out retailers who were flouting the rules. He said it was "totally unfair" for retailers to use essential products as a means of opening to sell non-essential products. He said it was "unfair", adding that gardaí would be enforcing legislation to ensure this would not happen.
Within hours, gardaí were visiting retailers and many of the big chains sectioned off their clothing areas, and any other areas which were deemed non-essential.
It was a victory for the smaller shops that had to close, but for consumers? It meant some options to buy what many consider essentials were gone. Regardless, some retailers have kept underwear and other essentials on sale.
But the appearance of Minister of State for Employment Affairs and Retail Businesses, Damien English, on RTÉ's Prime Time last night has fuelled the fire even further.
He defended the Government's policy of ensuring that mixed retailers only sold goods that were classed as "essential".
When Miriam O'Callaghan asked if it was the case that someone can buy a bottle of wine but not socks for their child, Mr English said: "Socks come under clothes."
The Government's memo to retailers lists "fashion" as non-essential retail. We need to ask: At what point did underwear for children become "fashion" as opposed to necessity?
Gary Gannon from the Social Democrats told RTÉ's Morning Ireland that the Government should classify children's clothes as essential items. He said some parents don't have the capacity to order online, because they do not have a credit card or a place where the products could be delivered.
The Taoiseach, meanwhile, has said nobody is being stopped from buying essential or non-essential clothes or other items as a result of restrictions.
He said there are "ways and means" for people to get access to a variety of goods and services.
"Children will be able to get clothes. You have click-and-collect, you have online, you have shop deliveries, you have community call. That all happened in the first phase of Covid and it will happen in this phase as well. So the capacity does exist to get what might be termed essential and non-essential goods and services across the board," he said.
The regulations as they stand provide no clarity on what kinds of clothes are essential, other than PPE or workwear. But they do provide clarity for large retailers - if there are non-essential items in the store, they must be sealed off and cannot be offered for sale.
Of course, the regulations also make provision for click-and-collect, so whilst workwear or work uniforms are the only clothing that can technically be sold in stores, there are click-and-collect options for consumers. The regulations state that "any other retail outlet" can provide click-and-collect services.
So, you won't be able to try on that new jacket in the shop, but you can order it online and call into the store to collect it. Large Click and Collect signs have appeared in the windows of some outlets. Many of them had opened their clothes stores with some basic foodstuffs or even pet foods at the entry, as a means of working around the regulations. Until Leo Varadkar called them out.
A spokesperson for the Department of Business, Enterprise and Innovation said that Level 5 does not restrict people from purchasing any product - "it does however restrict people from physically going into non-essential stores".
This, they said, is "to stop people congregating and browsing" for non-essential goods, to limit the spread of the virus.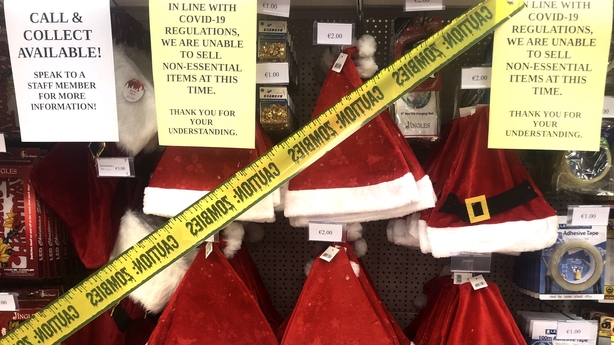 "It is important to say that under Level 5, all retailers - essential and non-essential - can continue to trade through 'remote ordering' by their customers and fulfil orders for non-essential items," said the spokesperson.
This can be done online or by phone, for home delivery or for collection.
"That means that if you're a mixed retailer, you should separate your stock and only sell the items that are essential," said the Department. "So, for example, if you're a supermarket or a big store that has groceries and clothes, you should separate off the clothes and only sell them by call-and-collect, click-and-collect or for delivery, but not in-store."
However, the spokesperson said retailers "can and have made arrangements, on compassionate grounds, for individual customers to purchase a non-essential item in store".
Many have questioned the classification of some items as non-essential. Alcohol is a common source of criticism. As bizarre as it seems, under the current guidelines you can browse in a pet store for a jacket for your dog, but not for your children.
It is frustrating for consumers and it is set to continue until Level 5 restrictions are due to be lifted on 1 December.