Health Service Executive CEO Paul Reid said it remains "very apprehensive" heading into the winter, despite some positive trends in terms of Covid-19 case numbers and the positivity rate.
Mr Reid said it was fair to say that it was far too early to call what they are seeing at the moment a "sustainable trend".
Speaking at a briefing this afternoon, he called on the public to lock down on all the measures being taken, and build on some of the early indications in terms of positive trends and "really hold their resilience" over the next five weeks.
He said the HSE is conscious of the sacrifices that people have made so far through the virus, with many losing their jobs.
Mr Reid said people are reducing their contacts and the number of close contacts per confirmed case is now 3.7.
He said the first reduction in the positivity rate for cases had been seen since August and was now at 5.9%.

The HSE chief told the briefing that there are currently 330 Covid-19 patients in hospital, with 42 patients in intensive care units.
Of the 14,648 cases identified between 13 and 26 October, 346 (2.4%) have been hospitalised, with 19 admitted to ICU.
Mr Reid said of those 346 in hospital, 14 were in the 0-10 age group, 35 were aged 15-24, 105 were age 35-64, with six of these admitted to ICU.
He said 192 (55%) were over the age of 65.
---
---
The HSE remains 'very apprehensive' heading into the winter, says HSE Chief Executive Paul Reid pic.twitter.com/ufQHjNWSZl

— RTÉ News (@rtenews) October 29, 2020
Mr Reid said over the past week there were 196 new admissions to hospital for Covid-19, an average of 28 per day, which is up 13% on the previous week.
He said the HSE is now seeing high numbers of hospitalisations around the country, rather than just in Dublin.
Mr Reid also said a key issue the HSE are monitoring is a "multiple lag effect".
He said there is a lag effect between cases in younger people (19-24) and how that then transmits to those over 65 plus, and there is another lag effect in terms of those cases being hospitalised, and another in turn in cases then going into ICU.
HSE Chief Clinical Officer Dr Colm Henry described the hospital system as "stable and coping" and that the HSE is not using surge capacity at this point.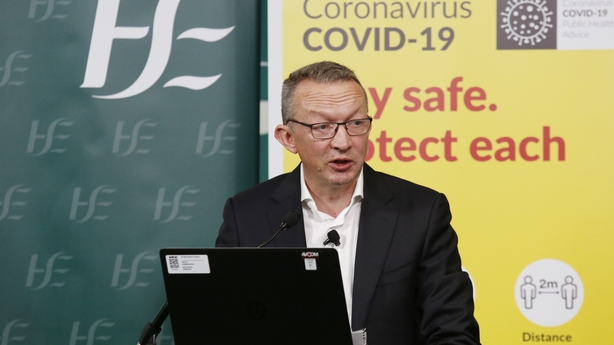 He said that while some measures are starting to kick in, the message was for people to stay the course.
Dr Henry said the 14-day incidence was beginning to drop, but the seven-day incidence had dropped even more and they are beginning to see a peak and fall in all age groups, but that a "significant caveat" was that in older groups, it was continuing to rise.
He said hospitals are still safe places to come to, and urged people who need to come to emergency departments to do so.
He said even though the measures seem to be taking effect, looking at the European experience, "we are only ever two weeks away from overwhelmed healthcare systems".
Mr Reid said the transmission rates of Covid-19 in schools remains consistently lower than in other environments and public health teams in schools are being strengthened.
He said they have carried out mass testing on 774 schools and pre-schools to date, which involved testing a total of 18,900 students.
He said there has been much debate over whether schools should open or not, but said it is "absolutely key" that everyone does everything in their power to ensure that schools remain open.
Transmission figures in schools remain 'very reassuring' - consultant
A Consultant in Public Health Medicine has reiterated that the picture emerging from schools regarding Covid-19 transmission rates remains "very reassuring".
Dr Abigail Collins said it showed that schools were in general not incubators or exacerbators of Covid-19.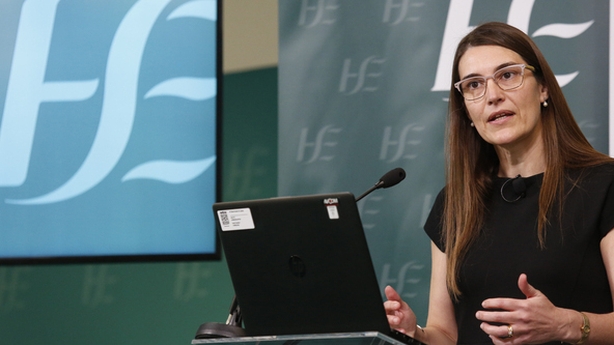 In a detailed explanation of the factors that public health teams use to determine who in a class should be regarded as a close contact, Dr Collins said public health teams had to balance what is reasonable with what is necessary.
"School is a very important place", she said.
"If you designate someone a close contact you are automatically excluding them from education and exclusion is harmful and undesirable, so we are balancing."
Dr Collins pointed out that of the more than 300 students who had been diagnosed with Covid-19 through school-based testing, public health generally found that their families were often also symptomatic.
She said it was not often that there appeared to be no other source for the infection, which would lead one to conclude that it could be the school.
She said just 1.9% of schools were believed likely to have had interschool transmission and in those cases, an average of three people in the school had been identified as likely to have caught the virus in the school.
Dr Collins said data from seven out of eight regions around the country showed about 70 school facilities where onward transmission was "plausible".
She said that the positive data coming from schools was corroborated by national age data, which showed that the proportion of children in virus figures had remained fairly stable from before schools opened to now.
While 14.5% of cases were among children aged between 4 to 18 in August, that figure is now 15.6%.
Dr Collins said the experience of the past months had reinforced to public health officials that schools are safe places for our children to be.
Additional reporting Emma O Kelly