French schools will require all students aged six and over to wear face masks in class, Prime Minister Jean Castex said ahead of a new coronavirus lockdown starting at midnight.
Until now masks were mandatory only for students 11 and older, but Mr Castex told MPs that new efforts were needed "to protect all our children, teachers and parents."
As France prepares to begin a new month-long national lockdown, Germany has also imposed drastic new curbs, and European leaders are set to meet today to discuss the rise in coronavirus infections on the continent.
The pandemic is surging worldwide, with hundreds of thousands of new daily infections taking the known global caseload past 44 million, with nearly 1.2 million deaths.
India, the second-worst hit nation in the world, has crossed eight million cases.
The dramatic lockdown decision from French President Emmanuel Macron came after worrying infection spikes in Europe that have forced governments to contemplate reinstating punishing stay-at-home orders.
"All of us in Europe are surprised by the spread of the virus," Mr Macron said in another televised address to the nation during which he stressed that the second lockdown would be less severe than the first.
Bars and restaurants are to be closed until at least the start of December, travel between regions will be limited, and citizens will need an authorisation form to leave their homes, he said.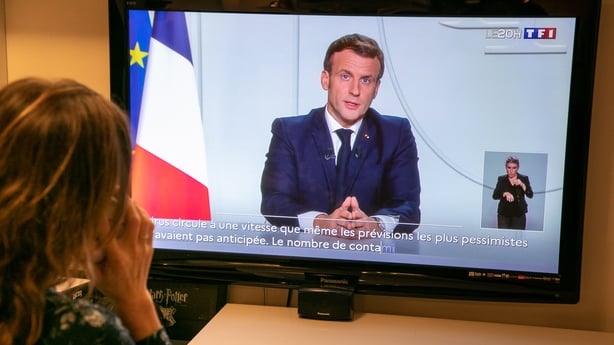 But creches, schools, factories and building sites will remain open.
However, the lockdown may have to be extended beyond its initial 1 December deadline, government scientific adviser Professor Jean-François Delfraissy said.
President Macron said that France might start to ease back measures once Covid infections fell back to about 5,000 per day from around 40,000 per day at present.
But Prof Delfraissy, who heads the scientific council that advises the French government on the pandemic, said: "By December 1, we will not be at 5,000 contaminations per day. I can tell that to you straight away today. We will need more time."
---
---
Merkel warns against 'lies, disinformation' in virus fight

German Chancellor Angela Merkel defended tough new shutdown measures her government has announced against the coronavirus, warning that propaganda and conspiracy theories undermine the fight against the pandemic.
She called on Germans to rally behind her in respecting the restrictions, and to reject those who refused to follow the established science in combatting the spread of the disease.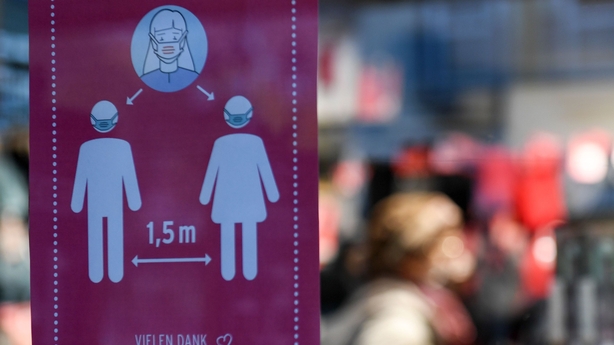 "Let me be clear: lies and disinformation, conspiracy and hate damage not only democratic debate but also the fight against the coronavirus," she told the lower house of parliament.
The speech interrupted by jeers from the ranks of the far-right AfD party prompted a rare intervention from speaker of the house Wolfgang Schaeuble, who threatened unruly MPs with penalties.
Ms Merkel agreed with Germany's 16 state leaders in a video conference yesterday to shut restaurants, bars, cinemas, theatres, gyms and public pools among other leisure facilities for the month of November in a bid to halt a surge in new infections.
Schools, nurseries, shops and other essential businesses will remain open and there will be no restrictions on people leaving their homes unlike in harder-hit countries such as France and Spain.
Protests by corona-sceptics have also multiplied across the country in recent months, sometimes erupting in violence.
Ms Merkel told deputies that with new cases doubling over the last week and intensive care units quickly nearing capacity, tight restrictions were the only responsible choice.
"The measures we are adopting are appropriate, necessary and proportional," she said.
"At the beginning of the cold time of the year, we find ourselves in a dramatic situation."
She said her aim was to decrease personal contact among Germans to an "absolute minimum" to flatten the curve of new infections.
But she said she "understands the frustration, yes the desperation" in sectors that will bear the brunt of the shutdown.
"The winter will be hard - four long difficult months - but it will come to an end," the Chancellor said.
"Freedom does not mean that everyone does what they want, but that everyone has a responsibility," she
Ireland moved to Level 5 restrictions last week, and the decisions by France and Germany will likely lead to pressure on other nations to follow suit, including the UK.
One of the biggest concerns for governments is public weariness and anger over the economic, social and psychological costs of the lockdowns.
The European Central Bank faces mounting pressure to signal further monetary stimulus and ECB chief Christine Lagarde's words will be closely scrutinised today for every hint of possible action as the central bank weighs up boosting its pandemic response of more than a trillion euro.
It comes after she told the French daily Le Monde that any economic recovery seen during the summer "now risks losing momentum" as new shutdowns put in place to stem the second wave of the pandemic restrict business activity.
Current policymaking dates back to June, when the Frankfurt-based institution added to its pandemic stimulus package, known as PEPP.
It is now pumping in €1.35 trillion in cheap money to support fragile economies.
The United States still has the highest death toll and infection count in the world, and like Europe, it is battling a major surge with tens of thousands of new daily cases as fears grow that hospitals could be overwhelmed.
There was further alarm when the FBI and two other US agencies warned of "an increased and imminent cybercrime threat" to US hospitals, including ransomware attacks and disruption of services.
The agencies urged hospitals to take precautions, saying such attacks "will be particularly challenging" because of the Covid-19 pandemic.
The coronavirus has cast a pall over Halloween celebrations on 31 October, with the US Centers for Disease Control and Prevention warning that they can be high-risk, and many events cancelled.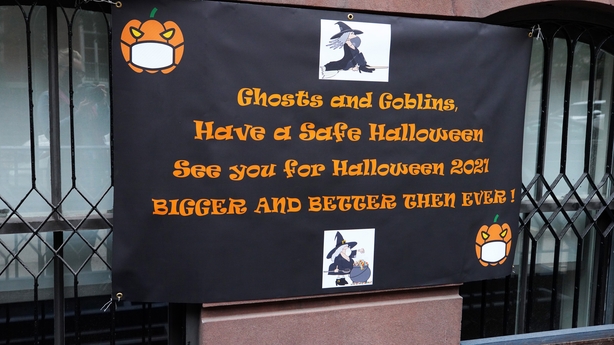 But the village of Croton-on-Hudson, north of New York City, is still holding its annual "Jack O'Lantern Blaze", where more than 7,000 hand-carved pumpkins come to life for a sound and light show.
"I am just so glad that this was going on this year to keep just something for them," said Sarah Nocerino, referring to her primary school-aged daughters.
"They've had so much that they couldn't do this year, it was nice to have a tradition that we can still participate in for Halloween."