Germany will close all bars and restaurants during a partial nationwide lockdown due to begin on 2 November.
Hospitality venues will remain shut until 30 November, sources told Reuters.
Shops will be allowed to remain open under the condition of one person per 10 square metres to respect social distancing.
Chancellor Angela Merkel had been expected to push for a "lockdown light" in crisis talks with Germany's regional leaders, as the number of coronavirus cases soars and hospital beds fill up.
The proposed new restrictions are expected to keep schools, creches and shops open, according to the best-selling Bild daily.
"We need quick and decisive steps to break the new wave of infections," Finance Minister Olaf Scholz said ahead of the meeting between Ms Merkel and the premiers of Germany's 16 states.
Under the country's federal system, individual states have the final say on which restrictions to impose, and some less affected regions are likely to bristle at measures that will inflict more economic pain.
Germany's tally of new daily cases now regularly crosses the 10,000 mark, with more than 11,400 new infections reported yesterday, according to the Robert Koch Institute (RKI) for disease control.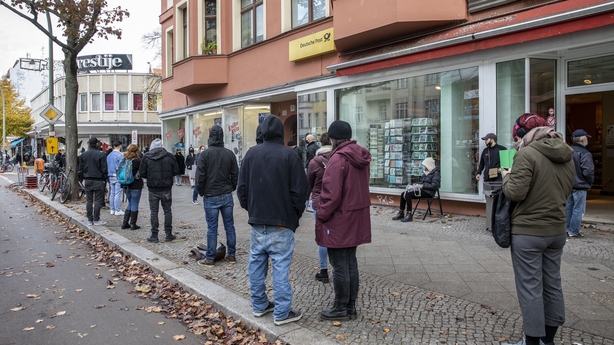 Two hard-hit districts in Bavaria have already gone back into lockdown, with schools, kindergartens and nurseries closed and people needing a valid reason to leave their homes.
Bavarian premier Markus Soeder, whose popularity has soared during the pandemic, said time was running out to counter the upward trend and pleaded for tougher, nationally applicable rules.
"Better to do it now and do it right, than late and half-hearted," he said.
Several cities across Germany have already taken the dramatic step of cancelling their Christmas markets.
Germany has recorded 449,275 coronavirus cases since the start of the pandemic. A total of 10,098 people have died so far, according to RKI figures.
The number of Covid-19 patients in intensive care meanwhile has surged from just under 400 in early October to 1,470 by yesterday.
Record daily rise in virus cases
Italy has again reported a record daily high of new cases. The country's health ministry said a further 24,991 cases were recorded today. Yesterday, they reported 21,994 additional cases of Covid-19.
The ministry also reported 205 Covid-related deaths compared with 221 yesterday.
A total 37,905 people have now died in Italy because of coronavirus, while 589,766 cases of the disease have been registered to date.
More than 500,000 new coronavirus cases were reported worldwide yesterday in a new record, according to a tally from health authorities compiled by AFP.
In total, 516,898 new infections and 7,723 deaths were announced, according to the tally compiled today.
This spike in worldwide cases can only partially be explained by an increase in testing since the first wave of the epidemic in March and April.
Europe has once again become the new epicentre of the disease which is spreading rapidly on the continent.
Over the past seven days, there has been an average of more than 220,000 new daily infections, a 44% rise from the previous week.
The region is nearing a daily average of 2,000 deaths just as governments move to impose infection-control measures to try and contain this second wave.
During the first peak of the pandemic in April, more than 4,000 daily deaths were reported.
The US is also facing a rise in cases.
For the first time, it registered more than 500,000 infections over the past seven days, compared to 370,000 the previous week.
Among the 500,000 cases recorded globally yesterday, more than half were registered in the 10 worst-hit countries in the world: the United States, India, Brazil, Russia, France, Spain, Argentina, Colombia, the United Kingdom and Mexico.
---
---
Belgium virus hospitalisations match first wave's peak
The number of people in Belgium admitted to hospital with the coronavirus has all but matched the level in the first wave of the epidemic in spring, figures have shown.
Belgium, with 11.5 million inhabitants, is now the country with the most cases per capita in the world - if microstates such as Andorra are excluded - passing ahead of the Czech Republic.
Yesterday, 689 people were admitted to hospital for Covid-19 treatment, more than the previous record of 629 on 28 March, according to the Sciensano public health institute.
This means that 5,554 people are currently receiving treatment, almost as many as the 5,759 who were hospitalised on 6 April, when Belgium last feared its intensive care beds would run out.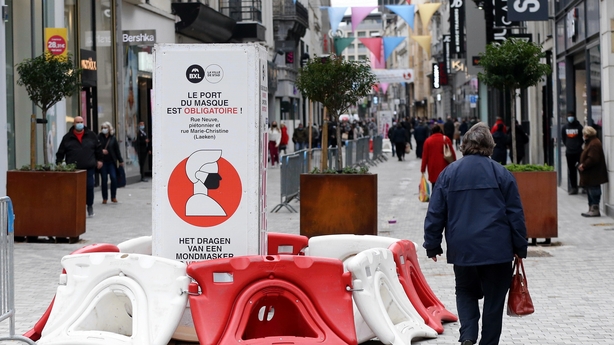 On Monday, more than 100 people died, the highest figures since 29 April, and total deaths in Belgium are now 11,038.
Over the past seven days, 891 new cases have been recorded per 100,000 people, while Belgium's neighbours France and The Netherlands have only 397 and 394 cases per 100,000.
The European Centre for Disease Prevention and Control has similar grim figures for Belgium, with an average of 1,400 new cases per day per 100,000 people over the past two weeks of exponential increase.
Belgium has reimposed a partial lockdown. Bars and restaurants have been closed since 19 October; there are regional overnight curfews and gatherings of more than four people are banned.
The government will meet again on Friday, and Prime Minister Alexander de Croo could announce more stringent measures after talking to health experts.
Measured optimism about vaccine amid growing protests over new restrictions
In Russia, an order making masks mandatory at public gatherings, on public transport and in elevators is set to come into force today, state news agency TASS reported.
The new restrictions are likely to test the resolve and patience of many.
Anger has already boiled over in Italy, where thousands have protested in recent days against anti-coronavirus curbs.
Some of the rallies have turned violent, particularly in Milan and Turin on Monday night, where angry youths threw petrol bombs and stones at police cars and smashed up shop fronts.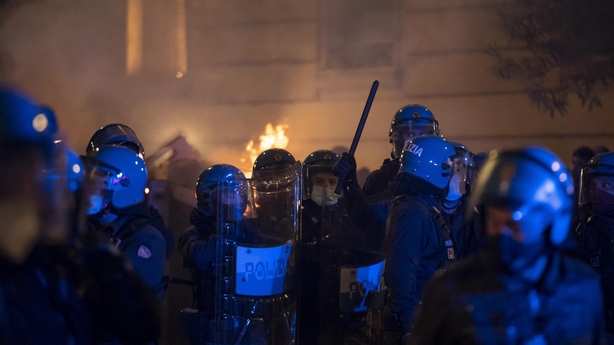 The coronavirus has infected close to 44 million people worldwide, with well over 1.1 million deaths, and spurred breakneck efforts to develop treatments and vaccines to help restore normality.
Pharma giant Pfizer expressed measured optimism about the prospect of a vaccine becoming available this year, saying it could supply some 40 million doses in the United States if clinical testing proceeds as expected and regulatory approval is granted.
But chief executive Albert Bourla said the company still had not reached key benchmarks in assessing vaccine efficacy.
"We have reached the last mile here," he said. "So let's all have the patience that's required for something so important for public health and the global economy."
The US is reporting tens of thousands of new cases every day, with the overall caseload fast approaching nine million. Around 225,000 people have died.
Melbourne enjoys 'big day' reopening

Australia's second-biggest city Melbourne reopened to exhilaration and relief, as residents began trickling back to shops and restaurants after a months-long coronavirus lockdown was lifted.
While much of Europe and North America look ahead to a tough winter of restrictions, Melbourne began its party in the early hours, with bars opening as stay-at-home orders and forced closures of "non-essential" business came to an end.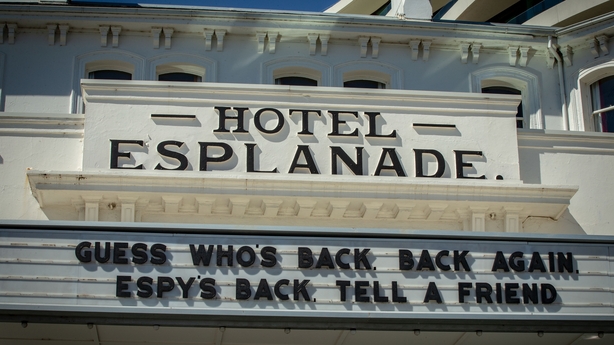 But it was far from a return to business as usual. Shopper Lesley Kind, 71, said many smaller outlets in Melbourne's city centre had yet to reopen or appeared permanently closed.
"What a shock - it was very quiet," she told AFP. "It was lovely to be back into the city but it was a very different city."
Australia's government had estimated the lockdown cost 1,000 jobs a day.
Melbourne and the surrounding state of Victoria had been the epicentre of Australia's second wave of Covid-19 infections, with a peak of more than 700 new daily cases occurring in August.
The state registered two new cases and two deaths from the disease today, moving the 14-day average to just under three cases a day.
With tracing and testing regimes beefed up, authorities hope that further clusters can be contained.
Australia had largely curbed the spread of Covid-19 when the virus leaked into the community from Melbourne hotels used to quarantine travellers from overseas.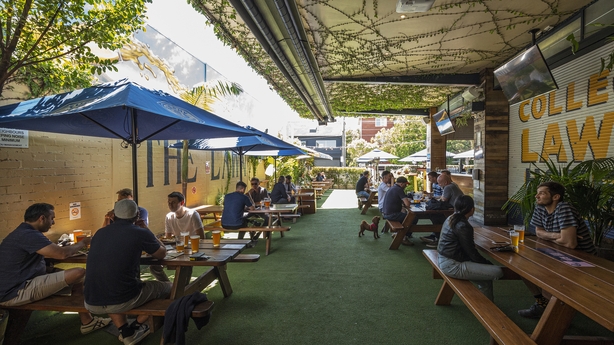 Aside from Melbourne, much of the rest of the country has long since returned to a semblance of normality.
Prime Minister Scott Morrison congratulated the city's residents, saying "I hope you enjoy being out and about".
"I am sure it has been quite a day and quite a late night for some down there in Melbourne. I completely understand that and I encourage everybody to continue, as we open up, to do that, conscious of the various other restrictions and other things that remain in place."