There have been 675 new cases of coronavirus and six further Covid-related deaths reported to the Department of Health.
This brings the total number of cases here to 59,434. This includes the denotification of eight previously confirmed cases.
There has been a total of 1,896 Covid-19 related deaths in Ireland.
Of the six deaths confirmed today, five occurred recently.
The number of people in ICU is 41, an increase of three from yesterday. It is the highest number since 29 May.
However, it remains well below the peak in mid-April, when 155 people with the virus were being treated in intensive care.
The number of confirmed cases of Covid-19 in hospitals has reduced by 14 to 327, according to the latest figures.
The hospitals with the largest number of confirmed cases are Cavan General Hospital and Tallaght University, each with 25 patients, while Beaumont has 24.
The daily figure of new confirmed cases each day has been below the 1,000 mark five out of the last six days.
The 14-day incidence rate, the number of cases per 100,000 of the population, has fallen back below 300 for the first time in a week and now stands at 299.
The rate reached the highest level since the start of the pandemic on Monday, when it was at 309.9.
Of today's cases, 65% are under 45 and the median age is 35.
The department said 199 were recorded in Dublin, 104 in Cork, 67 in Meath, 50 in Limerick, 41 in Kildare and the remaining 214 cases are spread across another 20 counties.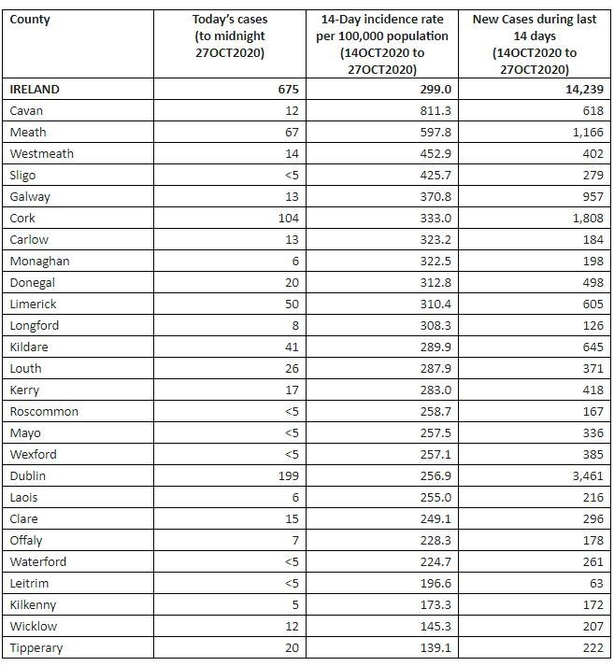 ---
Interactive map: Covid-19 cases in your area
Latest coronavirus stories
---
In a statement, the Chief Medical Officer said: "Everyone must be aware of the actions they should take if they have symptoms or are awaiting a test or if they are a contact of a confirmed case."
Dr Tony Holohan said: "If you have symptoms of Covid-19, you must self-isolate and phone your GP for further advice.
"If you have been referred for a test or are awaiting a test result, you must self-isolate.
"If you are a confirmed case of Covid-19 you must self-isolate for ten days.
"If you are identified or have identified yourself as a close contact of a confirmed case, you must restrict your movements.
"Stay informed on the public health advice around Covid-19 and be prepared to protect yourself and those around you."
4,498 outbreaks in private houses
The latest figures on outbreaks of Covid-19 show there have been 4,498 in private houses, an increase of 521 in a week.
Outbreaks in schools also increased with 46 new outbreaks recorded in a week, bringing the total to 126.
There have been 55 outbreaks in childcare facilities, up by 19 in a week. Workplace outbreaks also rose by 25 to 226.
In nursing homes, 15 new outbreaks were reported, bringing the total so far to 328.
Three of these workplace outbreaks in the last week were in the meat, poultry or fish sector and two were in the construction industry.
The latest figures from the Health Protection Surveillance Centre are up to midnight last Saturday.
Northern Ireland reports nine deaths, 840 new cases
There have been nine further Covid-19 deaths recorded in Northern Ireland during the past 24 hours.
It takes the official Department of Health toll to 680.
There are also 840 new cases, resulting from tests on 3,722 individuals.
Elsewhere, a Dublin-based GP said around a third of the 40 or so people he contacted last weekend regarding Covid-19 test results did not understand that they needed to restrict their movements.
Dr Ray Walley, who is also a member of the Covid-19 Liaison Committee, said many of those who had a positive test result did not understand exactly what self-isolating meant.
He also said that some people believe that if they test negative they are "out of the woods", but if a person is a close contact of some who tests positive for Covid-19, they must restrict their movements for 14 days.
Speaking on RTÉ's Today with Philip Boucher-Hayes, Dr Walley said the last few weeks "have been busier", which is reflective of what is happening.
On the same programme, the World Health Organization's Special Envoy on Covid-19 said countries should "absolutely" be putting resources in place now to deal with a possible third wave of the virus.
Dr David Nabarro said the question that will be constantly discussed in European capitals is: "Could we have put more elements in place during the summer months that would have meant that this resurgence was less profound?"
He said that from his perspective, the answer has to be yes.
Dr Nabarro said Ireland's six-week period of Level 5 restrictions will help to achieve a lower instance rate of the virus and could protect health services, but we need to "use this time" to ensure it does not happen again.
He also said the high incidence rate in some border counties "needs to be taken very, very seriously".
Reporting Fergal Bowers and Orla O'Donnell