Sweden has told residents in the south of the country to severely limit their social interactions after a surge in the number of cases last week and warnings that the situation is likely to get worse.
The Swedish public health agency already told residents in the northern Uppsala region last week to avoid public transport and not to meet people outside their household for a period of two weeks.
The same advice has now been issued in the southernmost Scania region, but for a period of three weeks.
Health officials also said people should avoid meetings and cultural events, and to stay clear of indoor spaces such as shops, museums, libraries and gyms.
While other countries struggling to contain a second wave of the coronavirus pandemic are introducing mandatory restrictions, the measures in Sweden are only recommendations and not legally binding.
"This is a tough autumn and it will probably become worse before this is over," state epidemiologist Anders Tegnell told a news conference.
"Last week, the number of new cases increased by 70% compared to the week before, one of the largest increases we've seen," Mr Tegnell said.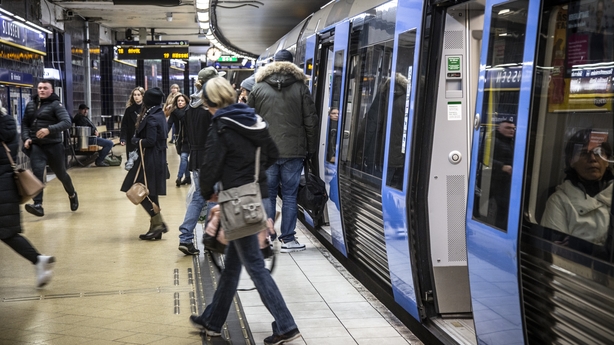 Discussions are under way with other local authorities on possibly extending the advice to other parts of the country, he added.
Sweden has famously refused the type of mandatory lockdowns seen elsewhere in Europe, preferring to appeal to people's sense of responsibility instead.
The Swedish royal family attended the inauguration of the new Slussbron 'golden bridge' in Stockholm earlier this week and nobody in attendance wore face coverings.
Face coverings are also not mandatory on public transport or indoor settings in Sweden.
The country of 10.3 million people has recorded a total of 115,785 cases of Covid-19 and 5,918 deaths so far.
We need your consent to load this rte-player contentWe use rte-player to manage extra content that can set cookies on your device and collect data about your activity. Please review their details and accept them to load the content.Manage Preferences
---
---
Tougher restrictions loom in France
French officials said that tougher restrictions are looming to counter an alarming surge in Covid-19 cases, with doctors warning that many hospitals are just days away from being overrun with patients.
"We have to prepare for difficult decisions," Interior Minister Gerald Darmanin told France Inter radio.
"At some point we have to make hard choices ... as our neighbours have," he said, referring to tough new measures announced for Italy, Spain and elsewhere in Europe.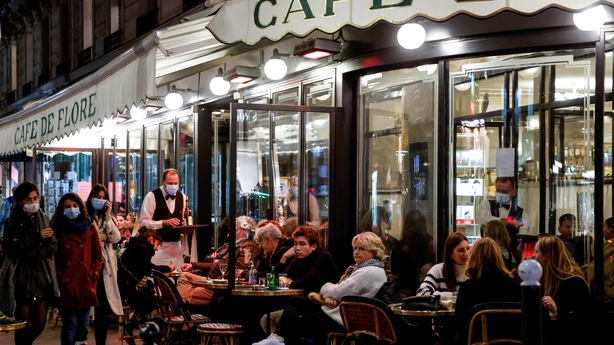 Authorities imposed a curfew this month that now requires about 46 million people - two-thirds of the population - to be home by 9pm, as the number of daily virus cases rose.
Media reports say President Emmanuel Macron, who held a crisis meeting with ministers, might extend the curfew hours, possibly with a full lockdown on weekends, or else order targeted lockdowns for the hardest-hit regions.
Another option could be to postpone the return of students from the autumn holiday that ends this weekend, in particular to high schools and universities.
Prime Minister Jean Castex will meet political party chiefs and union leaders, ahead of another crisis meeting with Mr Macron tomorrow.
"I'd rather have local lockdowns now than a nationwide lockdown at Christmas," Damien Abad, parliament chief for the rightwing opposition Republicans party, said on France Info radio.
France on Sunday recorded a record of 52,010 coronavirus infections in 24 hours.
The number of patients in ICUs is at 2,761, nearly half the country's overall capacity of 5,800, and some hospitals have been forced to start transferring patients to less-crowded facilities.
"The outbreak is out of control," the infectious disease specialist Gilles Pialoux at Paris's Tenon hospital said on BFM television.
He urged the government to adopt "a drastic measure, call it a lockdown" for the entire country, despite the economic toll.
"The economy can bounce back, but you don't bounce if intensive care fails," he said.
More than 34,000 people have died of Covid-19 in France.
Thousands of protesters angry over new restrictions announced to control the spread of Covid-19 in Italy have clashed with police as European governments toughen their responses to the pandemic.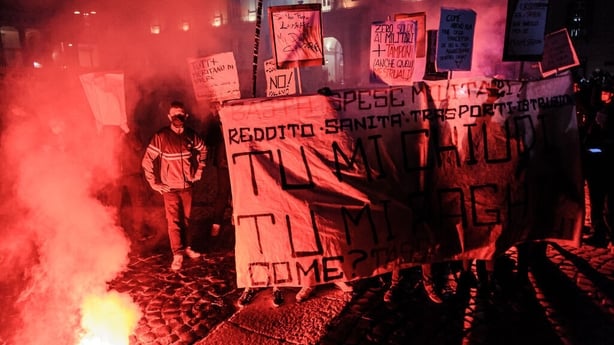 The scenes of unrest came after Italian Prime Minister Giuseppe Conte ordered restaurants and bars to shut from 6pm, while theatres, cinemas and gyms were ordered to close for a month, much to the annoyance of business owners, opposition politicians and even some scientists.
The violence in Italy, which imposed one of the toughest lockdowns in the first wave of infections in March and April, is likely to reverberate around Europe where governments are weighing the need for tougher measures against the fatigue and frustration felt by many.
"There's no question that the European region is an epicentre for disease right now," World Health Organization emergencies chief Michael Ryan said.
Maria Van Kerkhove, the WHO's technical expert on the pandemic, also voiced concern about the situation in Europe and in particular a surge in hospitalisations and rapidly filling intensive care units.
"In many cities we're seeing beds filling up too quickly, and we're seeing many projections saying the ICU beds will reach capacity in the coming days and weeks," she said.
The Czech Republic said it would impose a a night-time curfew, similar to measures already introduced in France and Spain, Slovenia imposed border closures, while Norway, with one of Europe's lowest infection rates, tightened its rules on social gatherings.
Covid-19 has now claimed the lives of 1.1 million people and infected more than 43 million globally.
German minister warns of 20,000 new daily virus cases within days
The number of new coronavirus infections in Germany is likely to reach 20,000 a day by the end of the week, Economy Minister Peter Altmaier said as authorities readied new curbs to break the second wave of the pandemic.
"We are dealing with exponential growth," Mr Altmaier told avirtual German-French economic conference in Berlin. "In Germany the number of new infections is rising by 70-75% compared to the week before."
The number of confirmed coronavirus cases today rose by 11,409. That compares with 6,868 cases last Tuesday and with the record 14,714 reported on Saturday.
Finance Minister Olaf Scholz said the increase in new infections was "very worrying," and authorities had to quickly implement decisive steps to halt the second wave.
Chancellor Angela Merkel and leaders of Germany's 16 states will hold talks tomorrow to decide on additional measures.
Bild newspaper reported Ms Merkel is planning a "lockdown light" which would mainly focus on the closure of bars and restaurants as well as restrictions on public events.
The German government expects Europe's largest economy to shrink by 5.5% this year, a source told Reuters yesterday, a slightly more optimistic forecast than its previous guidance for a 5.8% decline in gross domestic product.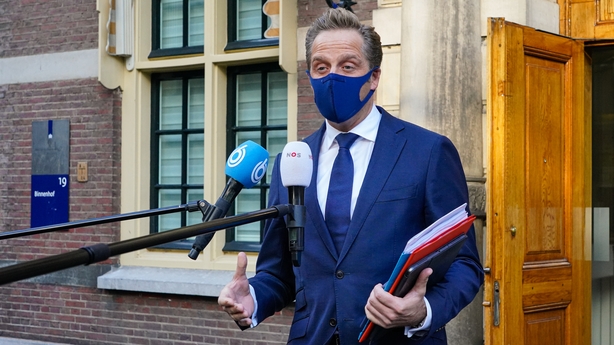 Dutch pass new Covid laws
Senators in the Netherlands approved a new law today to ease the country's fight against surging coronavirus infections, opening the door to make wearing of face masks compulsory.
They overwhelmingly voted in favour of temporary legislation giving parliament more control in combatting Covid-19, until now done through emergency ordinances issued by Prime Minister Mark Rutte's government.
Dutch Cabinet ministers met in the Hague today to discuss the growing coronavirus crisis.
The new law provides a legal basis to enforce wearing face masks, something ministers said they wanted to implement as soon as possible.
Covering up with a face mask has so far not been compulsory in the Netherlands, except on public transport and in indoor public spaces like municipal buildings, schools and hospitals.
First mooted in early summer, the law is set to come into force by December 1.
The Netherlands went into a partial confinement two weeks ago as the country was hit by a second wave of the pandemic.
This included closing down all pubs, restaurants and cannabis cafes for at least four weeks and banning alcohol sales after 8pm.
The country has reported a total of 311,889 cases of coronavirus infection with 7,142 deaths.