A Cavan doctor has said GPs in the county are "close to being overwhelmed" as the 14-day incidence rate of Covid-19 per 100,000 people surpassed 1,000.
Dr Dara Hume, a GP at the Drumalee Family Practice in Cavan town, described the county's virus incidence rate as "scary".
The figure is calculated using 2016 Census information which found Cavan had a population of 76,176.
There were 772 positive cases in the county in the last two weeks, leaving an incidence rate of 1,013.4.
It means that, based on the latest population information, more than one in every 100 people in the county has tested positive for the virus in the last 14 days.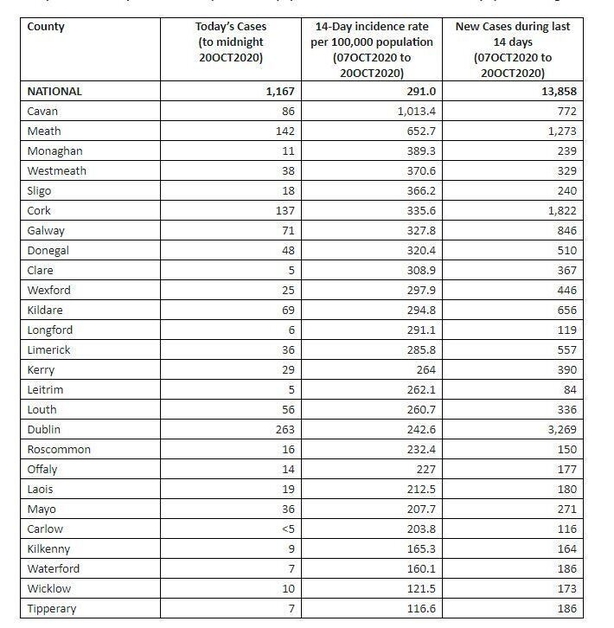 ---
Read more:
Covid-19: 3 additional deaths, 1,167 new cases
Latest coronavirus stories
---
Dr Hume said that while numbers appeared to be levelling off at her practice, colleagues had reported a significant number of clusters in towns around the county.
"People have been really good at following measures in shops but I think they let their guard down in familiar settings like when they meet neighbours or in other gatherings," Dr Hume said.
She said it needs to be examined why the incidence rate in Cavan is the highest in the country. 
"I think the main issues are large gatherings, like after GAA matches, and our proximity to the border has to be another factor," she said.
"We have to do something and that's why we're in lockdown. Hopefully we'll see a reduction in numbers."
She said GPs experience on the ground was made even more difficult today due to problems with contact tracing.
"It is absolutely busier. We're absolutely flat out and then it was pandemonium when the contact tracing backlog was announced," she added.