Once again, restrictions are in place and once again those over 70 have been asked to restrict their movements.
They've been here before and this time it's more grim. The nights are longer, the days are shorter and the clocks have yet to roll back.
Older people living alone are fearful and some are angry that the country is back to Level 5.
Government advice to those over 70 is that they stay at home as much as possible, limit engagement to a very small network for short period of time while remaining physically distanced.
It's back to relying on neighbours, friends and family to get their groceries, for example, if they can't attend supermarkets during designated shopping hours.
It also means a return to phone calls, Skype and Facetime for time with their grandchildren.
Given the impact Covid-19 has had on the older generation, their frustration is understandable.
Complacency among some hasn't helped those who have had to 'cocoon' and now again they must stay indoors where possible.
While the Government and NPHET have been careful in their messaging to try to avoid a blame game between older and younger generations, the "staying in this together" motto has exhausted itself.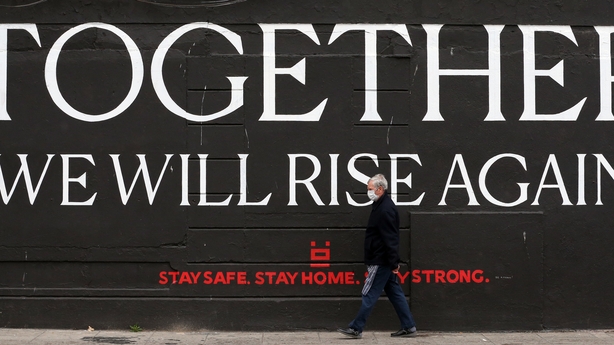 In September, when RTÉ News visited an Active Retirement Group in Wexford, there was hope following the lifting of restrictions during the summer.
The over-70s emerged, blinking into the summer sun to one-way systems, hand sanitisers and face masks.
Looking towards winter, it was clear from the Active Retirement Group there was anxiety and fear about the darker days ahead.
Many were resolute they would not return to cocooning and they would take their chance.
Ann Rochford is the Group Secretary of the Murrowstown/Piercestown Active Retirement Group.
She walks every day with a friend and will continue to do so in the bubble she created in March.
Ann believes fewer members of the retirement group will remain indoors over the next six weeks compared to late spring and early summer.
Many would be unable to cope with the loneliness, she says.
Alone, the organisation that supports older people, has said those over 70 are best placed to make decisions about what's right and important for them.
Directions from the Government last night echoed that.
Those aged over 70 and the medically vulnerable are advised to continue to exercise personal judgement.
While many will adhere to the Government advice, others are more resolute in maintaining some form of independence, given their experience earlier in the year.
One grandmother told me: "I'm not doing it again. They can jail me, I don't care. I'm getting my own groceries."
There's no doubt the coming weeks will be extremely testing for everyone, but particularly for older people.
With that in mind, winter is likely to be about 'doing it for each other', rather than being in it together.