The death toll from the coronavirus pandemic in Europe has now exceeded 250,000.
According to an AFP tally, based on official sources, a total of 250,030 deaths have now been recorded out of 7,366,028 registered cases.
Two thirds of the deaths are in Britain, which has 43,646 for 722,409 infections.
After Britain, the worst-hit European countries are Italy, with 36,543 deaths; Spain with 33,775; France with 33,392, and Russia with 24,187.
It comes as Italy registered 11,705 new coronavirus infections over the past 24 hours.
The country's health ministry said Sunday's total was up on the previous record of 10,925 which was reported on Saturday.
There were also 69 Covid-related deaths, up from 47 the day before, the ministry said - far fewer than at the height of the pandemic in Italy in March and April, when daily fatalities peaked at more than 900.
In the UK, the government said there had been a further 16,982 lab-confirmed cases of coronavirus as of 9am today.
A further 67 people died within 28 days of testing positive for Covid-19, as of Sunday.
Separate figures published by the UK's statistics agencies show there have now been 58,500 deaths registered in the UK where Covid-19 was mentioned on the death certificate.
We need your consent to load this rte-player contentWe use rte-player to manage extra content that can set cookies on your device and collect data about your activity. Please review their details and accept them to load the content.Manage Preferences
Israel's month-long lockdown eases
Israel has started cautiously emerging from a second coronavirus lockdown after a month of tight restrictions, reopening preschools, kindergartens, beaches and national parks, with numbers of new infections falling.
Public radio said about a million young children would return to kindergartens and other facilities today.
Businesses not involving face-to-face contact with the public were allowed back to work, and a contentious ban on individuals moving more than 1km from their homes was lifted.
That rule sparked anger among some Israelis who claimed it was designed to stem a wave of protests against Prime Minister Benjamin Netanyahu.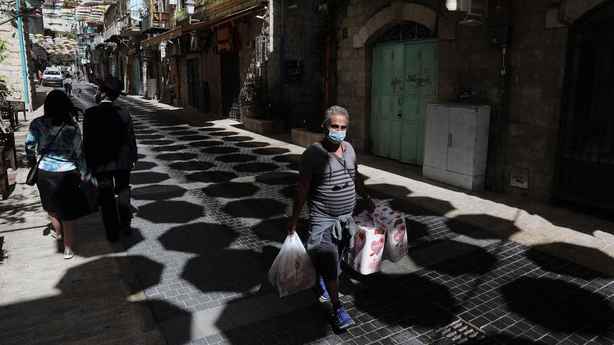 People will now also be able to visit friends or relatives, as long as gatherings are of no more than 10 people if inside, and 20 outside.
The latest lockdown was the second since Israel recorded its first Covid-19 case in February.
Tough restrictions introduced in March were lifted after about two months, but critics of the government have said the easing was premature.
"This time we are moving cautiously," Mr Netanyahu said today.
Ronni Gamzu, Israel's national coronavirus response coordinator, urged people to keep up their guard despite the easing.
"The main challenge is still ahead of us," he said in remarks aired on public radio. "Keep observing the rules."
According to a decision on Thursday, a phased lifting of restrictions will take place through to February.
The current lockdown, imposed on 18 September, remains in place in several mainly ultra-Orthodox Jewish areas around the country, designated "red" zones of infection.
Influential rabbi Chaim Kanievsky, who himself recently tested positive for the virus, ordered ultra-Orthodox boys' schools to reopen, despite a government ban.
Israel boasted about its early virus response, which included swiftly stopping international flights, shutting down non-essential businesses and placing the country under lockdown for weeks.
By mid-May, after new daily cases had dropped off considerably, the government had moved to expedite the reopening of schools, bars, eateries and places of worship, as well as allowing weddings, with restricted numbers, but infections quickly resurged.
By the end of last month, the number of new daily cases had soared, at times to over 8,000 - among the highest rates in the world per capita, according to an AFP tally.
But this past week, daily infections largely fell below 2,500, and an official update this morning showed just 397 new cases recorded the day before.
Israel, a country of about nine million people, has recorded 302,911 coronavirus cases, including 2,202 deaths.
---
Read: Latest coronavirus stories
---
Separately, the Italian government is expected to announce fresh restrictions today to curb the spread of the coronavirus there.
The country registered a record number of new daily cases yesterday.
The region of Lombardy - which was one of the regions worst hit by Covid-19 in the first wave - ordered all bars to shut from midnight last night as it battles a second wave of the virus.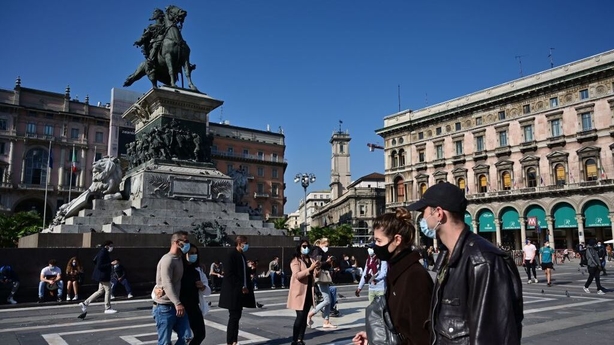 Elsewhere, Switzerland announced tighter restrictions today to tackle the recent spike in coronavirus cases, including a national obligation to wear masks and a ban on large scale public gatherings.
Gatherings of more than 15 people in public places will be banned from tomorrow and masks must be worn in all indoor public places, the government announced following an extraordinary meeting.
An order to wear masks on public transport has been extended to cover train stations, airports, bus and tram stops, the government said, replacing a patchwork of regulations which applied across Switzerland's different regions.
The obligation to wear a mask will also apply to shops, schools, churches, and cinemas, the government said.
"The sharp increase in the number of cases in recent days is worrying," the government said in a statement.
"It is evident in all age groups and in all cantons. The number of hospitalisations is also increasing."
Switzerland, a country of 8.6 million people, on Friday reported the highest daily number of infections since the Covid-19 crisis began, with 3,105 new cases.
So far 74,422 people have been infected with the novel coronavirus, and 1,823 people have died.
To limit the spread of the virus, the government said spontaneous meetings of more than 15 would be banned, while people must wear masks at private events with more than 15 people. It also recommended that people work from home.
The government said the new regulations were intended to protect the population and prevent an overloading of the healthcare system.
It hopes the new restrictions, which reverse the gradual relaxation of measures which has taken place since the end of April, will slow down the spread of Covid-19 and support the track and trace system in place.
"Despite the restrictions, it should be possible to continue economic and social life," the government said.
Meanwhile, New Zealand confirmed a new community case of Covid-19 today, two weeks after Prime Minister Jacinda Ardern declared that the South Pacific nation had "beat the virus again".
Director-General of Health Ashley Bloomfield said the latest case involved a port-side worker who returned a positive test yesterday afternoon.
"Because the person was tested on the day he was developing symptoms, the Ministry of Health was able to self-isolate close contacts," Mr Bloomfield said.
He was potentially infectious as early as Wednesday 14 October.
The announcement came a day after Ms Ardern's Labour Party won a landslide election victory, with her government's handling of the pandemic widely credited as a factor.
She campaigned on her government's success in eliminating community transmission of the virus, which has caused just 25 deaths in a population of five million.
New Zealand declared in May it has beaten community coronavirus transmission, although a new cluster emerged in Auckland in August forcing the country's largest city back into lockdown for several weeks.
In Australia, restrictions in its second-biggest city were eased slightly today following a steady decline in new coronavirus cases, but officials stopped short of ending a controversial "stay-at-home" rule.
More than 100 days after the lockdown was imposed on Melbourne's five million residents, authorities lifted a two-hour limit on the time people could spend outside their homes for permitted activities.