The Chief Executive of the HSE Paul Reid has said there is a "concerning growth" in the number of people being admitted to hospital for treatment for Covid-19.
Speaking at the HSE's weekly briefing, Mr Reid said 238 people are in hospital with Covid-19, an increase of 24 on last night.
The number of people in intensive care units has fallen slightly to 29.
He said of the 8,500 people who have contracted Covid-19 between 29 September and 12 October, 245 people have been admitted to hospital, and 22 admitted to ICU.
Mr Reid said 25% of these hospitalisations have been in people under 35, 27% have been aged 35-64 and 47% are in the 65 and over category.
He said nine people aged 35-64 have been admitted to ICU in this time period and 13 have been aged 65 and over.
Mr Reid said the number of people in hospital who are requiring ventilation as a result of Covid-19 has increased in the last few days.
He added that he "would not take any comfort from the number of people who are in ICU".
As of 8pm last night, there were also 100 suspected cases of the virus in hospitals, of which 11 were in ICU.
Chief Clinical Officer Dr Colm Henry explained that for every 1,000 cases of Covid-19, between 25 and 50 people are admitted to hospital, with between two and five people requiring admission to ICU.
He said the median time from admission to hospital to being admitted to ICU is between two and five days.
Mr Reid added that the positivity rate of close contacts of Covid-19 cases is 10%.
Test capacity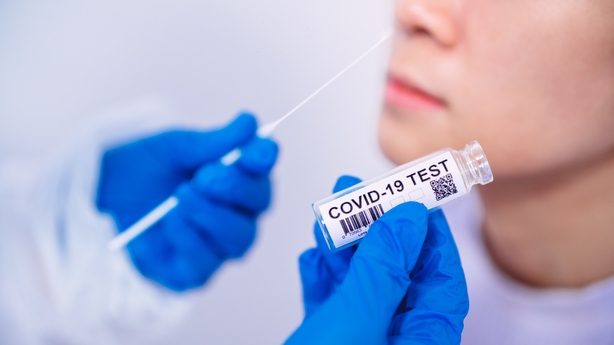 Earlier, Mr Reid told RTÉ's News at One that testing capacity has been increased further to 18,000 per day or 126,000 per week, but said the best line of defence is for the public to get behind the updated restrictions to prevent the spread of the virus.
Mr Reid said over 1.3 million tests have been completed in Ireland to date. He said over 103,250 swabs were taken last week, with a mean end to end time of 2.1 days.
There were 99,260 tests completed last week and almost 23,000 contact tracing calls were carried out.
He said of the number of swabs taken, more than 64,000 were taken in the community, 21,000 in hospitals and 18,000 taken as part of ongoing serial testing.
Mr Reid said that further capacity has been built up across the island and using German laboratories.
He made "a call to arms" to the public to put their defences up and get behind the restriction measures to protect healthcare workers as case numbers surge.
Hospitals
The HSE chief said that everybody working in the health service is extremely concerned about the rise in hospital cases of Covid-19.
He said this is now beginning to impact on non-Covid elective care in some hospitals, with Cork University Hospital moving to using surge capacity with just two vacant ICU beds available.
He said creating surge capacity takes from other services, but said there are 40 ICU beds available in hospitals across the country today.
Mr Reid said that there are also concerns about the winter and flu season among healthcare workers.
He said senior staff with the HSE and CEOs of a number of the country's hospitals are "extremely anxious about what lies ahead, particularly in November."
Mr Reid said they have expressed concern over the level of staff absenteeism in the weeks and months ahead, "given the amount of community transmission" of Covid-19.
On behalf of healthcare workers, he appealed to the public to play their part in protecting frontline healthcare workers.
"Our frontline healthcare workers are the equivalent of our goalkeeper. No good team leaves their goalkeeper exposed and doesn't out a good defense in front of them," Mr Reid said.
He commended public health teams for the relentless work they have done to date.
Mr Reid said 81 meat and food processing facilities had been tested in cycle one of serial testing, and more than 30,109 tests have been carried out.
He said the positivity rate in these settings was 0.42% in cycle one and that cycle two began on 12 October.
Nursing homes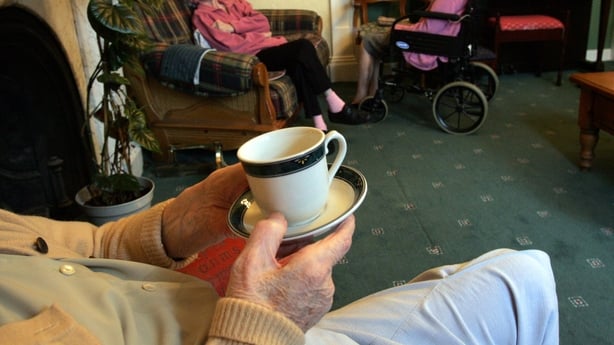 On nursing homes, Mr Reid said "it is impossible to put a ring of steel around them", but confirmed that the HSE is giving intensive support to four nursing homes.
He said that serial testing has led to 220,000 tests being carried out in nursing homes, and the positivity rate has been low at 0.38%.
However, he said that there is concern that as community transmission grows, residents are more vulnerable.
He said that some private nursing homes are now self-swabbing - and the HSE will look to increase serial testing to weekly, if required.
Mr Reid said 569 nursing homes and residential care facilities were tested in cycle three of serial testing for this sector.
He said 59,266 tests were carried out with a positivity rate of 0.38% and cycle four commenced yesterday.
HSE Chief Operations Officer Anne O'Connor said the HSE was supporting 1,081 nursing homes.
She said 963 are in receipt of regular PPE, while one has been categorised as a significant concern.
There are 25 nursing homes in the amber category, an increase from 16 on 14 September, which means they require enhanced supports.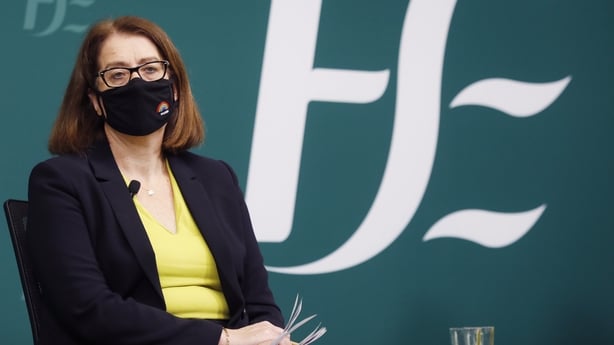 Healthcare workers
Mr Reid said there were about 1,100 healthcare workers who were currently self-isolating. He said last week it went from 400 to 1,000 and is now at 1,100.
Ms O'Connor said that figure includes staff who were currently cocooning.
Dr Henry said in the past two weeks 493 healthcare workers had tested positive, which is 5% of total cases.
About a quarter of those are working in hospitals and a quarter are working in nursing homes.
"They are acquiring it in the community as far as we can see," Dr Henry said.
Meanwhile, Mr Reid said 384 educational facilities have undergone mass testing and 9,345 children or young people have been tested, with a 1.9% positivity rate.
Testing and tracing
Dr Henry said the PCR test "remains by far the most sensitive test".
He said he would not encourage disparity in testing, and that it is important to maintain clinical governance on the type of testing being used
Dr Henry said the pandemic workforce plan identifies the need for 250 pandemic staff.
"In the context of uncontrolled community transmission with multiple outbreaks there is no healthcare system in the world that can adapt to unmitigated transfer of an illness for which there is no cure and no vaccination," he said.
Mr Reid said 500 people are through the first stage of recruitment for swabbing, and 80 people have started in the post. He said he hopes 100-150 people can be in the job each week for the next number of weeks.
He said 400 people are through the interview process for contact tracing and 65 started last week. He said he hopes 65-70 people will start work each week.
He said 5,500 close contacts have been identified through the tracker app, which is used by 1.3 million people. He said 200,000 people check in on a daily basis.
Additional reporting Carla O'Brien and Laura Fletcher