The Minister for Public Expenditure has said restrictions on people visiting households are "not a ban" but the Government was asking people to use their judgement.
Michael McGrath said the measure was designed to "cut out" unnecessary home visits and try and reduce people's social contacts to lower the risk of spreading the virus.
Donegal, Cavan and Monaghan are moving to Level 4 restrictions from midnight tonight until Tuesday 10 November.
Under "enhanced Level 3 restrictions" for the rest of the country, there will be no visits to other people's houses or gardens unless for compassionate reasons or for the care of children.
Outdoor meetings are being restricted to six people from no more than two households.
At a press briefing this evening, Chief Medical Officer Dr Tony Holohan was asked about the difficulties for people living alone.
He said the National Public Health Emergency Team recognised these challenges and planned to issue further guidance.
Deputy Chief Medical Officer Dr Ronan Glynn said it was considering international evidence around the creation of 'social bubbles'.
Speaking on RTÉ's Prime Time, Minister McGrath said that under the latest restrictions, home visits should be for essential purposes such as the care of children, elderly, vulnerable or people who live alone.
But he said it was ultimately down to a person's individual decision.
He also said the virus is "relentless" and he wanted to be straight with people. "Until an effective vaccine comes along, life will not be as we knew it."
---
---
Mr McGrath said it was heartbreaking to see businesses shut their doors but he said the Government was "throwing an awful lot at this because we know what's at stake".
He said he hoped the All-Ireland championship will go ahead if the players are comfortable with it but it was only provided for in Level 4 and if "we go to Level 5 matches would not be permitted".
The minister said this was another reason we need to "double down" in the fight against the virus.
Earlier today, Higher Education Minister Simon Harris said the country was at a watershed moment and warned there is a "very, very small window where we can stop us having to go back to severe restrictions". However, he said, this was "not inevitable".
Speaking on RTÉ's Today with Claire Byrne, Mr Harris said he believes the prohibition of household visits will be "a gamechanger" in curbing the spread of Covid-19.
He also said the Government should give further consideration to off-licence opening hours and that he would be in favour of limiting opening hours in line with the new restrictions announced for Northern Ireland, where off-licences must close at 8pm from Friday night.
Clean your mobile phone with sanitiser - virologist
People should be aware of the risks of acquiring Covid-19 from surfaces such as mobile phones and petrol pump handles and should clean their mobiles regularly with sanitiser, according to a virologist.
A recent Australian study has shown that the virus can survive for 28 days on a surface.
Dr Nicola Fletcher, who is also a vet, said that studies under way in UCD are "growing" the virus and show it is susceptible to the elements.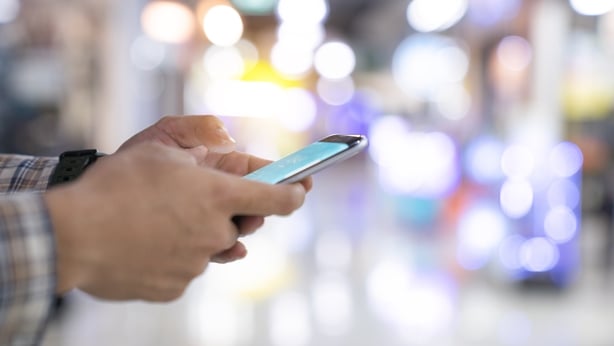 She said while 90% of transmission is through direct contact with droplets from infected people, 10% is spread is from touching surfaces.
Dr Fletcher said exposure to UV light, to rain and to temperatures can shorten the lifespan of the virus.
She also said that a spike in traces of the virus has been observed in sewage testing in Dublin in the last week, in parallel with the increased prevalence of the virus in the population.
Additional reporting Micheál Lehane