Britain reported 19,724 new cases of Covid-19, a rise of 2,490 from the day before, according to government data.
It comes as new local restrictions were due to be brought in for some areas of the country to curb the spread of infections.
The figures also showed there were 137 deaths within 28 days of a positive test, down slightly from yesterday when there were 143 deaths recorded.
Last night, Merseyside Police said officers dispersed a large gathering in Liverpool city centre, as bars shut their doors for the final time ahead of new Tier 3 measures.
Crowds of people dancing in the area as strict coronavirus restrictions were introduced have shamed Liverpool city, the mayor has said.
The city has seen a rapid rise in coronavirus infections, and intensive care capacity in its hospitals is reported to be over 90% full, with Covid-19 patients making up an increasing proportion of patients.
Footage on social media showed large numbers of young people dancing in the street outside bars, and in one video a police car could be seen driving through a crowd while people banged their hands on the side of the vehicle.
Mayor of Liverpool Joe Anderson said on Twitter: "These pictures shame our city, attacking our brave police officers is unacceptable.
"Our health service is creaking, 300 in hospital and 30 people dead in week. Ignoring these facts is why we are in Tier 3 measures."
A police spokesman said: "Officers were deployed to the area immediately and a large crowd was dispersed quickly and safely.
"All businesses in the area have now closed and the incident has been stood down."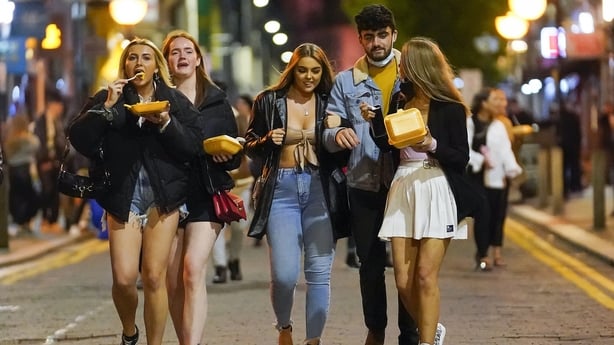 Liverpool and the neighbouring five boroughs which make up the city region are under Tier 3 measures, which include the closure of bars, pubs which do not serve meals, gyms, betting shops and casinos.
Chief Superintendent Peter Costello said: "While we understand how the new rules which are due to be implemented on Wednesday are frustrating for some, we would continue to advise everyone to abide by them - including keeping social distancing - for the safety of everyone."
Work and Pensions Secretary Therese Coffey told Times Radio she was "saddened" by the pictures.
She said: "I grew up in Liverpool. I know it is a great city. But frankly it is irresponsible behaviour.
"We are trying to help the city... I'm sure the mayor may want to consider more (measures) while we are also providing financial support."
City centre councillor Nick Small wrote on Twitter: "Idiots putting themselves, their friends, families and everyone else at risk, destroying jobs and our hospitality sector while they do it."
Other parts of the city appeared quiet as bar staff pulled their final pints ahead of the 10pm curfew.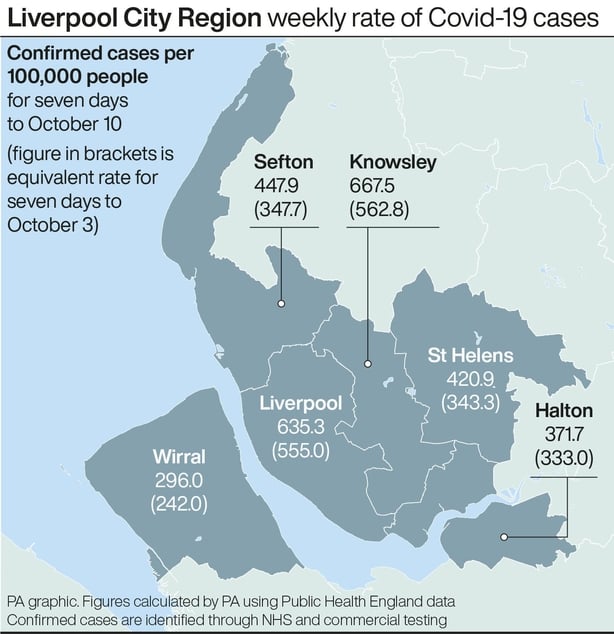 Liverpool City Region is the only part of England under the toughest Tier 3 restrictions, with the closure of pubs and bars and bans on socialising.
Intensive care units in hospitals in the city are more than 90% full, with the city soon expected to reach levels of bed occupancy seen during the first wave of Covid-19, a city council leader has said.
Paul Brant, cabinet member for adult health and social care at Liverpool City Council, said intensive care capacity in the city was over 90% full, with Covid-19 patients making up an increasing proportion of patients.
He told BBC Radio 4's Today programme: "Our intensive, critical care beds are filling up very fast.
"The most recent figures I've seen suggest they are over 90% full and our acute hospital trusts have occupancy levels of Covid-positive patients of over 250.
"At the current rate of increase, we would expect Liverpool to surpass the peak of the first wave probably within the next seven to ten days."
Addressing the intensive care situation, he added: "They are not all Covid patients, I should say, but they are running very full and they are running with an increasing number of people who are Covid-positive.
"It has become clear that the intensity of the demand on hospital services here in Liverpool is crowding out anything other than dealing with Covid."
---
---
Yesterday, other hospitals in the UK announced they were having to stop routine operations to deal with Covid-19 patients.
University Hospitals Plymouth NHS Trust said it was temporarily pausing non-critical planned surgery at Derriford Hospital, although day case procedures are still going ahead.
Victoria Eaton, Leeds director of public health, said hospitals in the city were "very close" to having to strip back non-Covid services, and areas may struggle for staff to fill Nightingale hospitals put on standby.
---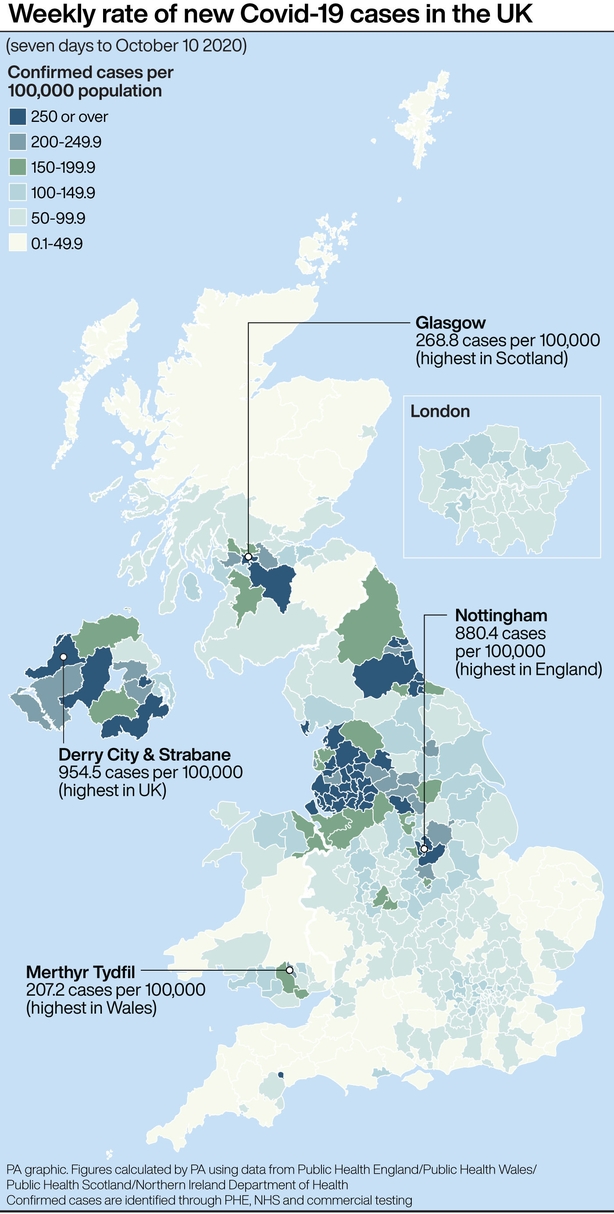 Swansea Bay University Health Board said all routine planned cardiac surgery at Morriston Hospital has been temporarily suspended following a localised outbreak of the virus.
Ten patients and five staff have tested positive over the last few days, most within cardiac services, it added.
On Monday, Liverpool University Hospitals NHS Foundation Trust chief executive Steve Warburton told staff in a memo that it had reached a "critical point".
He said the trust was scaling back planned procedures, adding it was "taking a phased approach to reducing our elective programme, while exploring options with other providers to maintain some of this work in alternative locations".
Johnson under pressure to introduce 'circuit-breaker' lockdown
Meanwhile, Prime Minister Boris Johnson is under increasing pressure to impose a national circuit-breaker lockdown, as officials discuss whether the severest local restrictions should be extended to new regions.
Government health officials are expected to discuss with councillors in Greater Manchester and Lancashire whether to classify the areas as "very high".
But Greater Manchester mayor Andy Burnham said that the Tier 3 restrictions are "fundamentally flawed" and "we won't accept it".
The row came as a model by scientists advising the government suggested thousands of deaths could be prevented by a short national lockdown over half-term.
They argued that the coronavirus resurgence could be brought back under control by the so-called circuit-breaker that would buy ministers time to improve the test and trace system.
Labour leader Keir Starmer heaped pressure onto the Prime Minister by publicly calling for a two- to three-week national lockdown over the October half term.
He said the measure, suggested by the Scientific Advisory Group for Emergencies (Sage) last month, was needed to prevent a "sleepwalk into a long and bleak winter".
Downing Street is understood to be keeping the idea on the table, but initially went for a fresh range of less stringent measures to be imposed locally in Covid-19 hotspots.
Further pressure for the circuit-breaker came with a preliminary paper published by five members of the Scientific Pandemic Influenza Group on Behaviours, which advises Sage.
They suggested that a short, sharp lockdown across the nation would decrease cases, unload the burden on hospitals and prevent deaths by driving down the transmission rate, known as R.
Professor Matt Keeling, one of the authors, told BBC Radio 4's Today programme: "The stricter the restrictions, the greater the impact.
"We stress that this is only a short-term measure - it buys us time to put other measures in place, but at the moment we do need that time."
Additional reporting Reuters