Northern Ireland's Deputy First Minister Michelle O'Neill has said the fight against Covid-19 must be done on an all-island basis, adding "that's not a political point, that's a purely medical, scientific point".
She was speaking following the announcement that pubs and restaurants in Northern Ireland will close for four weeks, with the exception of takeaways and deliveries, while schools will shut for two weeks in a bid to slow the spread of coronavirus.
A record 1,217 new cases of the virus were confirmed in Northern Ireland in the past 24 hours, the Department of Health said, taking the total to 23,115.
The death toll standS at 602 after four additional deaths were reported today.
Speaking on RTÉ's News at One, Ms O'Neill said that while there has been a memorandum of understanding and cooperation across both jurisdictions, it is not sufficient and she believes the advantage we have as an island "has not been optimised" in the fight against Covid-19.
She said she would like more done in the time ahead and "it's the only way we're going to be effective in the challenging weeks and months ahead".
Ms O'Neill said she and First Minister Arlene Foster and Health Minister Robin Swann spoke to Minister for Health Stephen Donnelly and Minister for Foreign Affairs Simon Coveney earlier this week and discussed an all-island approach.
Meanwhile the Cabinet has decided to move Donegal, Cavan and Monaghan to Level 4 Covid-19 restrictions. 
The other border counties, Louth and Leitrim, will remain on Level 3.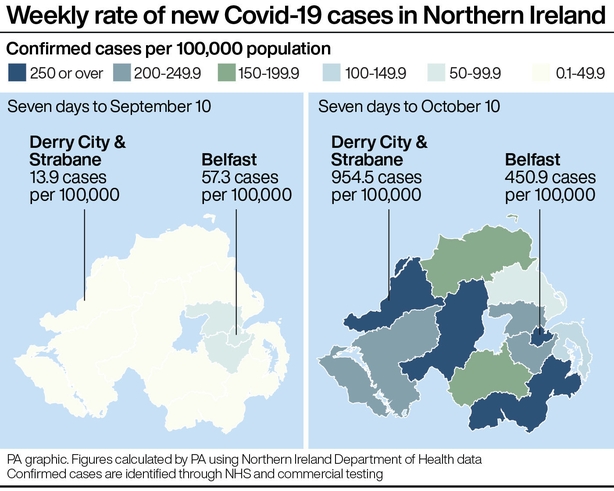 ---
At a glance - new restrictions for NI
Latest coronavirus stories
---
In relation to the new restrictions announced in Northern Ireland, Ms O'Neill said because of the rapid rise in cases, it had to be a Northern Ireland-wide approach and "to do nothing was not an option".
In a statement at a special sitting of the Assembly this morning, Mrs Foster said the situation needed to be urgently addressed as numbers continue to rise and hospitalisations are on the increase.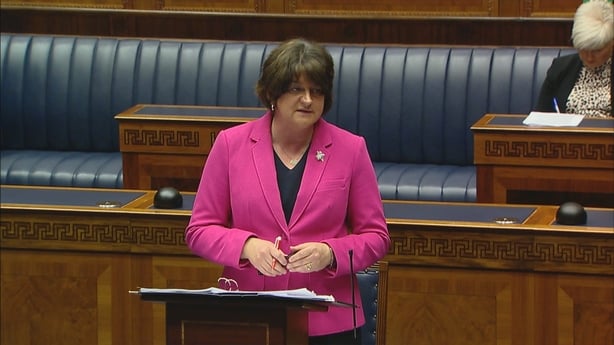 The closure will affect the entire hospitality sector, with the exception of takeaway and delivery services, and double the length of the mid-term break for schools.
Under the measures, retail will remain open, but "close contact services" will be closed.
People will be advised to avoid all unnecessary travel and work from home, while universities will be asked to teach remotely to the maximum extent.
The measures will come into effect from Friday.
Mr Swann also announced that Northern Ireland's Nightingale Covid-19 hospital, located at Belfast City Hospital, is to become fully operational again.
"This is a serious moment for Northern Ireland"

Northern Ireland First Minister Arlene Foster says if people go their own way and do not work with the Covid-19 measures, it will have consequences for the health service | Live updates: https://t.co/A6wUhva3Jr pic.twitter.com/ldaK0453qQ

— RTÉ News (@rtenews) October 14, 2020
"We fully appreciate that this will be difficult and worrying news for a lot of people," Ms Foster said.
"The Executive has taken this decision because it is necessary, and we discussed the impacts in great detail. We do not take this step lightly."
Mrs Foster told MLAs that the Executive hoped the restrictions would have two impacts.
"First, on the Covid transmission rates which must be turned down now, or we will be in a very difficult place very soon indeed," she said.
"Second, we believe it marks a point where everyone, each and every one of us, can take stock and go back to the social distancing messaging. That is vitally important."
"We must reach a different place in both the numbers, and getting back to basics on social distancing"

Arlene Foster says the new restrictions for Northern Ireland will be in place from Friday this week, for a period of four weeks | Live updates: https://t.co/A6wUhva3Jr pic.twitter.com/DF5vJWDou3

— RTÉ News (@rtenews) October 14, 2020
The restrictions were agreed after a stop-start meeting of the Stormont executive that extended past midnight and into the early morning.
Mrs Foster insisted the restrictions would not last any longer than four weeks.
The current restrictions on household mixing are to remain. That means no mixing of households in private dwellings, with exceptions including those joined in social bubbles, and gatherings in the gardens of private dwellings limited to six people from no more than two households.
Attendance at funerals will be restricted to 25 people.
Schools will close from Monday 19 October for a two-week period.
There are 164 confirmed coronavirus patients in hospital, with 24 in ICU and 17 of them on a ventilator.
Belfast Health Trust has cancelled all elective procedures this week to cope with a rise of Covid-19 cases being admitted to hospitals.
The Derry and Strabane Council area has been experiencing the highest infection rate in the UK and Ireland, with a seven-day average of 970 cases per 100,000 people. The area is already subject to additional localised restrictions.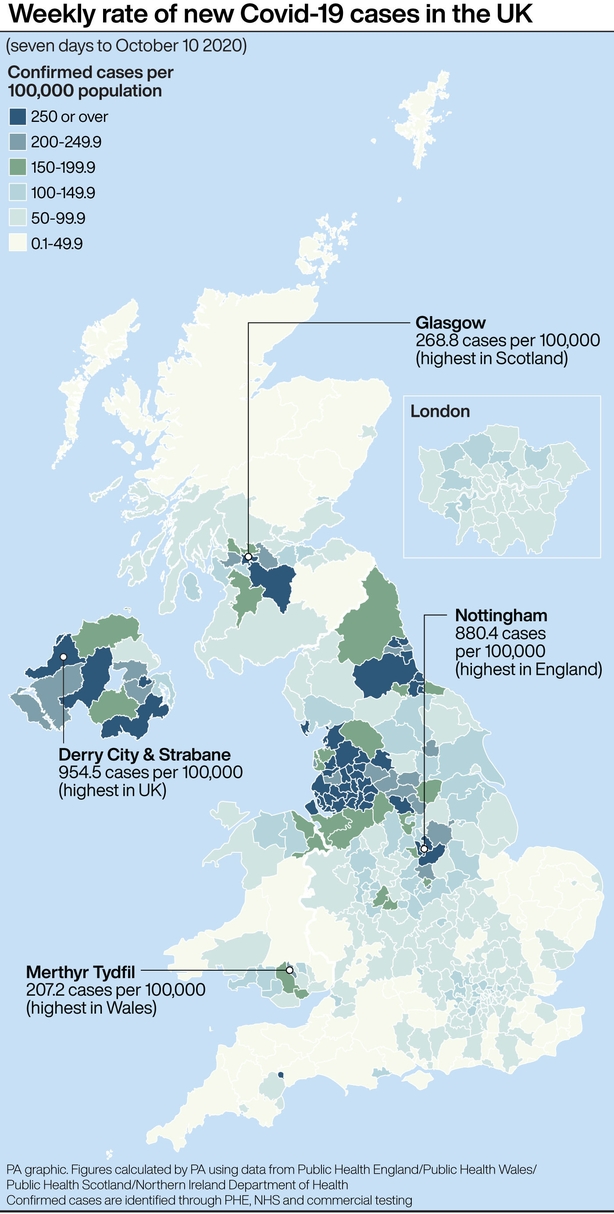 Ms O'Neill said Derry and Strabane had a particular problem, but they were seeing other areas coming in behind that.
She said the Executive's objective is at all times to keep schools open and the initial recommendation from the public health officials was to close schools for four weeks, but at last night's meeting, the two-week closure of schools was supported by the public health agency.
Ms O'Neill said the advice from the Chief Medical Officer and Chief Scientific Advisor last Thursday was that an intervention was needed to come into force by Friday and said she believes Northern Ireland is about a week ahead of the situation in the Republic.
She said there is a pattern here that is happening across Europe.
Speaking on RTÉ's Morning Ireland, Sinn Féin leader Mary Lou McDonald said there is no doubt that looking at the aggressive transmission of the virus across Northern Ireland additional measures will have to be taken.
"There is no doubt looking at the aggressive transmission of the virus across the north that additional measures have to be taken"

Sinn Féin leader Mary Lou McDonald says the situation in the north is grave, and further measures need to happen quickly | https://t.co/A6wUhva3Jr pic.twitter.com/098o17hPZS

— RTÉ News (@rtenews) October 14, 2020
Ms McDonald said she hopes a consensus will be reached among the five parties in the Northern Ireland Executive on a plan to tackle the spread of the virus.
She said she supported moves to close schools for two weeks and did so with a heavy heart given the "unfortunate situation".
Ms McDonald also said it makes sense to have an all-island approach and while there has been co-operation, there is not a full shared approach.
The Dublin Central TD said to control community transmission in border areas where "they are essentially one community" it is necessary to take increased actions.
Additional reporting Reuters, PA