A man who was hospitalised with Covid-19 in March has said that he is still suffering from ongoing fatigue six months on.
48-year-old Mark Burke was given 24 hours to live after experiencing complications after contracting Covid-19, but he managed to survive.
He has warned people that it is a long road back to normality, and he is still not able to do a full day's work.
A growing number of people are reporting ongoing issues months after contracting the virus.
A study conducted here has found that over half of people who contract Covid-19 report having persistent fatigue months after they first got symptoms.
Hospital
Mark was 47 when he contracted the coronavirus last March.
At first, he felt unwell and had a high temperature. He was tested. But, two days later he was brought in to St Vincent's Hospital in Dublin.
He was diagnosed with double pneumonia and within 36 hours he was moved to ICU. He was placed on a ventilator and put into an induced coma. After a week in ICU, doctors said Mark had less than 5% chance of survival.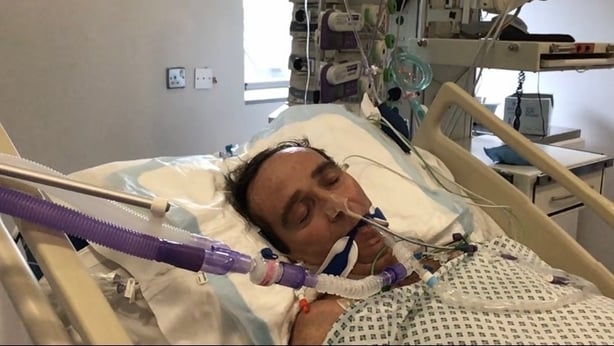 He developed a serious complication associated with coronavirus and his family was told he could have less than 24 hours to live.
The consultant phoned his wife to say that things had taken a turn for the worse and it didn't look good. But he was dubbed a "medical miracle" when he managed to pull through.
Mark said the hospital team gave several different types of treatment and drugs, and finally he became strong enough to come off the ventilator. On 10 April, he was taken out of the coma.
Recovery
Initially, when he came out of ICU and was in the recovery ward, Mark said he couldn't feed himself, shave or wash. He said the ICU staff came down to his ward to do that for him.
He underwent daily physiotherapy sessions in the hospital and afterwards at home.
It took almost a week before he was able to feed himself again.
It was two or three weeks before he could brush his hair, or shave, as the muscles in his arms were weak.
He said it took three months before he was able to walk as far as 2km. Mark said that the first three to four months afterwards were very hard, but while he is physically well, it is taking time for him to fully recover.
Fatigue
Mark said in the last four to six weeks he is probably doing better than he had been. Up until that it was a struggle.
At the moment, he is still very tired and suffers from a lack of energy. He said an hour or two of anything and he could literally lie down and go to sleep.
Even after doing a bit around the garden, he gets so tired that he just has to lie down.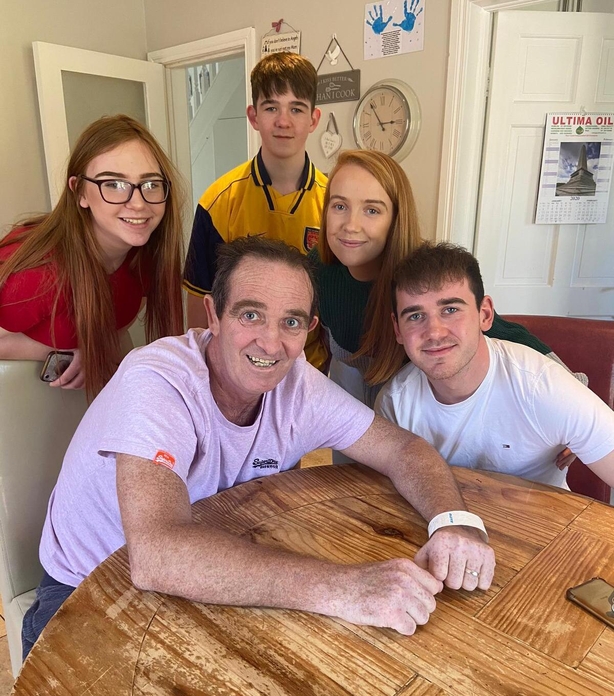 Mark said that it is a long road to return to normality. He said it is almost six months now, and he would not be able for a full day's work.
Nobody seems to know how long this is going to last, he said, or if it will ever go away. He said he hopes it will.
It has taken a long time, but he is getting better.
He reports that his breathing is quite good but he does get out of breath quicker than most people.
He still can't exert himself to running - or if he did, he would get extremely tired and out of breath.
A man who was given 24 hours to live after being hospitalised with Covid-19 in March has said that he is still suffering from ongoing fatigue six months on | More: https://t.co/QLZ2kELftv pic.twitter.com/Ov1bcpuRLw

— RTÉ News (@rtenews) September 28, 2020
Covid-19: The long haul
What's been described as "a new and troubling phenomenon" associated with Covid-19 is now coming to light.
While most people recover fully and quickly from the virus, many are reporting that they haven't been able to get back to their pre-Covid selves months after they first became ill.
Even those who may have initially experienced a relatively mild illness have reported that they continue to experience a range of symptoms. While there is no formal definition of "long haul Covid" or "long Covid", it is now being investigated in people across the globe.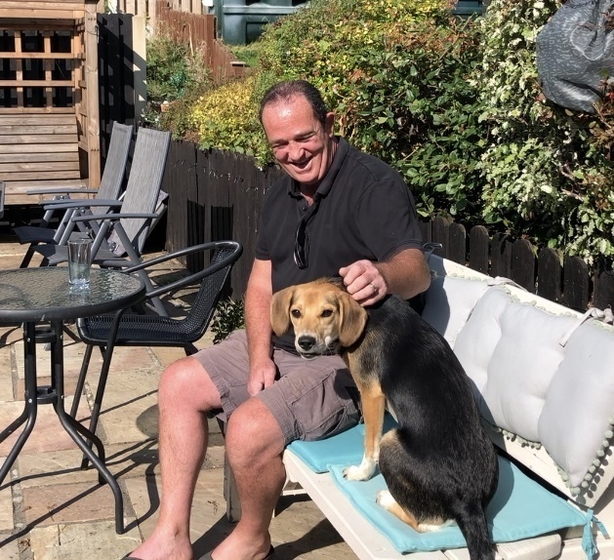 Irish study
More than half of patients in a study conducted here reported suffering from persistent fatigue months after they first contracted the disease.
The study carried out by Trinity College Dublin and St James's Hospital followed 128 participants.
It found that 52% reported persistent fatigue 10 weeks after infection.
The preliminary study, which has not yet been peer-reviewed, also indicates that fatigue persisted in this group of patients, regardless of how serious their initial symptoms were and whether they were hospitalised or not.
Dr Liam Townsend, Specialist Registrar Infectious Diseases at St James's Hospital, said they found that fatigue occurs in over 50% of cases, and at a level that causes disruption to people's day-to-day lives at 10 weeks after infection.
He said they found this to be the case in people who were previously fit and healthy. The mean age for people in this study was 50. He said that one in three of those who experienced fatigue were not back to work yet.
He said that for those who were back at work, they found it very difficult to do anything beyond the day's work.
Dr Townsend said the figures for the number of people who have died do not tell the full story when it comes to Covid-19. He said the long-term effects of the virus remain to be seen, and they really have to follow up on the long- term consequences of the virus.
Other persistent symptoms
While most people recover quickly from Covid-19, some are reporting that they have not recovered or managed to get back to their pre-Covid lives.
Besides fatigue, a range of other symptoms have also been reported by patients, weeks or months after they first tested positive for Covid-19.
Among these are breathlessness, joint pain, cough, palpitations, mental and physical exhaustion, sore throat, inability to concentrate and brain fog.
According to the World Health Organization, most people with Covid-19 experience mild symptoms or moderate illness. Approximately 10-15% of cases progress to severe disease, and about 5% become critically ill.
They say typically people recover from Covid-19 after two to six weeks. But for some people, some symptoms may linger or recur for weeks or months following initial recovery.
The WHO says this can also happen in people with mild disease, but says people are not infectious to others during this time. They also say that patients who develop medical complications may have lasting health effects.
No underlying conditions
Mark Burke said that he had no underlying conditions. He said he would have been generally fit, very active and strong.
But, he said, that did not matter when he contracted the virus. He was told that the fact he had stopped smoking five years ago was a saving grace for him.
Mark said he would not wish Covid-19 on anybody.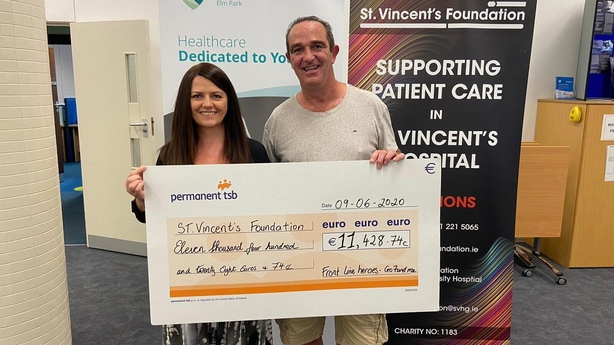 But unless you experience it first hand, he said, you do not realise how dangerous and how severe it can be.
He would say to everybody, for their own sake and their family's sake, wear face masks, wash your hands and be vigilant.
He wants to thank his family, who he said have been amazing, and his friends who were prepared to do anything for him at the drop of a hat.
He received good wishes and messages of support from neighbours, and he added that he would never be able to thank them enough.
He also thanked the medical staff, saying that the doctors and nurses and St Vincent's Hospital are the unsung heroes of the pandemic.