The European Commission has urged EU member states to better explain and enforce social distancing and hygiene rules to halt a dangerous new wave of coronavirus infections.
Health commissioner Stella Kyriakides said: "In some member states, the situation is now even worse than during the peak in March. This is a real cause for concern.
"All member states need to roll out measures immediately and at the right time at the very first sign of potential new outbreaks."
Europe has now had more than five million coronavirus cases, and several countries have begun reimposing local lockdown rules to head off a return to uncontrolled spread.
The death rate has not returned to the levels seen earlier this year, but cases of new infections are soaring once again in many areas.
But Ms Kyriakides, whose office has sought to coordinate the response across the 27 member states, warned that some areas had clearly begun to lift restrictions too soon.
"What this means, to be very clear, is that the control measures taken have simply not been effective enough or not been enforced or followed as they should have been," she said.
"We cannot lower our guard. This crisis is not behind us. Moreover, winter is the time of the year for more respiratory illnesses, including seasonal influenza."
And she warned: "Today we're here to call on everyone to act decisively... it might be our last chance to prevent a repeat of last spring."
Commissioner Kyriakides said that member state governments would have to fight misinformation about the virus and reach out to young people to head off protests and conspiracy theories.
And she warned they will have to act quickly to prevent a need for a return to generalised lockdowns, which she said would hurt the economy, education and the mental health of the public.
The European Centre for Disease Control and Prevention warned that Seven European Union countries - Spain, Romania, Bulgaria, Croatia, Hungary, Czech Republic and Malta - are of "high concern" due to rising Covid-19 death rates.
The Swedish-based EU agency's latest assessment report said these countries had "an increased proportion of hospitalised and severe cases", and "increasing or high death notification rates are already observed ... or may be observed soon," owing to a spread among older people.
Madrid pleads for more doctors, police as coronavirus cases surge
Spain's Madrid region yesterday requested urgent help to hire hundreds of foreign doctors and reinforce police as they registered 1,290 new coronavirus infections and considered extending a partial lockdown to more areas.
Representing over a quarter of Spain's 4,143 new cases in the past 24 hours, the capital region has been hardest hit by a second wave of Covid-19, with the number of daily deaths and infections soaring to levels not seen since May.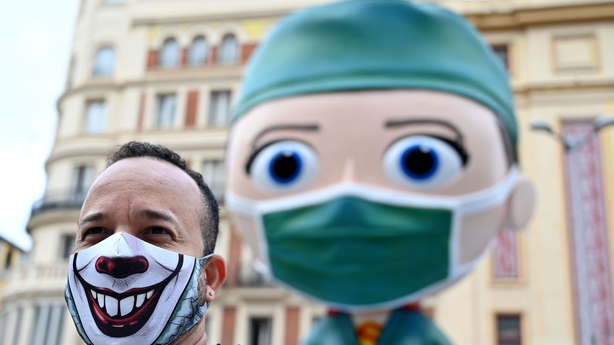 Madrid has already restricted movement between and within some districts where about 850,000 people live since midnight on Monday.
Ignacio Aguado, deputy head of the regional government, told reporters the region needed 300 doctors from outside the European Union who had worked in the first wave of the pandemic, but could not hire them immediately due to complex regulations.
He also asked the central government for an additional 222 national police officers to enforce quarantines and fines in districts now back under partial lockdown.
On Monday, Madrid authorities asked the central government for help from the army to fight the coronavirus surge in and around the Spanish capital, where the partial closure of some poorer areas has provoked protests.
"We've decided to formally request logistical help from the military to install (hospital) tents, carry out tests and disinfection tasks in each of the areas under restrictions," Mr Aguado said on yesterday.
Residents in the mostly lower-income neighbourhoods where infection rates are highest say the measures are inefficient and unfair.
"The battle against the virus is not in confining, it is in primary healthcare, where we can test for the positive and negative so we can confine (just) the people who are truly infected," said retiree Nieves Marcos from the Usera district, one of those under partial lockdown.
Virus rising again in Sweden amid return to 'hugs and parties' - PM
Some areas of Sweden are seeing a worrying resurgence of coronavirus infections because many people seem to have set aside months of caution in favour of full-on social life once again, its prime minister said.
Unlike most countries, Sweden eschewed a mandatory national lockdown against the pandemic, instead calling for personal responsibility, social distancing and good hygiene to slow rather than eradicate a disease seen as here to stay.
Though still with a Covid-19 caseload much lower than in many other European countries, Sweden has recorded a gradual rise in new infections in recent weeks. 533 new ones were reported today, the highest daily number since early July.
Prime Minister Stefan Lofven said Swedes had recently become too relaxed about heeding anti-Covid guidelines.
"In Sweden, the situation is comparatively...stable, but we also see signs that the number of infections is increasing in certain areas in our country. That's worrying," he told a news conference.
"The caution that existed in the spring has more and more been replaced by hugs and parties, bus trips in rush-hour traffic, and an everyday life that, for many, seems to return to normal.
"What we do right now, we will be glad of later. What we do wrong now, we will suffer for later," Mr Lofven added.
He urged Swedes to adhere to social distancing and good hygiene standards, warning the government was ready to introduce stricter measures if needed to curb the spread of the virus.