British Prime Minister Boris Johnson has said the UK had reached "a perilous turning point" in the face of a second wave of Covid-19 cases.
Mr Johnson said that while the vast majority of people have complied with Covid-19 restrictions, there have been too many breaches.
It comes as he announced a series of Covid-19 restrictions to come into effect later this week.
The number of confirmed coronavirus cases in the UK passed 400,000, with a further 4,926 lab-confirmed cases as of 9am today.
In a national address this evening, Mr Johnson said that unless action is taken by the British government now they risked having to enforce tougher measures at a later date.
He said that if the UK was forced into a new national lockdown, that would threaten jobs, livelihoods and human contact.
Mr Johnson said he must take action to halt the spread of Covid-19, but that the economy could continue to move forward despite new restrictions.
"We must take action now...this way we can keep people in work, we can keep our shops and our schools open, and we can keep our country moving forward while we work together to suppress the virus," Mr Johnson said in a televised address.
He said the UK faces an "unquestionably difficult" winter, Boris Johnson warned after announcing coronavirus restrictions which could last six months.
He said that the new restrictions could continue well beyond Christmas and new year unless there was progress in controlling the spread of the virus and he indicated tougher restrictions could be imposed if they failed.
British Prime Minister Boris Johnson says the UK government will enforce tougher penalties for people who are not adhering to Covid-19 measures, as well as put more police out on the streets | More: https://t.co/DDYaRAcv7t pic.twitter.com/y7YtYJZJQG

— RTÉ News (@rtenews) September 22, 2020
The new package of measures, and similar or tougher measures elsewhere in the UK, followed scientists' warnings that the number of cases was doubling every seven days.
Earlier, Mr Johnson told people to work from home where possible and ordered bars and restaurants to shut earlier in a bid to tackle a surge in Covid-19 cases.
After UK government scientists warned that the death rate would soar without urgent action, Mr Johnson said the new restrictions in England could last for six months although he stopped short of imposing another full lockdown.
"I'm sorry to say that as in Spain and France and many other countries, we have reached a perilous turning point," Mr Johnson told the House of Commons following emergency meetings with ministers and leaders of Scotland, Wales and Northern Ireland.
Just weeks after urging people to start returning to workplaces, Mr Johnson advised office workers to stay at home if they could.
He ordered all pubs, bars, restaurants and other hospitality sites to close at 10pm nightly from Thursday, with only table service allowed.
Face-masks will be required in more settings, businesses who break rules will be fined and there will be tougher enforcement against people who do not comply, he said.
However, schools and universities will stay open.
UK government advisers have said the number of new cases could reach 50,000 per day by mid-October.
Mr Johnson said Britain is better prepared for a second wave of Covid-19 than it was for the first one, but added that complacency about the risk of infection could be its undoing.
"After six months of restrictions it will be tempting to hope that the threat has faded, and to seek comfort in the belief that if you have avoided the virus so far then you are somehow immune," he told parliament.
"I have to say that it is that kind of complacency that could be our undoing."
---
Among the key measures announced for England are:
Office workers who can work from home should do so.
Pubs, bars and restaurants in England will be ordered to close by 10pm each night.
The hospitality sector will be restricted to table service only.
Face coverings must be worn in taxis and private hire vehicles, and by retail staff while at work.
Customers in indoor hospitality will also have to wear face coverings - except while seated at a table to eat or drink.
The exemptions to the rule of six will be reduced, banning indoor team sport - such as indoor five-a-side football matches.
The planned return of spectators to sports venues will now not go ahead from 1 October.
Wedding ceremonies and receptions will be capped at 15 people from Monday.
---
We need your consent to load this rte-player contentWe use rte-player to manage extra content that can set cookies on your device and collect data about your activity. Please review their details and accept them to load the content.Manage Preferences
Yesterday, the government's chief scientific and medical advisers painted a grim picture of how 200 or more people in the UK could die each day by mid-November if the current rate of infection is not halted.
Patrick Vallance, speaking alongside Professor Chris Whitty, said the "vast majority of the population remain susceptible" to catching the coronavirus and the current situation required swift action to bring the case numbers down.
The UK's four chief medical officers then recommended raising the Covid-19 alert level from three to four - the second highest - indicating the "epidemic is in general circulation; transmission is high or rising exponentially".
The fresh restrictions sparked anger from the hospitality sector, with Kate Nicholls, chief executive of UK Hospitality, describing them as "another crushing blow" for many businesses.
"A hard close time is bad for business and bad for controlling the virus - we need to allow time for people to disperse over a longer period," she said.
"Table service has been widely adopted in some parts of the sector since reopening but it is not necessary across all businesses, such as coffee shops.
"It is hard to understand how these measures are the solution to fighting the disease when government data shows that just 5% of infections out of the home are related to hospitality."
Liberal Democrat leader Ed Davey earlier said the new rules would "feel like a step backwards", and urged the government to fix the track and trace system and help the hospitality sector.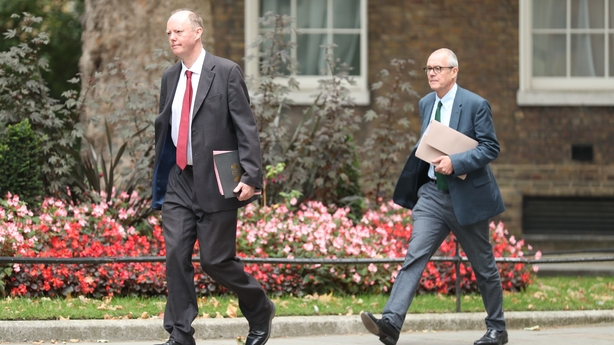 He said: "The Prime Minister must also financially help pubs and restaurants who will inevitably lose business. After people have already been through so much hardship, we cannot allow thousands of jobs to disappear overnight."
In mid-September, around 3,000 new cases were recorded every day in the UK and if the growth continued unabated that would result in 50,000 cases by the middle of October, Mr Vallance said.
He warned the "50,000 cases per day would be expected to lead a month later, so the middle of November, say, to 200-plus deaths per day.
"The challenge therefore is to make sure the doubling time does not stay at seven days."
Prof Whitty suggested that reducing social contacts was a key way to curb the spread but acknowledged there was a balance to be struck in terms of protecting the economy.
He suggested that science would eventually "ride to our rescue", but "in this period of the next six months, I think we have to realise that we have to take this, collectively, very seriously".
Labour leader Keir Starmer accused the government of having lost control of the coronavirus crisis, saying "there should be nothing inevitable about a second lockdown".
As Mr Johnson readies new restrictions to come into force to tackle an increase in Covid-19 cases, Mr Starmer used a speech to his party's conference to say while Labour would be constructive and needed the Conservative government to succeed, he also criticised the testing system.
"But instead of getting a grip, the government has lost control. Our testing system collapsed just when we needed it most," he said.
Mr Starmer has said the "incompetence" of Boris Johnson's government "is holding Britain back".
The Labour leader told the virtual party conference he wants to build a nation "in which we put family first", adding: "I think Britain has so much yet to achieve. And it angers me that this government is holding us back.
"I've tried to be constructive. I appreciate that these are unprecedented times and that governing is difficult. I've tried to be fair, to give the government the benefit of the doubt.
"But now, with one of the highest death rates in the world, and on the threshold of one of the deepest recessions anywhere, I'm afraid there is no doubt.
"This government's incompetence is holding Britain back." 
Mr Starmer has blamed the "underfunding of the NHS" and the "abandonment of social care" by the Conservatives for failing to prepare the nation for the coronavirus crisis.
The Labour leader told the virtual party conference: "First, if you neglect your public services, you won't be ready when a crisis hits. Nobody blames the government for the existence of the virus.
"But the underfunding of the NHS, the abandonment of social care and the lack of investment in prevention, that's all on their watch. That's all down to them.
"And it always ends this way with Tory Governments: Public services are neglected, cut back, and left to decline. For a party called the Conservative Party, they don't seem to conserve very much."