Taoiseach Micheál Martin has said it is important to remind people that the lockdown in Kildare, Laois and Offaly did work.
Speaking on RTÉ's Brendan O'Connor, he said we have reduced the numbers contracting Covid-19 before and we can do it again.
He said numbers "are growing exponentially" and he is worried.
The situation outside of Dublin is different and this is why "wet pubs" were given the go-ahead to reopen, he added.
The Taoiseach said reports that the National Public Health Emergency Team (NPHET) wanted to put Dublin at Level 4 "certainly weren't communicated to us".
"Our objective is to get back to Level 2 in Dublin and we must really focus on adhering to the guidelines and the rules. That's the best way to avoid Level 4.
There is a huge economic issue here as well that we cannot ignore, he said, and he thinks the full impact of the virus will be with us for the full year next year.
Mike Ryan of the World Health Organization is of the view that there will be a vaccine by April but it will take some time to manufacture it and roll it out, he added.
---
Read more:
Latest coronavirus stories
All the new restrictions in Dublin explained
Economic impact of Level 3 will be very serious
---
The Taoiseach @MichealMartinTD arriving at @RTERadio1 ahead of his interview on the governments #COVID19 plan - and #Dublin moving to Level 3 @rtenews pic.twitter.com/jhFdscgaIU

— Paul Cunningham (@RTENewsPaulC) September 19, 2020
Mr Martin said his advice to people is to "stick with it" because science and research "will get on top of this, as they have done with other viruses".
He said NPHET did articulate that they are very concerned about the growing numbers across the country, but they did not recommend going to Level 3.
He said the virus has impacted on lower income workers more than higher income workers and we have to do more.
"We're going to have to revisit some of this in light of looking at a more nine to 12-month timeframe.
"On the positive side, Europe wants to continue to support member states throughout this crisis."
He said they will keep the Pandemic Unemployment Payment "under review" and moderate the rates if needed, but he added that they need to look at sector specific measures.
"I would like us to do more for the arts through schools. I said to Norma Foley to look at giving artists work in schools. Children will benefit, arts and culture will benefit, we keep artists working. We have to create new areas of employment."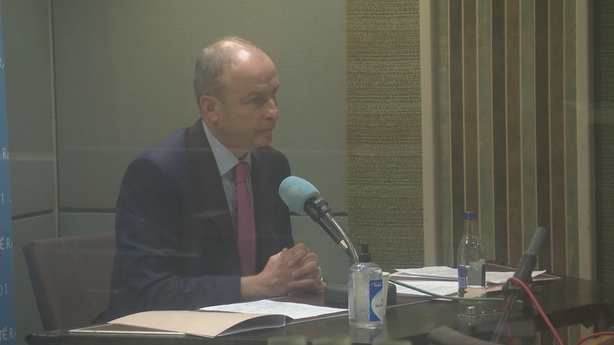 The Taoiseach said we are borrowing a lot of resources and he believes we should allocate some to productive areas that can create new employment in new areas.
In response to criticism from some business owners about the short notice given to close, he said the virus is growing "fairly significantly" and the advice from NPHET was to "act urgently".
The modelling by Professor Philip Nolan "is clear," he said.
"If we don't do anything, we're looking at a thousand a day in a month. And he was only looking out four to five weeks."
The virus does not respect choreography or plans, he said.
"We know what Level 2 is and what Level 1 is, and we can get to those - if we can work collectively to nip this in the bud and adhere to the guidance."
The psychology of a pandemic is as important as the physical presence of the virus, he said.
"People's moods will swing on this. People's attentions to this will swing, there'll be different sectors of society and different age coherts looking at it differently. We needed to open up in the summer. People needed to get out, people needed to unwind a bit.
"It's closing back in again and I think the challenge is, can we get that focus back? Because the winter will be challenging, to make sure we keep our schools open, keep our health service going, keep as much of the economy going as we possibly can, and have a reasonable quality of life".
Level 3 is 'not a lockdown'
Mr Martin added that Level 3 is "not a lockdown" and is "nowhere near the lockdown we had".
The retail, education and construction sectors are all still open and people are not restricted to a five kilometre limit, he said.
"There is one sector that is taking a terrible hit and that is hospitality, tourism and travel. That whole area is the one most impacted, not just here but across the world".
He said no government will stop the virus on its own and that it is a collective effort.
He said we must keep the numbers stable, be vigilant and remain focused.
"It's a one in a hundred year event. It's affecting how we do things, it's upending all our lives, how we behave. We don't shake hands anymore. Who would have thought a year ago we would be doing this?"
He said this is a "surreal experience" in some respects and "much different" to how he imagined his tenure as Taoiseach.
With regards to the Opposition, Mr Martin said he appreciates the fact that yesterday's announcement was welcomed.
"The previous week, I think there was a bit of politics being played," he said.
"I think Alan Kelly and Labour have been straight and fair. I thought Mary Lou (McDonald) and Sinn Féin were taking a particular stance that I thought was undermining particularly the testing and tracing, because huge efforts have been made there."
Meanwhile, Prof Nolan has warned Covid-19 case numbers will double every ten to 14 days unless people fully take on board the latest advice.
Speaking on RTÉ's Saturday with Katie Hannon, he said we need to "really limit" our contacts and "starve the virus" of any opportunity to transmit.
"We should be frightened of this virus", he said. "It spreads quickly and kills people, and we really need to take it seriously over the next three weeks to bring those case numbers back under control and protect people."
Dublin is in a particularly vulnerable position, Prof Nolan said, and people living in the capital "need to take this advice very seriously."
Despite Dublin being the only county elevated to Level 3, he said this is "a call out across the entire country" to limit the number of people they see.
"What matters is not so much what NPHET advises or what Government decides, but what people do", Prof Nolan added.
The priority when a case is detected is to find all contacts over the previous 48 hours, he said, because they are the people the suspected case has possibly infected.
But he added that public health officials often go back further to find the source or location of infection, and when they do, they find that the virus was picked up in a place where people gather - such as in our homes, restaurants, bars or sporting events.
"There will always be many more household outbreaks than there are outbreaks in those settings", Prof Nolan said.
"It's a misinterpretation of the data to say 'why are there so few outbreaks in restaurants or bars'. If there's one event in a restaurant, that leads to four or five infections, and that will lead to three or four separate household outbreaks, maybe 15 or 20 cases."
Meanwhile in Northern Ireland, a further 222 new confirmed cases of Covid-19 have been reported in the last 24-hours.
According to the Department of Health this brings the total number of cases to 9,165, including 913 in the last seven days.