It is expected that the Government will agree on Tuesday to reduce the number of visitors to Dublin homes as recommended by the National Public Health Emergency Team.
This will mean allowing only six visitors, from two other households, instead of three other households.
It is also understood that a decision on reopening pubs in the capital has not yet been taken and this will be decided at Tuesday's Cabinet meeting.
All pubs nationwide, including those not serving food, are due to open on 21 September.
It is expected Dublin could be at a different level of the medium-term 'Living with Covid' plan due to be announced on Tuesday.
That means a higher level of restrictions could apply in the capital.
A further 255 cases of the coronavirus have been confirmed in Ireland today, with 156 of these cases in Dublin.
Meanwhile, gardaí in Dublin are to increase their high visibility patrols on the streets of the capital.
The aim is to help curb the continuing high levels of Covid-19 in the city. Gardaí will monitor social distancing and large gatherings.
Deputy Commissioner, Policing and Security, John Twomey said there has been good public compliance with public health guidelines so far.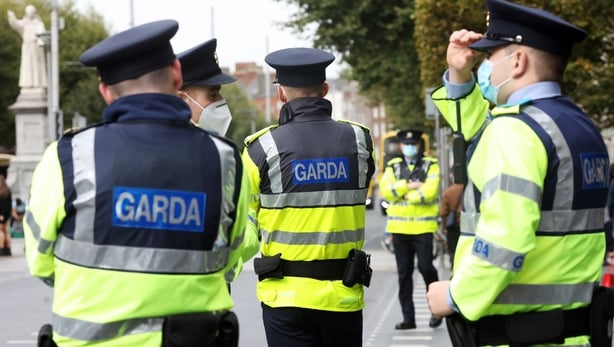 However, he said, Dublin is entering a critical phase and it is vital that people limit their social interactions, maintain social distancing and wear face coverings in shops and on public transport.
He also urged people not to gather in large groups.
Increased high visibility patrols by members of An Garda Síochána on foot, in car and on bike throughout Dublin city and county to support the public health guidelines, particularly in relation to social distancing and gathering in large groups. For more: https://t.co/CZArz4kD6S pic.twitter.com/4giQU0agL1

— Garda Info (@gardainfo) September 13, 2020
Yesterday, the Acting Chief Medical Officer Dr Ronan Glynn renewed his appeal to people living and working in the capital to reduce their social contacts, as cases of the virus continue to rise.
Health officials say the increase is being driven by household clusters - with just over half of the new cases associated with outbreaks or close contacts of a confirmed case.
Dr Glynn said individual choices can make all the difference.
Earlier, Minister for Foreign Affairs Simon Coveney said Ireland has done "pretty well" but "can always do better" when it comes to testing for Covid-19.
He said the Government's approach has based on World Health Organization advice to "test, test, test, contact trace as fast as you can".
Asked why issues such as testing capacity, testing turnaround and contact tracing speed are still being debated more than six months into the crisis, Mr Coveney said: "These issues have been resolved to a huge extent. We've just had 72,000 tests in the past week. That's an extraordinary number. We have the capacity to test 100,000 per week and we're probably going to need that capacity, and potentially more."
A consultant in infectious diseases at the Mater Hospital said mask-wearing in the community, in healthcare settings and in nursing homes is key to preventing flare-ups of Covid-19.
Professor Jack Lambert said Ireland has been in "a post-Covid freeze' since case numbers declined in hospitals in May and little has been done to prepare for living with Covid-19 going forward.
He said that 18 years ago the SARS epidemic stopped suddenly when the virus lost its virulence factor, but international colleagues say that Covid-19 is just as contagious as it was earlier in the year, but less lethal, even in higher risks groups.
However, he said, it is still 15 times more lethal than influenza.
The World Health Organization says data to date suggests 80% of Covid-19 infections are mild or asymptomatic, 15% are severe infection, requiring oxygen and 5% are critical, requiring ventilation.
Generally, you need to be 15 minutes or more in the vicinity of an infected person and within two metres of them, to be considered at-risk, or a close contact.
Additional reporting: Fergal O'Brien, Conor Kane