The 14-day incidence of Covid-19 infection in Dublin has risen significantly in recent days to 70.8 cases per 100,000 people, according to data from the Health Protection Surveillance Centre for the two weeks ending at midnight on 7 September.
The rate was 53.2 just six days ago.
At a press briefing this evening where three more deaths and 84 new cases of coronavirus were confirmed, Acting Chief Medical Officer Dr Ronan Glynn said: "We continue to see a concerning pattern of cases, particularly in Dublin."
Around half of all new cases in Dublin are transmissions into private households. Dr Glynn said the National Public Health Emergency Team (NPHET) is "very concerned" about the situation.
He said "if it all possible" family gatherings with multiple people from different households, such as communions and christenings, should stop for the time being.
Asked about a potential lockdown in Dublin, Dr Glynn did not want to speculate but said NPHET will meet tomorrow to make recommendations to the Government.
Professor Philip Nolan, chair of the NPHET Irish Epidemiological Modelling Advisory Group, said: "While the reproduction number for Ireland as a whole is close to 1.0, the reproduction number for Dublin alone is approximately 1.4.
"We are seeing increasing case numbers in Dublin, growing close to 5% per day. If this were to continue, the number of cases would double every 14 days.
"Given the size of Dublin's population it is essential we prevent any further spread now – by limiting our social contacts and taking precautions during any essential contacts."
Within Dublin, the highest recent infection rates have been in the Dublin South East region where, in the past 14 days, there have been 84.9 infections for every 100,000 people.
Dublin North West had the second highest incidence with 82.3 cases per 100,000.
In both of these regions, the increase in infection rates has been striking.
Six days ago the 14-day incidence rate for Dublin South East was 46.1, while the rate in Dublin North West was 59.2 per 100,000 people.
Dublin South has the lowest 14-day incidence of Covid-19 in Dublin, with just 39.7 cases per 100,000 people. This has been unchanged over the past six days and is substantially lower than the rate for all other areas of Dublin.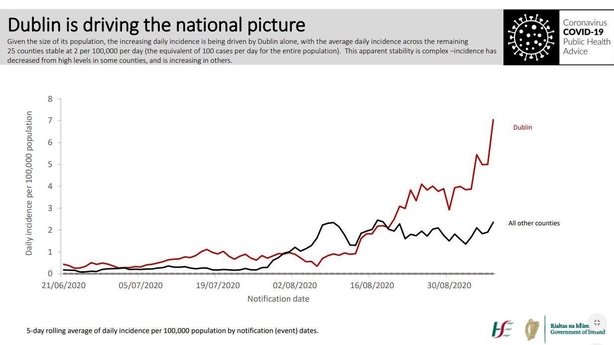 It is also lower than the disease incidence rate per 100,000 people in eight counties outside of Dublin, including Kildare (69.2), Limerick (66.2), Leitrim (49.9), Carlow (49.2), Monaghan (44) Longford (41.6), Tipperary (40.7) and Offaly (39.8).
Dr Ronan Glynn says that NPHET are concerned about the growth of Covid-19 in Dublin and Limerick.

He says family events where people are coming together from different households 'need to be stopped for the next few week' | Read more: https://t.co/1WqdRkPINc pic.twitter.com/41AM7WbMfv

— RTÉ News (@rtenews) September 9, 2020
The data show that overall there were 954 new confirmed cases of Covid-19 in Dublin over the past two weeks.
Both the Dublin North West region and the Dublin North region had 171 new confirmed cases each. This compares with 99 new cases in Dublin North Central and 54 in Dublin South.
---
---
The 14-day-incidence of Covid-19 in the different regions of Dublin is as follows:
Dublin South: Number of cases - 54; incidence rate - 39.7
Dublin South East: Number of cases - 105; incidence rate - 84.9
Dublin South City: Number of cases - 115; incidence rate - 76.7
Dublin South West: Number of cases - 122; incidence rate - 75.8
Dublin West: Number of cases - 117; incidence rate - 75.3
Dublin North West: Number of cases - 117; incidence rate - 82.3
Dublin North Central: Number of cases - 99; incidence rate - 64.0
Dublin North: Number of cases - 171; incidence rate - 66.0
Dublin Total: Number of cases - 954; incidence rate - 70.8