German police have halted a march by some 18,000 coronavirus sceptics in Berlin because many were not respecting social distancing measures.
The mass protest against pandemic restrictions had been allowed to go ahead after a bitter legal battle.
But it had barely begun at the city's iconic Brandenburg Gate, when it was forced to stop due to a police injunction.
"The minimum distancing is not being respected by most (of the demonstrators) despite repeated requests," the police said.
"There is no other option than to break up the gathering."
After the announcement, the demonstrators shouted "Resistance" and "We are the people," a slogan often used by the far-right, and sang the German national anthem.
Police had vowed to turn out in force and strictly monitor compliance with mask-wearing and social distancing at the protest.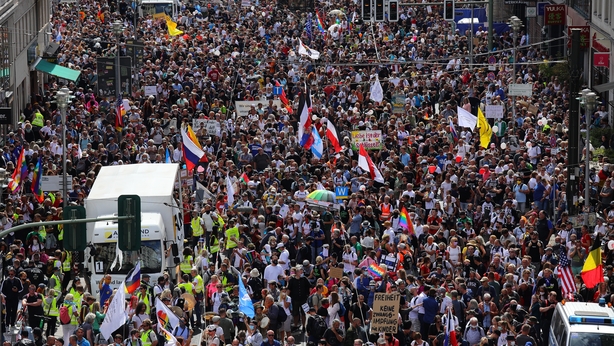 Berlin police chief Barbara Slowik had warned that if the demonstrators did not adhere to virus safety rules, police would clear the area "very quickly".
"We will not be able or willing to watch tens of thousands assemble and create infection risks," she added.
In London, more than 1,000 protesters gathered in Trafalgar Square, many holding home-made banners.
One called for an "End to medical tyranny"; another read "No to mandatory vaccines" while one man waved a placard declaring "Masks are muzzles".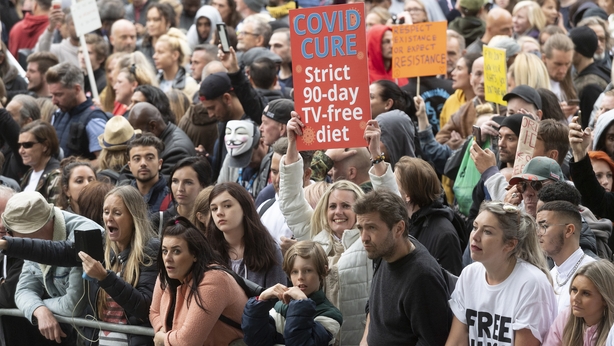 Celebrity conspiracy theorist David Icke was among the speakers at the London rally. "We gather here today because a deadly disease is sweeping across the world, it is not Covid-19, it is fascism," he told the cheering crowd.
Around 300 people protested peacefully in Paris to denounce the government's decision to make masks obligatory in all public places as cases rise in the French capital.
Protesters, some waving placards stating "Stop the lies", were quickly surrounded by police who handed out €135 fines to those not wearing masks.
"There is no scientific proof of the usefulness of wearing a mask outside," said Anais, a Paris sociology student. "Covid-19 is not so dangerous, it mainly kills people over the age of 60."