There have been 142 new cases of coronavirus and no further deaths reported to the Department of Health.
This brings the total number of Covid-19 related deaths here to 1,777 with 28,720 confirmed cases.
The latest cases include 32 associated with outbreaks or close contacts of a confirmed case while 19 cases were identified as being from community transmission.
There were 59 in Dublin, 20 in Kildare, 14 in Donegal, 14 in Limerick, eight in Wexford, six in Tipperary and the remaining 21 are located in Carlow, Clare, Cork, Kerry, Kilkenny, Laois, Louth, Mayo, Meath and Wicklow.
Acting Chief Medical Officer Dr Ronan Glynn commented: "Today marks six months since our first case of Covid-19.
"It has been a very difficult time for many and few have been left untouched in some way by the negative effects of this pandemic.
"However, it has also been a time of incredible solidarity, a time when a sense of community has come to the fore," he added.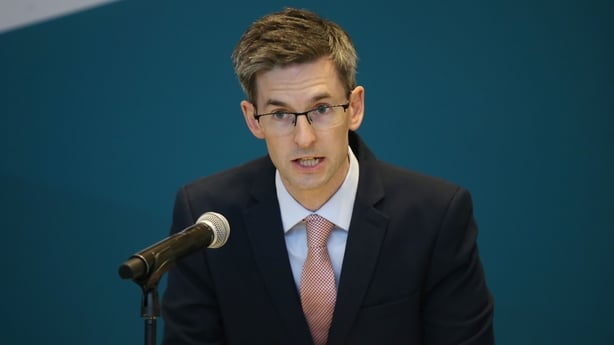 "We have seen innovation, cooperation, volunteerism and charity, and kindness on an enormous scale. Our frontline workers have stepped up again and again.
"But underpinning it all has been each person playing their part by making the right choices, many times, each day. Together, we have broken the chains of transmission and flattened the curve," said Dr Glynn.
"As cases rise again, it is these same behaviours that will once again make the difference, protecting ourselves, our families and our communities."
Health Minister Stephen Donnelly pointed out on Twitter that every county apart from Leitrim has had a Covid-19 case in the past two weeks.
Also on Twitter, Tánaiste Leo Varadkar said the ongoing rise in the number of people testing positive for the disease in Ireland and Europe "gives us cause for concern and caution".
But, sounding a note of optimism, he added: "The fact we have gone seven days without a reported death and low hospitalisation should give cause for hope."
Ongoing rise in no of ppl testing positive for #COVID?19 in Ireland & Europe gives us cause for concern & caution. Fact we have gone 7 days without a reported death & low hospitalisation should give cause for hope. We still have much to learn about epidemiology of this new virus

— Leo Varadkar (@LeoVaradkar) August 29, 2020
Of the cases notified today, 74 are men, 66 are women and 69% are under 45 years of age.
Earlier, the Chairperson of the National Public Health Emergency Team's Expert Advisory Group on Covid-19 said that NPHET really wants to avoid a second national lockdown or moving back to stay-at-home restrictions "if at all possible".
Speaking on RTÉ's Brendan O'Connor programme, Dr Cillian De Gascun said that the next two weeks were a "critical phase" during which they hope to see the current Covid-19 measures taking effect.
Dr De Gascun, who is also Director of the National Virus Reference Laboratory, said they would never exclude anything in relation to measures, adding that NPHET's priority was protecting public health.
We need your consent to load this rte-player contentWe use rte-player to manage extra content that can set cookies on your device and collect data about your activity. Please review their details and accept them to load the content.Manage Preferences
"So we have to be very careful about that," he said. "We don't want to go back into a national lockdown if we don't have to.
"But I think the key thing to remember about the stay-at-home restrictions is that they did work. That's why it is there, it's a tool in the armoury that you never exclude definitively."
He said it was really important that people continue with the enhanced public health guidance, adding that you cannot sustain a national lockdown for a sustained period of time given its effect on the economy.
Important update from @ronan_glynn. Every county bar Leitrim has had a case in the past 2 weeks. We hope to see a positive effect in the coming days from the recent measures introduced. The majority of us are doing the right thing. Please don't give this virus a chance to spread. https://t.co/1jhGiMGHrd

— Stephen Donnelly (@DonnellyStephen) August 29, 2020
Dr De Gascun reiterated that the virus can be controlled, but that through people's efforts its spread can be reduced. He said there is nothing that is zero-risk and so people need to change their behaviour.
He said: "Although we're reopening society and getting back to the activities that we used to do, we have to do them in a different way.
"There's nothing that is zero-risk unfortunately so we want people to get to school and have dinner with friends and have friends over to their house, but the thing is when they do those things we have to do them differently now.
"It's really like a change in behaviour. An analogy we might use is the way we changed from plastic bags to bags for life. This is a change that has to stay with us."
89 new cases of Coronavirus in Northern Ireland, from 4,233 people tested, taking total to 7,138. No further deaths so official @healthdpt toll remains 560 @rtenews @FergalBowers @SineadCrowley @LauraHoganTV @GeorgeLeeRTE

— Vincent Kearney (@vincekearney) August 29, 2020
His comments come as Ireland's incidence of Covid-19 cases per 100,000 people over the past 14 days is 32.3, overtaking Sweden which now stands at 28.9.
According to figures released by the European Centre for Disease Control (ECDC), Spain still has the highest incidence rate in the EU/EEA and UK, at 205.5 per 100,000.
France incidence rate stands at 81.9, while the UK is 22.9.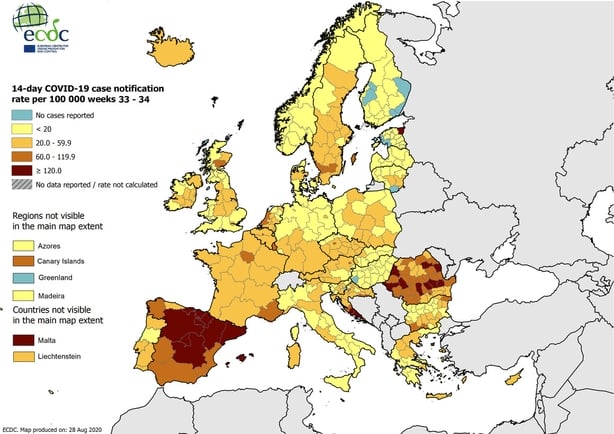 Sweden, which has a population of over ten million citizens, took a softer approach in combating the coronavirus, avoiding lockdowns by keeping large parts of its society open.
The ECDC says that up to today, there have been 28,579 cases of the coronavirus in Ireland, and 1,777 deaths.
In Sweden, there have been 83,958 Covid-19 cases and 5,821 deaths.
It is six months ago today since the first Covid-19 case was confirmed in Ireland.
In a tweet, HSE CEO Paul Reid said that there has been much "learning, hurt, sorrow grieving and frustration" since then.
It's been a long 6 months since the first #Covid19 case confirmed here. Much learning, hurt, sorrow, grieving & frustration. But there's also been inspirational responses from the public and healthcare workers. A more difficult phase now but the same virus. #StaySafe @HSELive

— Paul Reid (@paulreiddublin) August 29, 2020
People have been urged to reduce their social contact this weekend to slow the spread of the virus.
The Chair of the NPHET Epidemiological Modelling Advisory Group has said that the number of close contacts needs to be limited each day and each week.
Professor Philip Nolan said that the risk of transmission of the virus is minimal at 2m, and "increases rapidly if we get closer".
We need to limit the number of close contacts we have each day and each week. SARS-CoV-2 transmits through prolonged close contact. What do we mean by close? The virus is transmitted through direct physical contact or over short distances by expelled respiratory droplets. 1/17 pic.twitter.com/rob15Sd6Me

— Professor Philip Nolan (@President_MU) August 28, 2020
---
---
In Northern Ireland, another 89 people have tested positive for Covid-19, the Department of Health said.
It brings the seven-day total to 520. No new deaths were reported, leaving the total at 560.
A total of 4,233 people have been tested for Covid-19 in the last 24 hours.
The total number of people diagnosed with the virus now stands at 7,138.
Figures from the Department of Health show that 17 patients with Covid-19 are in hospital, with two in intensive care.