Health Service Executive CEO Paul Reid said the 14-day incidence of Covid-19 is at 25.4 per 100,000 leaving Ireland the third highest in Europe for new cases.
He said there have been clusters in private households, workplaces and sporting events.
Speaking at a briefing this morning, Mr Reid rejected claims that the test and trace system is falling apart and described such claims as alarmist and unhelpful.
He said: "We want people to come forward for testing and have demonstrated that the system is meeting demand, which it did last week."
He also said that in some cases there were up to 50 close contacts of a confirmed case identified.
Assistant Professor at the School of Biochemistry and Immunology at TCD Tomás Ryan said earlier this week that Ireland's test, trace and isolate system was never fast enough and is now falling apart.
Speaking on RTÉ's Today with Sarah McInerney on Tuesday, Prof Ryan said the system is "getting even slower even with the moderate degree of stress" it has experienced in the last two weeks.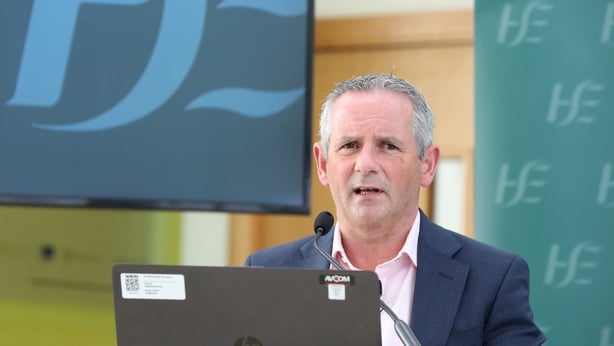 Mr Reid said the HSE's escalation plan for testing and tracing "is working" and is meeting "complex demands" experienced as a result of a rising number of cases.
He said 55,000 tests were completed in the last seven days, which is the second highest since the beginning of the pandemic.
"We have gone rapidly from 50 cases per week to over 600 cases per week, with a particular increase in demand in community swabbing," he said.
He said there are particular challenges associated with workplace settings, more close contacts of cases and an "increasing need to support people for whom English is not their first language".
An increase in cases in the community is also resulting in longer turnaround times.
CEO @paulreiddublin says the HSE has reopened testing centres and redeployed resources to testing and tracing to address the recent increase in #Covid19 cases | https://t.co/yro2bXPnFk pic.twitter.com/1wpOCYhwie

— RTÉ News (@rtenews) August 20, 2020
He said the turnaround times have been challenged, but the length of time between a person being referred for a test, the test taken and results given, along with all close contacts being contacted is now at 2.3 days, down from 2.8 days last Sunday.
Mr Reid said last week the HSE's swab-to-lab results time was 1.2 days, and all tracing was carried out with 1.2 days.
HSE CEO @paulreiddublin acknowledges some people have had delays getting tests or having contacts traced, but says there have been particular reasons for some of the outliers in the overall figures on #Covid19 test-and-trace turnaround times and "the system hasn't collapsed". pic.twitter.com/XHWW0z5dd9

— RTÉ News (@rtenews) August 20, 2020
He said contact tracing teams report that close contacts are now up to six people per person with "huge outliers" of up to 50 close contacts in some cases.
Mr Reid has said there is capacity in the testing and tracing system to meet 100,000 Covid-19 tests per week.
In relation to hospital testing compared to community testing Niamh O'Beirne, National Lead for Testing and Tracing, said end-to-end times for results in hospital is 12 hours, but results for community testing can take between 20-30 hours.
Mr Reid apologised to people who have experienced delays in test results and acknowledged there were "swabbing issues", which he said was due to getting test centres back up and running from "the point of really low numbers".
He said: "The system has not collapsed, and we are addressing the issues that arose last week."
Mr Reid said while serial testing for Covid-19 may yield a low positivity rate it is necessary and he said he foresees food processing facilities engaging in private testing in future, but for now the cost is being borne by the State.
Ms O'Beirne said serial testing in nursing homes will result in an additional 15,000 tests per week being carried out; 8,000 per week in direct provision centres and testing in meat/food processing factories could result in an additional 50,000 tests per week.
In relation to agreements with private hospitals, Mr Reid said there is a "bridging agreement of €25m", which is supporting patients who are receiving care in private hospitals and the HSE is procuring support from the private hospital system for services and diagnostics, which will be on a draw down basis once funding has been agreed.
There will also be an agreement to provide support in the event of national surge similar to that held previously, Mr Reid said.
Mr Reid also said the impact of the recent increase in cases had not impacted the acute hospital system.
There are now 16 confirmed cases in hospital, down four on the previous day, according to the latest Health Service Executive figures.
Six of these patients are in intensive care units.
He said the rise in cases recently has been a shock and has put a strain on some services, including an increase in demand for testing and tracing.
Mr Reid called for better occupational health supports for workers in some settings and said employers need to take steps to protect and support their employees during Covid-19.
He said the issue of workers not being paid while off work due to Covid-19 is leading to workers not taking the appropriate time out.
He also suggested GPs and language interpreters be made available to workers, and that employers address the issues of close working conditions, shared recreational facilities, and shared accommodation and transport.